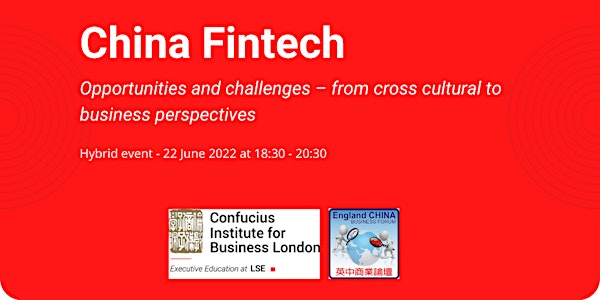 China Fintech – from cross cultural to business perspectives
Location
The London School of Economics and Political Science
Centre Building, Houghton Street
Room: Auditorium
London
WC2A 2AE
United Kingdom
China Fintech opportunities and challenges – from cross cultural to business perspectives
About this event
Confucius Institute for Business London and China England Business Forum are delighted to host a co-joint event: "China Fintech opportunities and challenges – from cross cultural to business perspectives".
During this event, guest speakers will discuss opportunities and challenges in the Fintech industry facing UK and Chinese companies from both a cross cultural and business perspective.
Hybrid event: accessible both online and on-campus at LSE. The event on-campus will be followed by networking drinks.
Speakers
Lin Yue: Executive Director, UK Institutional Business - Goldman Sachs Asset Management
Prof. Michael Mainelli: MStJ FCCA FCSI(Hon) FBCS, Chairman, Z/Yen Group
Robert Wesson: CEO at Axiom IFS
Q&A online audience: due to high number of attendees online, we encourage the online audience to submit their questions in advance to m.zuccarella@lse.ac.uk. We will do our best to respons to as many questions as possible on the day.
Speakers views are personal views only and are not representing the firms they work for .
As this is a co-joint event, by registering you give your consent to Confucius Institute for Business London (CIBL) at the London School of Economics and Political Science (LSE) to share the order registration form details, photos, recording(s), filming and transcript(s) with third parties.
For security reasons in our high impact events, we require all our guests to provide their name, profession and institutional affiliation in our event registration forms. We reserve the right to refuse entry (both online and on-campus) to guests who fail to provide these details at a reasonable time prior to the event.