Description
Want to understand more about the Chinese market in general?
Or do you simply want to network with some of our most influential partners?
Then this is the conference that is not to be missed!
CHIC aims to present the opportunities and challenges of entering the Chinese market. This conference will illustrate the roadmap towards building a successful start-up in China by highlighting key issues that start-ups will face in the market.
***CALLING ALL ENTREPRENEURS**** - We have a special discounted rate for all entrepreneurs. In order to qualify all entrepreneurs must fill in this short application form in order to qualify for the entrepreneur discount (all successful applicants will recieve a discount code for Eventbrite within 24 hours) > https://hitech2.typeform.com/to/XjDLUj
Standard with Coach Ticket (From Leeds and Sheffield)
For guests from Leeds and Sheffield, we will arrange a local coach pickup. Please contact Tina Wang (Tel: 07562997962 Email: HiTECHLeeds@gmail.com) for pickup time and location.
---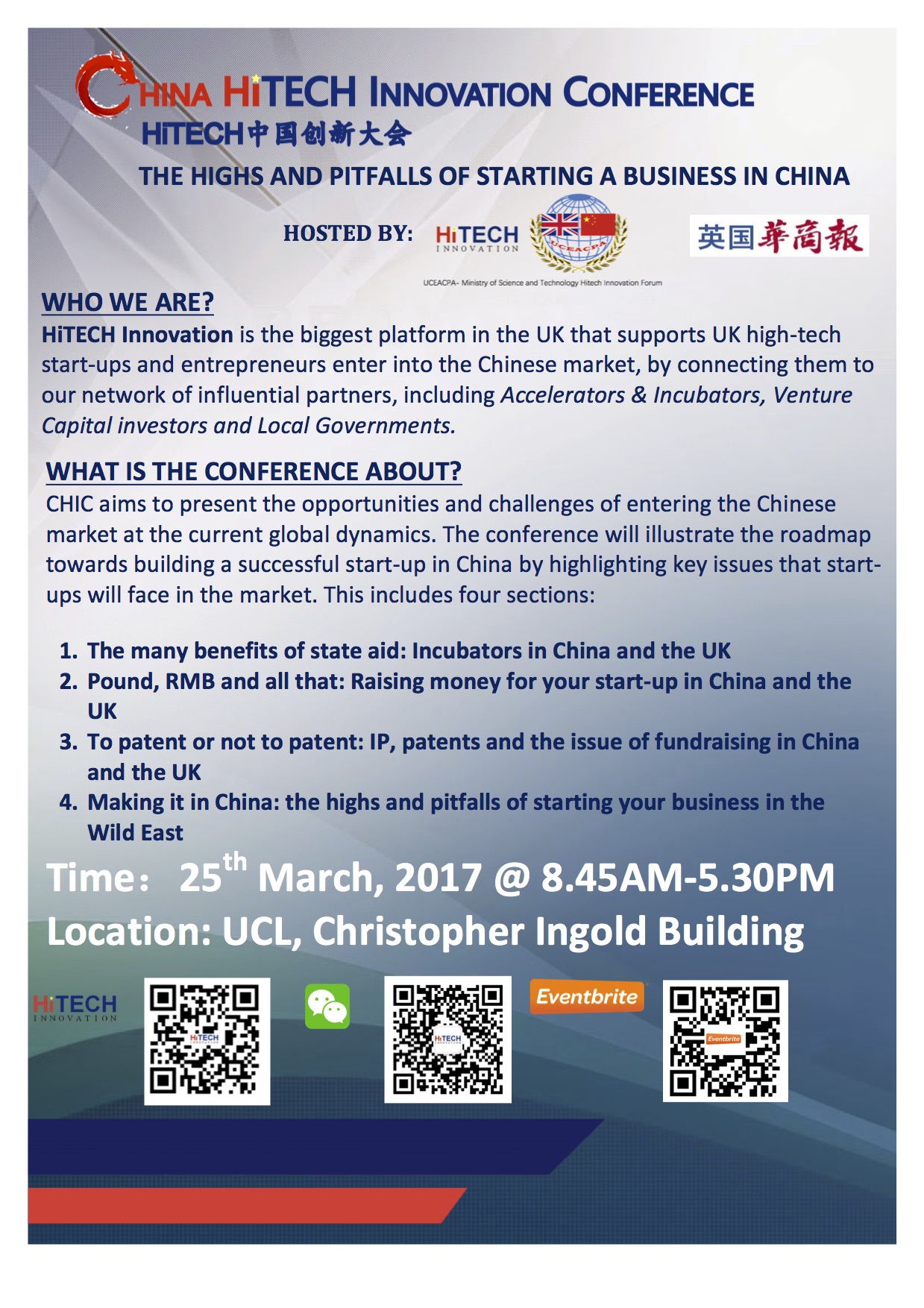 ---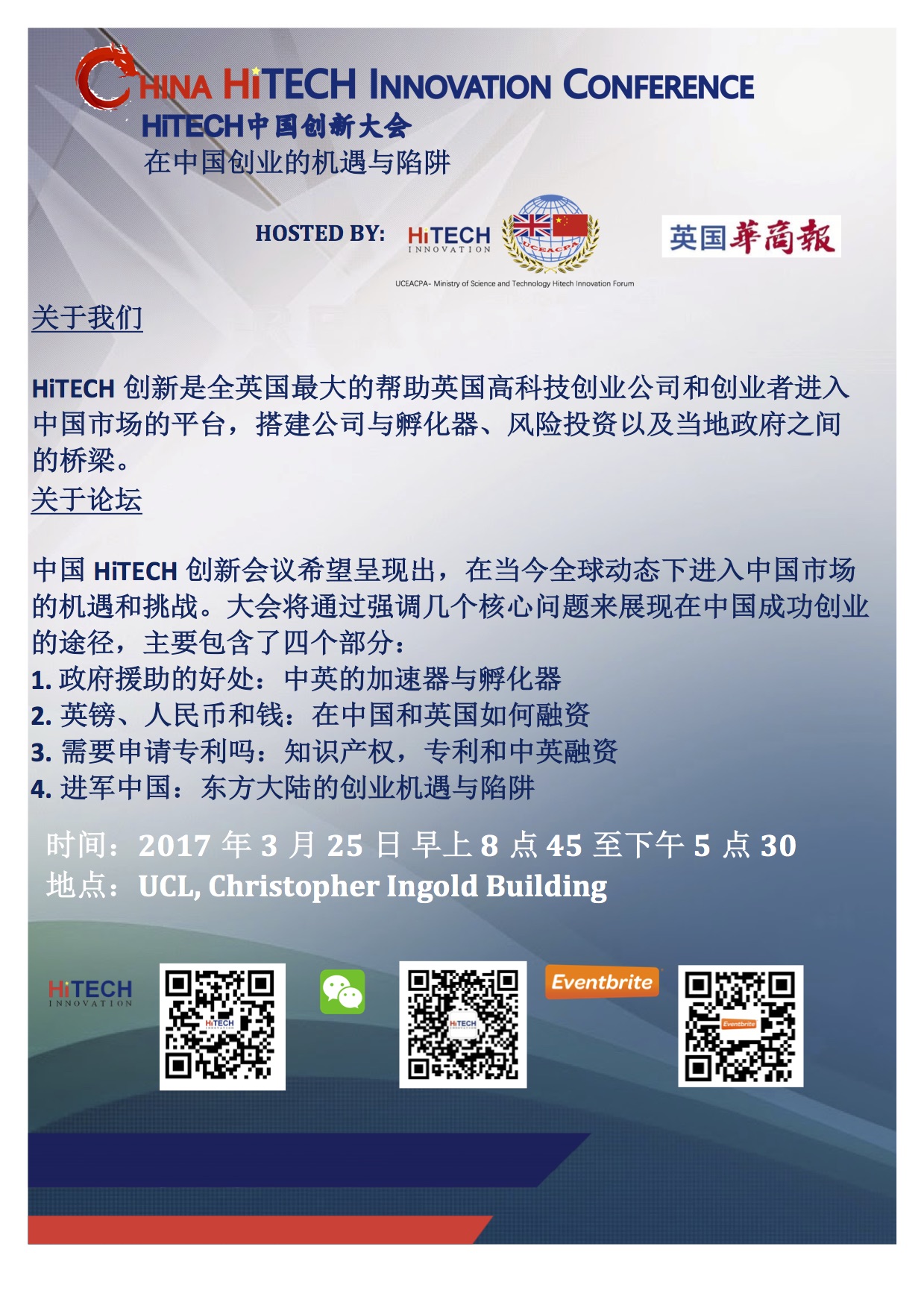 ---
Scheduled Plan for the Day
8:45 Registration opens
9:45 Welcome from hosts
Katie Wu/Sorsby Chen (HiTECH)



9.50 Opening Speech

Mrs Yuling Du (CEO of

Chinese Business Gazette Media)
9:55 Speech from the Chinese Embassy — Mass Enterpreneurship and Innovation in China
Sunan Jiang (The Chinese Embassy in the UK)
10:10 Incubators in China and the UK and why you should consider signing up for one
Jiahao Sun (UiiTech)

Jennifer Zhang (Bay West Accelerator)

Jane Jin (Oxford University Innovation)
Dr Hongsen Peng (Techbridge Innovation)
Moderator: Jasmine Jiang (Peak Group Global)
11:25 Coffee break;informal poster presentations – entrepreneurs who took part in the HiSTAR roadshows in 2016 (names TBC)
11:55 Pound, RMB and all that: raising money for your start-up in China and the UK

Jennifer Zhang (Huadan Angel Investment)
Shanshan Wang (EnsoVentures)
Elyn Shen (Tenoke)

Dr Jian Cao (RTC Innovation)

Moderator: Ting Zhang (China Business Solutions)
13:10 Business lunch
14:40 To patent or not to patent: IP, patents and the issues of fund-raising in China and the UK

Yang Yuzhou (Dentons)
Jason Teng (PotterClarkson)
Moderator: Marco Morbidini
15:30 Coffee break – informal poster presentations entrepreneurs who took part in the HiSTAR roadshows in 2016 (names TBC)
16:00 (Keynote)Making it in China: the highs and pitfalls of starting your business in China

Biao Ding (CEO of CRRC (UK) Ltd)
16:45 Introduction to The HiSTAR Competition

16:55 Closing remarks

Prof. Tang (Henley Business School)
17:10 Farewell from the organisers

Lawrence Kurowski (HiTECH)
---
Main speakers:
Mr Sunan Jiang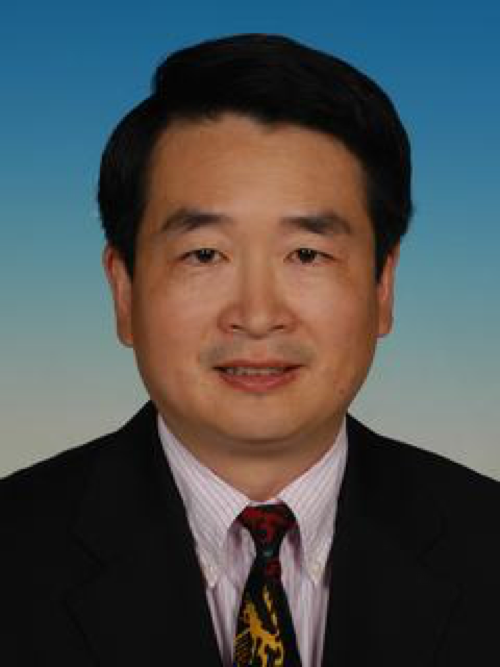 Mr. Sunan JIANG is the Minister Counsellor for Science and Technology, the Chinese Embassy in the UK. He has been dedicated to Science and Technology management and international scientific and technological exchange and cooperation over the years.From 1994 to 2015, Mr. JIANG worked successively as Second Secretary for Science and Technology in the Chinese Embassy in Sweden, Consul (First Secretary) for Science and Technology in Chinese Consulate General in Chicago, Director in the Department of International Cooperation, Director and then Deputy Director General in the Department of Personnel of the Ministry of Science and Technology of China.
Mr Biao Ding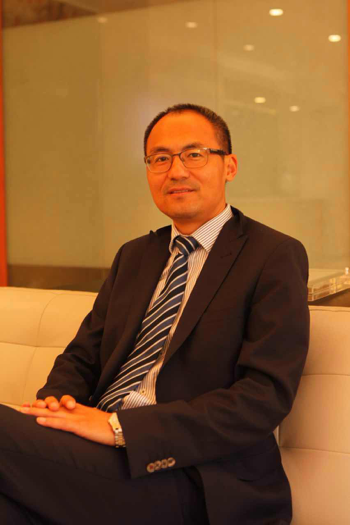 CEO, China Railway Rolling Stock Corporate (UK) Ltd. Mr. Ding works as General Manager at CRRC UK Limited and is heading CRRC's Europe infrastructure market strategy and regional policy development. Previously he was the Global EPC Head at CSR Corporation Ltd., managing EPC projects over 35 countries. Mr. Ding has 13 years of multinational project management experience. Mr. Ding had also involved in M&A project in E+M in Germany in 2013. He covered the area of Due Diligence,operational management and transfer of technology process etc. during the transaction.
Professor Yinshan Tang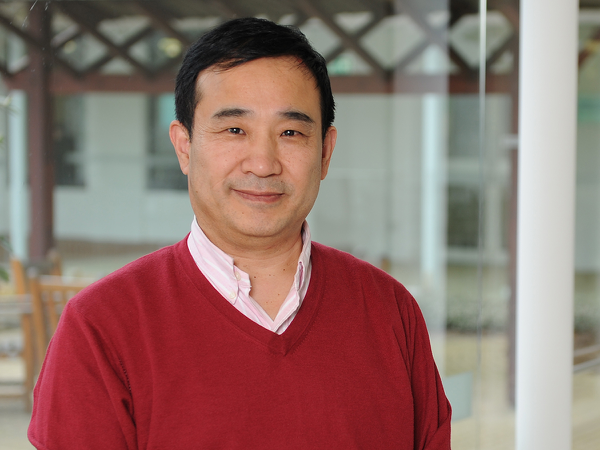 Professor Yinshan Tang is a Professor in Management Informatics at Henley Business School who teaches IT Project Management, Applied Informatics, Organisation Design and Performance Management at MSc level for over 10 years. He had industry experience working for a business consulting firm as a Business Unit Manager for 6 years before coming to Reading in 2004. He worked as a Parasitologist for over 17 years.
Ms Jasmine Jiang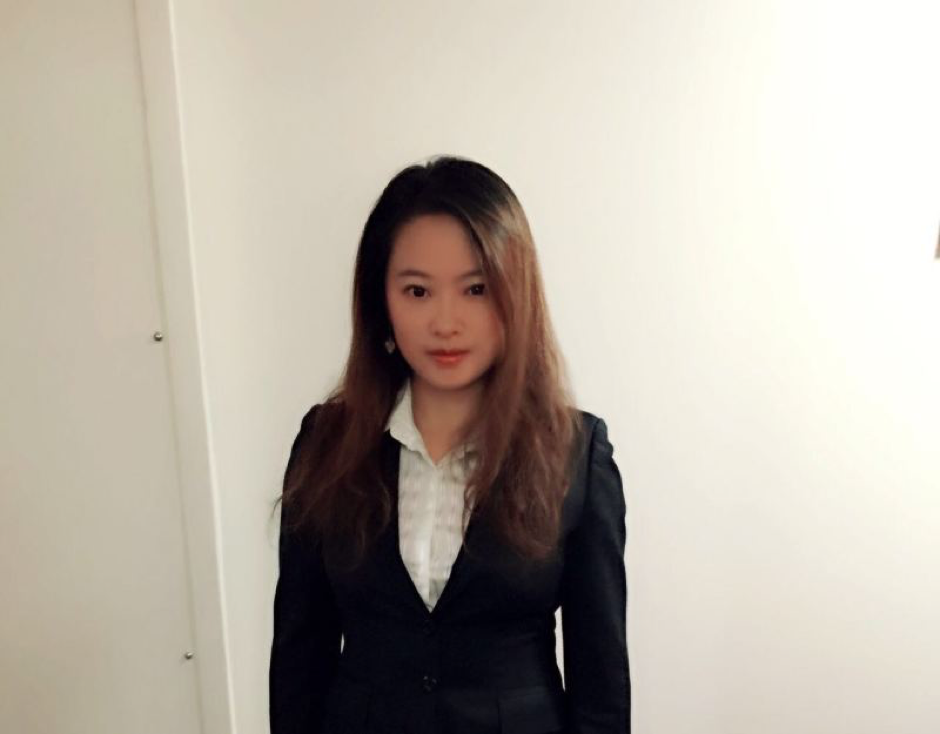 Jiang graduated from University of Cambridge with Mphil Degree in Real Estate Finance. She holds two highly recognised professional qualifications – Charted Accountant (CA) and Charted Member of Institution of Securities and Investment (MCSI). She has more than 16 years experiences in Finance; especially in UK-China business. She has previously worked in world-famous investment banks (including JP Morgan and Morgan Stanley), Asset Management companies and Private Equities in London. She is now Chief Executive of Peak One (Peak Group Global) and President of University of Cambridge Chinese Entrepreneurs Club. They specialise in cross-border (especially UK-China) cooperation in Finance, Trade, Hi-tech, Healthcare, Real Estate, Education, Sports,Media, Arts and Cultural exchange. She is also columnist for People's Daily Online and BBC.
Ms Jie Zhang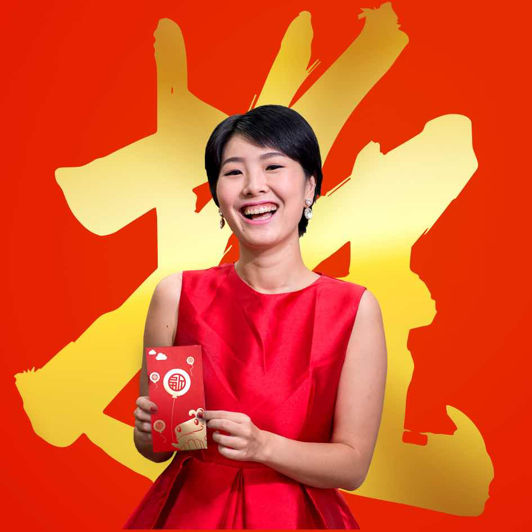 A serial entrepreneur, angel investor and champion of entrepreneurship. She is a co-founder of Getui, a leading big data company in China. Ms Zhang is also chief executive officer at Huadan Angel Investment, where she manages a portfolio of 30+ companies, mostly in the TMT area. She also runs the Bay West Accelerator in Dream Town, Hangzhou. Ms Zhang holds a liberal arts degree from Zhejiang University.
Ms Ting Zhang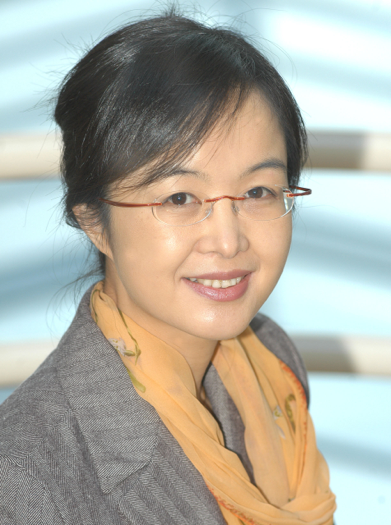 Founder and CEO of China Business Solutions, a leading China specialist firm offering a wide range of tailored advisory and support services. Ms Zhang has 20+ years of experience advising UK companies on doing business in China. She is also involved with Prime Ventures, a leading European VC. Ms Zhang holds an MBA from University of Cambridge.
Mr Jiahao Sun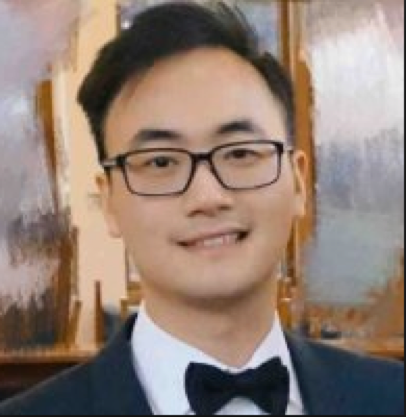 Deep Learning and Artificial Intelligence expert. Recognised by the UK Home Office as an Exceptional Talent in this field, Jiahao co-founded UiiTech Ltd, an Artificial Intelligence start-up focused on digital marketing. He was also the Chief Data Scientist at TypeScore before joining RBC. Mr Sun holds an MSc in Computer Science from the University of Oxford.
Dr Jane Jin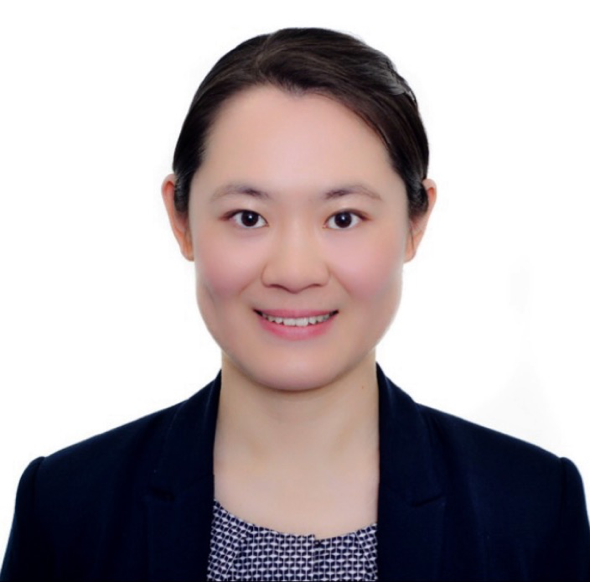 Licensing and Ventures Manager at Oxford University Innovation, the leading UK university innovation centre and start-up accelerator. Dr Jin focuses on commercializing Oxford University's research through licensing and creating spin-out companies. She previously worked at an innovation consultancy at Cambridge, where she helped global companies identify and evaluate market opportunities across a range of industries. She holds a PhD in Chemistry from University of Cambridge.
Ms Elyn Shen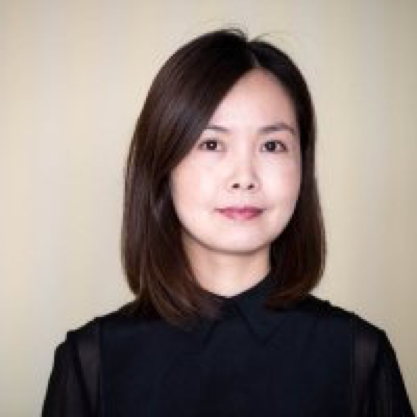 Founder and CEO of Tenoke, a biotech start-up that revolutionises stroke and cardiovascular disease prevention. An experienced entrepreneur, Dr Shen she won the first prize in the 2016 HiSTAR Competition as well as several other prestigious start-up prizes. She is a veteran fundraiser, having secured significant funding for her company from Chinese VCs. Dr Shen holds an MPhil from University of Cambridge.
Dr Jason Teng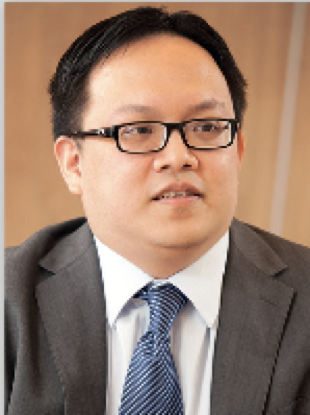 A patent attorney at PotterClarkson, Dr Jason Teng provides legal advice on intellectual property matters with particular expertise in design and engineering. Dr Tang holds a PhD in Engineering from University of Birmingham. Potter Clarkson LLP is one of Europe's foremost firms of patent and trade mark attorneys, advising clients around the globe on intellectual property rights in biotechnology, chemistry, engineering, computing and related areas.
Mr Yuzhou Yang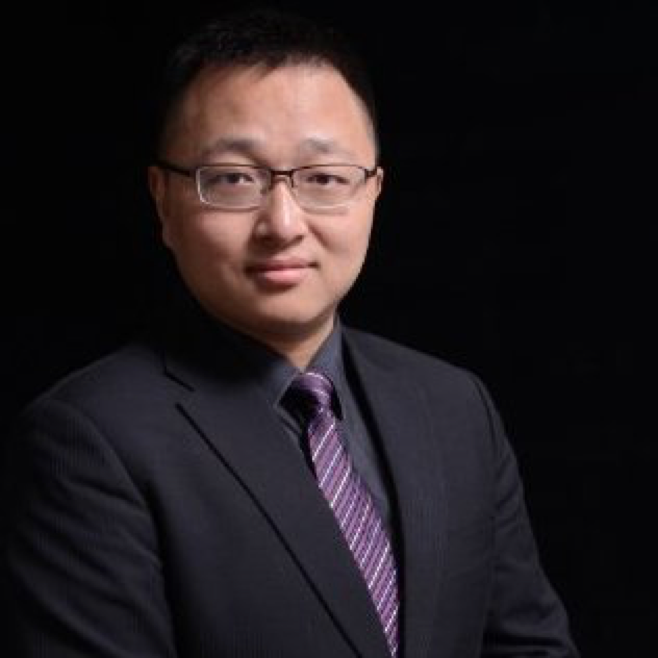 Has extensive experience in representing foreign companies in intellectual property law. Mr. Yang specializes in the mechanical and electronic industry. He has extensive experience dealing with Samsung Electronics LCD for more than 50 cases. Dentons is the world's largest law firm measured by number of lawyers and has offices in 57 countries around the world.
Dr Shanshan Wang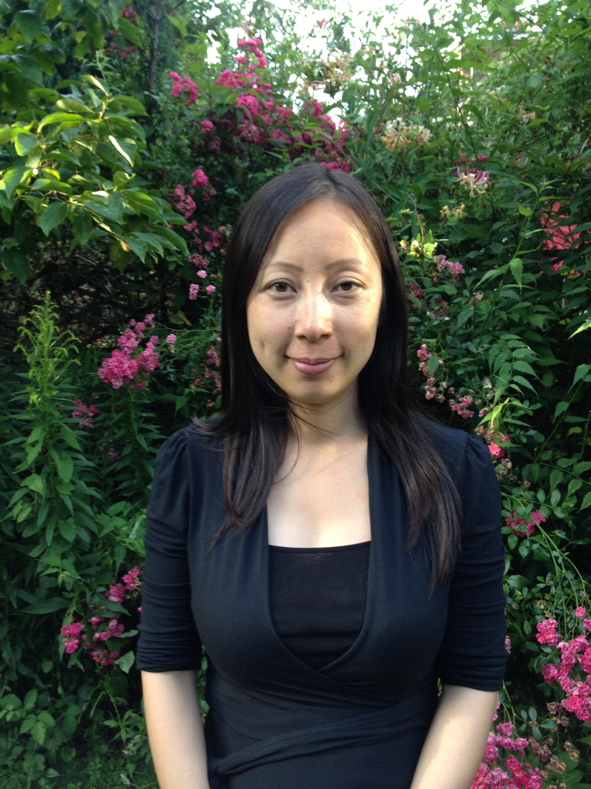 Biotech portfolio manger at EnsoVentures, a venture capital firm focused on early stage pharma projects with headquarters in New York and office in London. Dr Wang has broad industry research experience with BMI and Reuters Life Sciences and holds a PhD in Pharmacology from University of Cambridge University.
Dr Marco Morbidini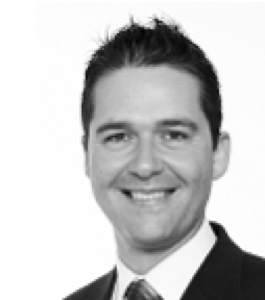 Marco is a Patent Attorney at Marks & Clerk specialising in mechanical inventions from consumer products to high-end technologies. He is particularly interested in the cross-over between traditional mechanical engineering and disciplines such as materials, controls, electricity and electronics. Marks & Clerk operate internationally with clients ranging from individuals with good ideas to multi-nationals with large IP portfolios.
Dr Jian Cao
RTC Innovation Ltd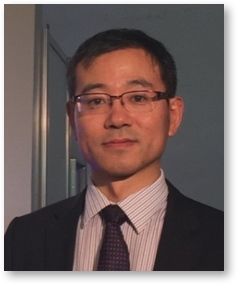 With a multidisciplinary background in Accounting & Finance from Tianjin University of Commerce (BSc), Computer Science from the University of Birmingham (MSc) and Mechanical Engineering from the University of Birmingham (PhD), Jian Cao founded RTC Innovation Ltd in 2009 and plays leading roles in technology transfer and forming technology-based spin-outs. Jian has been involved in research since 2002, working for companies like Corus (UK), Israel Aircraft Industries, IMRA (Japan), and Shougang Research Institute of Technology (China). After graduating in 1998, Jian worked as accountant for China Aerospace Science and Technology Corporation. Jian has made and led in 10 venture capital investments in the past 5 years and secured around £15m. it include in Oxford Multi Spectral Ltd, Oxford Vacmedix Ltd, OxEML, Oxford PV, 3D Engine Ltd, Silicon Fuel Ltd, Oxsight Ltd etc. He currently sits on the Board of Directors in the most of spun out / start-up companies. Jian is also CEO of China Tea Culture Ltd in Oxford to bridge culture, innovation and investment opportunities between China and UK.
Dr Hongsen Peng
Techbridge Innovation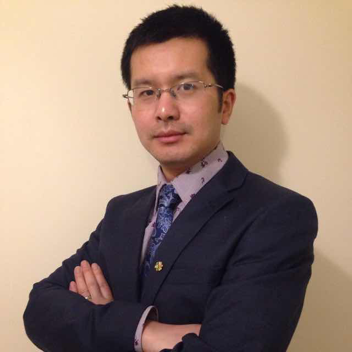 Dr. Hongsen Peng is the co-founder and CEO of Techbridge Innovation (TBI), a spin-out company of RTC Innovation. TBI possesses close collaborative relationship with UK university innovation centers, incubators, accelerators and venture capitals which offering financial advisory and media support services to startups and entrepreneurs. Dr. Peng is also the co-founder of HiTECH Innovation Forum and the famous 2016 HiSTAR Competition. He possesses rich work experience in technology transfer,incubators and venture capitals investments in both UK and China. He had previously worked as a Postdoctoral Research Fellow in Oxford University (2015-2016) after being awarded a DPhil Degree in Biomedical Sciences from University of Leeds in 2014.
Mrs Yuling Du
Chinese Business Gazette Media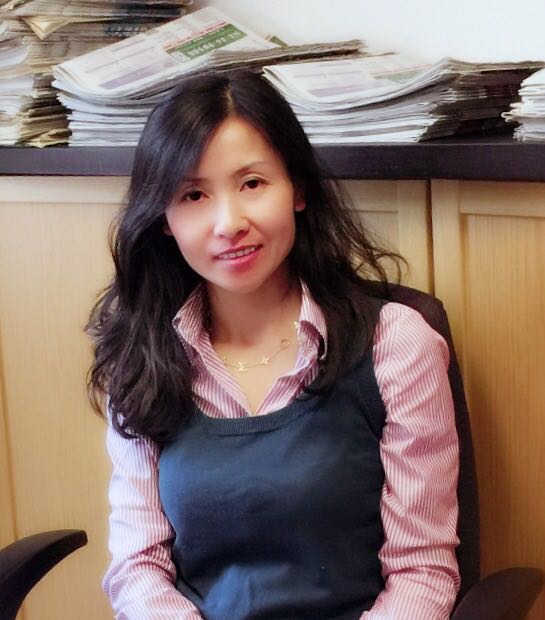 Mrs Yuling Du, CEO of Chinese Business Gazette Media, Secretary-General of UK Chinese Commerce Association. She achieved Msc in the UK, and has been working in management for 14 years in London. In recent years, she is mainly ficussed on the daily running and mangement of CBG Media, which is famous for having the longest history, the biggest circulation and the widest coverage throughout the UK.
---
Directions: