Event Information
Location
University of Warwick
6 University Road
Coventry
CV4 7EQ
United Kingdom
Refund policy
Contact the organiser to request a refund.
Eventbrite's fee is nonrefundable.
China Summit is a platform open to everyone to holistically introduce China and its role in addressing today' global crises hosted by WCDS.
About this event
2021 has ended with the feeling of hope reflected in the United Nations' General Assembly's theme 'Building Resilience through Hope' and COP26 uniting the world to tackle climate change. An inclusive sustainable and resilient COVID-19 recovery is critical to setting the world on course toward a - pathway that will also create jobs, reduce inequalities, and improve food security, benefiting people, planet and economy. The greatest global challenges need effective international cooperation. How is China - as one of the world's leading countries - tackling global crises?
China Summit is a friendly, accessible and equal platform open to everyone to holistically introduce China and its role in addressing today's global crises. We invite eminent speakers from various fields to give their distinctive, professional viewpoints of China and contemporary issues of the world. Warwick China Development Society (WCDS) encourages people to learn about China, from different angles, not just looking at its achievements in economy, military, and technology; but also to consider cultural interchange and comparative studies. China Summit is split into 4 different panels: Politics and Economy, Technology and Innovation, Social Development, and Art and Culture.
Politics & Economy - Global Economy in a Post-Covid World: Nationalism Triumphant
As we approach yet another year of co-existing with the COVID-19 pandemic, which has drastically changed the society both politically and economically, now more than ever, countries have become increasingly inward looking when it comes to issues related to globalisation. As more politicians advocate for trade protectionism and manufacturing independence, trust in open commerce is inevitably damaged. What long-term effects will this shift in international attitudes have on global politics and economy in the COVID-19-era? Could it give rise to Nationalism?
Technology and Innovation - The Great Green Transition: Emerging Sustainable Technology
Sustainability and climate change have emerged as other main causes of concern for governments and businesses alike globally. Many developed countries have begun investing in and promoting sustainable technology as they believe this could enhance their current and future global statuses. So, how has modern technology enabled governments to be accountable for their actions related to sustainability and helped them achieve their sustainable goals more efficiently?
Social Development - The Baby Bust: The World's Looming Demographic Crisis
While the standard of living and life expectancy has much increased in the world thanks to the newest technology and research. The 2021 Worldwide Population Data has shown a declining fertility rate compared to 1990 and China has reported its new low in 2021. What are the implications for the declining birth rate in society? Why are Asia countries like Japan and China suffering from a declining birth rate?
Art and Culture - Eco-awakening: Influence of Sustainable Ideology on Creative Industry
On a cultural level, how has the creative industry further shaped society's value towards sustainable ideologies? Will their work awaken more eco-awareness in the society?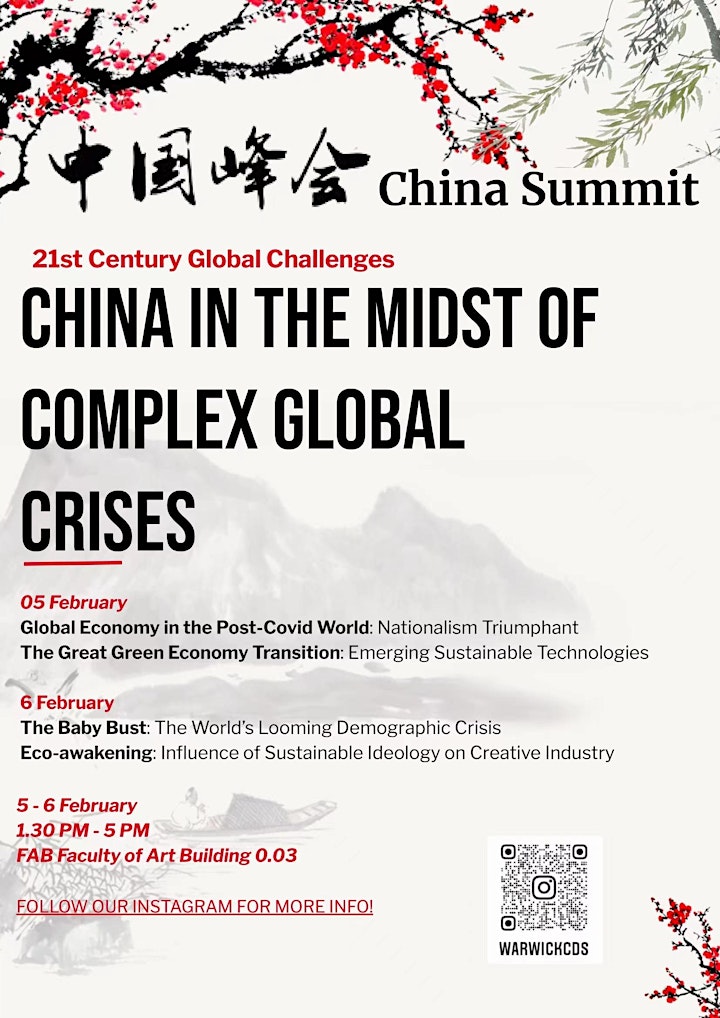 Date and time
Location
University of Warwick
6 University Road
Coventry
CV4 7EQ
United Kingdom
Refund policy
Contact the organiser to request a refund.
Eventbrite's fee is nonrefundable.