China's Carbon Pledge 2060: How Will We Get There?
About this event
In his address to the 75th United Nations General Assembly (UNGA) in September 2020, Chinese President Xi Jinping announced to the world that China pledges to have its CO2 emissions peak before 2030 and become carbon neutral by 2060. This is an ambitious target given that China is the largest green house gas emitter in the world and its ongoing rapid economic development is heavily reliant on the fossil fuels industry.
What caused this shift, from China being seen as a climate change laggard to pursuing its place as a climate change champion? What changes will be required in China's economy to undertake decarbonization across all industries? What implications will this pose for global supply chains fuelled by Chinese production? What does it mean for China's role in the world in driving multilateral cooperation on climate action and how can it cooperate with countries such as the UK, US and Europe to propel change?
To answer these questions, we welcome you to join the opening panel session of the Lau China Institute's inaugural China Week Forum (25th to 29th October 2021), ahead of the United Nations Climate Change Conference of the Parties (COP26) in Glasgow.
We are pleased to be joined by a panel of experts who will provide unique insights into China's pathway to its 2060 goal, including:
Isabel Hilton OBE, Founder, China Dialogue
Isabel is the founder and former CEO of China Dialogue -a non-profit, fully bilingual online publication based in London, Beijing, and Delhi that focuses on the environment and climate change. She is a London-based international journalist and broadcaster and a regular columnist for The Guardian and her work has appeared in the Financial Times, the New York Times, the Los Angeles Times, Granta, the New Statesman, El Pais, Index on Censorship, and many other publications. Isabel was awarded the Order of British Empire (OBE) for her work in raising environmental awareness in China.
Dr. Chen Ji, Principal, Rocky Mountain Institute
Chen is a principal at the RMI China program, currently working on China's zero-carbon energy transition. He is also the China head of Energy Transitions Commission (ETC) and senior energy advisor of Investment Association of China (IAC). Before joining RMI, he worked for National Development and Reform Commission (NDRC) and its affiliated advisory institutes, including Energy Research Institute (ERI) and National Centre for Climate Strategy (NCSC), where he represented the Chinese government to negotiate in UNFCCC process, including Paris Agreement, and participated in numerous consulting and research projects that influence business decision making and national policy making. Dr. Chen obtained his PhD in Energy and Environment Economics from Dundee University (UK), MSc in Environmental Economics and Management from York University (UK), and BEng in Building Environment and Equipment Engineering from Huazhong University of Science and Technology.
James Pennington, Manager, China Partnerships and the Circular Economy, World Economic Forum
James is the China Partnerships Manager at the World Economic Forum. He works on the Circular Economy initiative, leading the work on policy engagement in emerging markets with a key focus on China and the African continent. Prior to the World Economic Forum, James has worked for Chatham House, and consulted for the British Foreign and Commonwealth Office.
Dr. Chunping Xie, Policy Fellow, Grantham Research Institute on Climate Change, London School of Economics
Chunping is a Policy Fellow at the Grantham Research Institute on Climate Change and the Environment at the LSE, leading a programme with Lord Nicholas Stern to inform decision-making about China's policies on climate change, energy, economics and development. Chunping is an energy economist with experience in China's energy policy and development, the global energy markets and energy security, the economics of energy storage and sustainable transition. She has formerly worked for the Energy Systems and Policy Analysis Group, Birmingham Centre for Energy Storage (BCES) and King's College London. Chunping holds an MSc and a PhD in Energy Economics.
Chair: Cindy Yu, Broadcast Editor, The Spectator
Cindy is the Broadcast Editor at The Spectator, where she also hosts a fortnightly podcast on China, 'Chinese Whispers'. She studied Politics, Philosophy, and Economics at the University of Oxford, where she did her Master's degree in contemporary Chinese studies. Her research focused on Chinese political propaganda and modern youth opinion. Cindy has written extensively about Chinese society and is a frequent commentator on China issues for RTE, BBC World Service and World TV, GB News and LBC.
Primary Event Partner: China Dialogue
The event will be held at Strand Campus, King's College London. Exact location of the venue will be notified to all attendees in due course. Breakfast and refreshments will be provided for all in-person tickets.
To tweet about the event, use the tags @lauchinainst and @chinadialogue on Twitter, and hashtags #ChinaWeek2021 #COP26 #lauchinainstitute #chinadialogue #kingscollegelondon.
For media and event inquiries, please contact lauchina@kcl.ac.uk.
This year's China Week forum at the Lau China Institute of King's College London is held in partnership with:
Chatham House (Asia-Pacific Programme)
Australian National University (ANU)
The China-Britain Business Council (CBBC)
The Great Britain China Centre
Society for Anglo-Chinese Understanding
Italian Institute for International Political Studies (ISPI)
China Biodiversity Conservation and Green Development Foundation (CBCGDF)
Oxford University Silk Road Society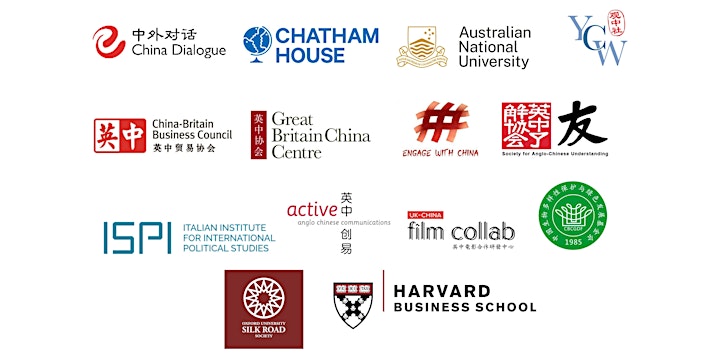 Organiser of China's 2060 Carbon Pledge: How Will We Get There?
The Lau China Institute is a global centre for the research, study and understanding of contemporary China. We aim to study both China and work with Chinese scholars and others. As such, we seek research collaborations and deeper mutual understanding with the People's Republic of China, ensuring we sit at the heart of King's strategic approach.
Established in 2011, we now have a community of core academics and postgraduate students, including roughly 30 PhD students. We are based within the School of Global Affairs, yet work across all nine faculties and beyond, to engage in multi-disciplinary and innovative research.
The Lau China Institute is based in Bush House, North East Wing, 40 Aldwych, London, WC2B 4BG, part of King's Strand Campus.