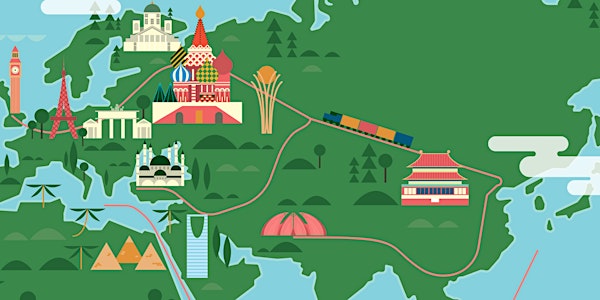 China's Belt and Road Initiative: Connecting the World - Free SACU Panel Di...
Location
Samuel Alexander Lecture Theatre
Samuel Alexander Building, University of Manchester
Oxford Road
Manchester
M13 9PL
United Kingdom
Description
China's Belt and Road Initiative: Connecting the World
- SACU Panel Discussion in Manchester -
China's Belt and Road Initiative - or 21st Century Silk Road - has been hailed as "the greatest economic development project ever undertaken", of huge significance in redefining China's place in the world through a different kind of globalisation. It opens a new meeting ground for diverse civilisations and, by reawakening the Eurasian super-continent, it may lead to a fundamental rebalancing of the global landscape dominated by Atlanticism.
A panel of experts will discuss the economic, intercultural and geopolitical dimensions of the scheme, weighing its globally transformative potential and considering how we in Britain should be responding. With two panel members recently returned from a business tour of Pakistan, the experience of the China-Pakistan Economic Corridor will also be addressed.
Speakers:
Professor Michael Wood, University of Manchester; historian, writer, broadcaster. Professor Wood has made over one hundred documentary films, including the 6 part BBC series, The Story of China, (2016);
Keith Bennett, Vice-Chairman of The 48 Group Club and longstanding SACU member;
Shao Zheng, Counsellor for Policy Analysis and Strategic Planning, Chinese Embassy to the United Kingdom;
Hon. Alderman Mushtaq Lasharie CBE, Former Councillor and Deputy Mayor of the Royal Borough of Kensington and Chelsea. Chairman Third World Solidarity - for Peace, Justice, Tolerance and Democracy through dialogue;
Chair: Dr Jenny Clegg, SACU Vice President
Welcome address: Afzal Khan CBE, MP for Manchester Gorton;
Also contributing: Rhys Whalley, Manchester China Forum.
Event Programme
3.00 pm Opening Address followed by panel discussion and Q&A
4.45 pm Refreshments and networking
6.00 pm Close
The event is organised by the Society for Anglo-Chinese Understanding (SACU) and supported by the Chinese Economics Association, Third World Solidarity and the Confucius Institute at the University of Manchester
FAQs
How can I contact the organiser with any questions?
Please contact rosamund.wong@ntlworld.com