China's 'Exceptional' Public Diplomacy (Ben Ho and Colin Alexander)
This seminar challenges China's international narrative of it being a benign power and the way it presents its image to the outside world.
About this event
This research seminar discusses how China's is presenting its image to the outside world. Using the framework of exceptionalism, Ben Ho will explain how China's international narrative of it being a benign power that is peace-loving and non-hegemonic forms part of its claim to be "different" from other historical and contemporary powers where the development of an Empire has brought violence, suppression and exploitation. By focusing on key speeches made by President Xi Jinping in his first two years in office, Ho will present three themes that the Xi administration has sought to communicate to the world. These are: first, the promotion of the Chinese Dream and the image of China as a flourishing civilization; second, an image of a progressive China willing to undertake reforms; and third, China as a moral example for worthy of global emulation. Ultimately though, Ho's argument is that China still lacks the communications clout to challenge predominant Western narratives that continue to perceive China's rise as a threat to their hegemonic status quo.
Our speakers:
Benjamin Tze Ern Ho – Nanyang Technological University, Singapore
Benjamin Ho is Assistant Professor at the China Programme, S. Rajaratnam School of International Studies (RSIS), Singapore. He obtained his PhD from the Department of International Relations at the London School of Economics and Political Science, UK. His research focus includes the study of China's international relations, with an emphasis on Chinese political worldview and exceptionalism thinking. Other research interests include security multilateralism in the Asia Pacific region with a focus on regional institutions and fora, national security (intelligence), the sociology of religion and public theology (Christianity). His research articles have been published in the America Journal of Chinese Studies, China Quarterly, Journal of Contemporary China, East Asia: An International Quarterly, Alternatives: Global, Local, Political, Asia Policy, Australian Journal of International Affairs and the Yale Journal of International Affairs.
Colin Alexander – Nottingham Trent University
Colin Alexander is Senior Lecturer in Political Communications at Nottingham Trent University, UK. His expertise surrounds the historical and contemporary international communications of Asian governments, with a particular interest in imperialism and north-south issues. He is the author of two monograph books: 'China and Taiwan in Central America: Engaging Foreign Publics in Diplomacy' (2014) and 'Administering Colonialism and War' (2019) and is the editor of The Frontiers of Public Diplomacy (2021).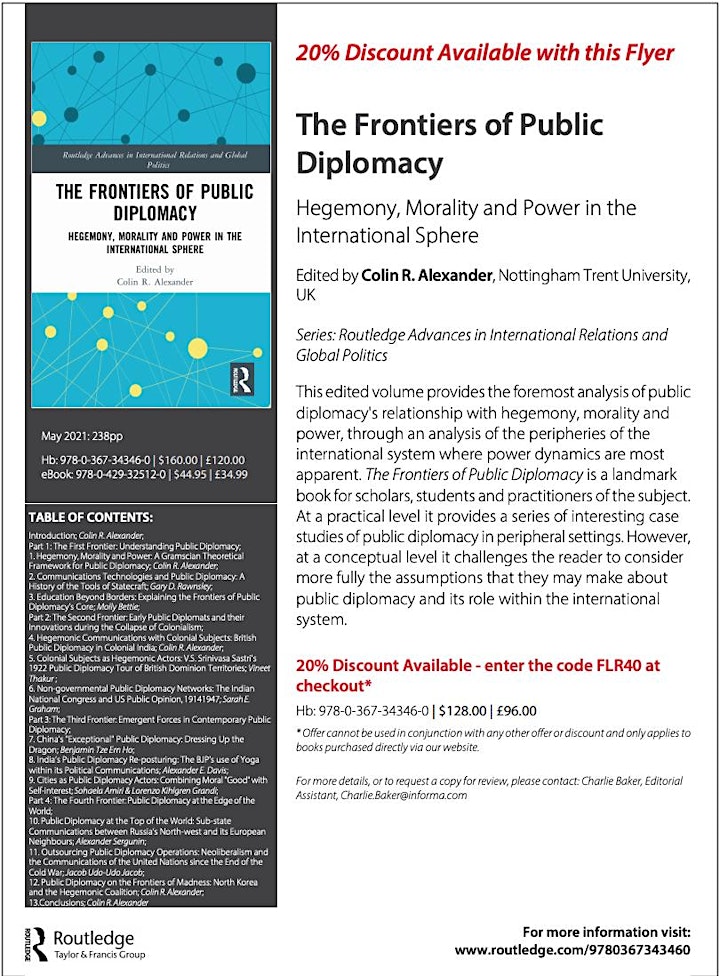 Organiser of China's 'Exceptional' Public Diplomacy (Ben Ho and Colin Alexander)