China's Outbound Investment: New Opportunities for the UK to Gain From Chin...
Description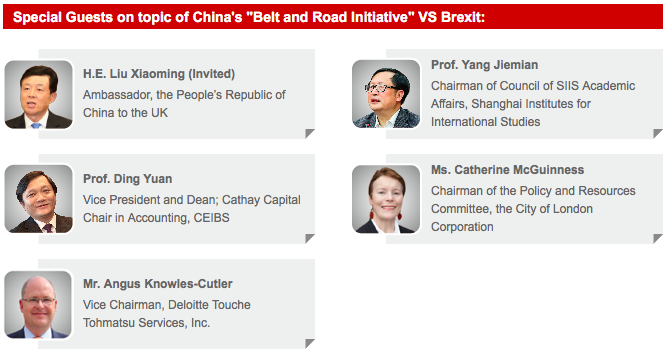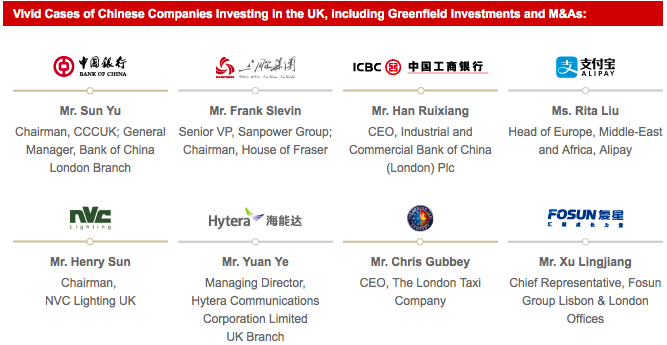 Provisional Agenda:
13:00-13:30 Registration
13:30-13:45 Welcome Address
Prof. Li Mingjun, President & Professor of Management, CEIBS
Mr. Sun Yu, President, CCCUK; General Manager, Bank of China London Branch
Mr. Angus Knowles-Cutler, Vice Chairman, Deloitte Touche Tohmatsu Services, Inc.
Moderator: Prof. Katherine R. Xin, Associate Dean; Professor of Management; Bayer Chair in Leadership, CEIBS
13:45-14:15 Opening Address (I):

H.E. Liu Xiaoming, Ambassador, the People's Republic of China to the UK
14:15-14:35 Opening Address (II):

Mr. Rajesh Agrawal (Invited), Deputy Mayor of London City for Business
Session I: Belt & Road Initiative: Implications for the UK​
14:35-14:55 Keynote Speech: Strategic Implications of the Belt and Road Initiative

Prof. Yang Jiemian, Chairman, Council of SIIS Academic Affairs, Shanghai Institutes for International Studies
14:55-15:10 Keynote Speech: Belt and Road Initiative: New Opportunities for China-UK Cooperation​

Ms. Catherine McGuinness, Chairman of the Policy and Resources Committee, the City of London Corporation
15:10-15:25 Keynote Speech: Pattern, Path and Trends for Chinese Enterprises' Outbound Investment
Prof. Ding Yuan, Vice President and Dean, Cathay Capital Chair in Accounting, CEIBS
Session II: China-UK Investment: Approaches to Win-Win Cooperation
15:25-16:05 Roundtable I: Greenfield Investment: Creating Value for Win-Win Outcomes
Moderator: Mr. David Percival, Managing Director of International Business Development at Deloitte
Panelists:
Mr. Han Ruixiang, CEO, Industrial and Commercial Bank of China (London) Plc
Mr. Henry Sun, Chairman, NVC Lighting UK
Ms. Rita Liu, Head of Europe, Middle-East and Africa, Alipay
16:05-16:25 Coffee Break
16:25-17:25 Mergers and Acquisitions: Generous Returns from the Chinese Market
Moderator: Prof. Ding Yuan, Vice President and Dean, Cathay Capital Chair in Accounting, CEI
Panelists:
Mr. Frank Slevin, Senior VP, Sanpower Group; Chairman, House of Fraser
Mr. Yuan Ye, Managing Director, Hytera Communications Corporation Limited UK Branch
Mr. Chris Gubbey, CEO, the London Taxi Company (Invited)
Mr. Xu Lingjiang, Chief Representative, Fosun Group Lisbon & London Offices
17:25-18:05 Cases about China-UK Cooperation in the Third-Party Market
Moderator: Prof. Ding Yuan, Vice President and Dean; Cathay Capital Chair in Accounting, CEIBS
Mr. Lu Ruquan, Director of International Department, China National Petroleum Corporation
BP UK
Language:
English/Chinese
If you have any question regarding this event, please contact: suran.ding@thechineseweekly.com

---

The Chinese Weekly was founded by Inno-media Limited in 2010 as a briefing paper on global affairs, business, culture, lifestyle and the global Chinese diaspora. It is the first simplified Mandarin printed & online magazine, website, social media and mobile App established in the UK. It features 6 themed columns including Current Affairs, Politics, Business & Finance, Education, Culture and Lifestyle across all our media platforms.
The Chinese Weekly is a UK b
ased high quality magazine. headquartered in London, and with offices in Zug, Dublin, Beijing, Shanghai, Valletta, Nicosia and Ljubljana. It targets educated, opinion forming Chinese speaking communities, beyond China across the Europe.