Relax, unwind, and immerse yourself in the art of Chinese Calligraphy
About this event
Chinese Calligraphy is not only a beautiful, ancient art form, but also a way to keep healthy. To become an artist or expert in Chinese calligraphy, you need to practice word by word, stroke by stroke until you become immersed in the spirit of the practice. In this way, writing Chinese calligraphy can become a meditative practice.
Join us on this four-week Chinese calligraphy course where we will introduce you to the history of Chinese calligraphy as well as its modern day use. Over the weeks you will build an understanding of the tools used for calligraphy, and the basic brush strokes that make up Chinese characters. You will learn more about how Chinese characters are constructed and how to distinguish between different writing styles. Each week will include a practical session where you can build on your technique, and the course will culminate in the creation of your own traditional Chinese painting or character work.
The four-week course will run on Saturdays from 11am – 12.30pm on the following dates:
2nd October
9th October
16th October
23rd October
Please make sure you are able to attend all sessions before making a booking. All classes will be held online via Zoom, and the following equipment is required to join the course from home.
Places are limited so you must register in advance to secure your place.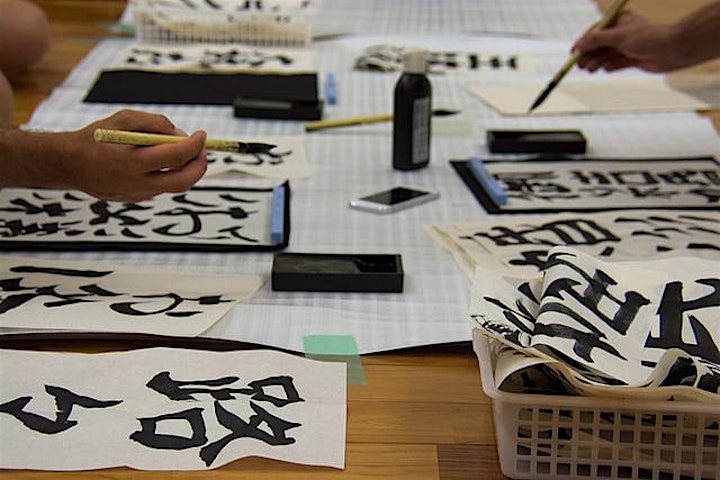 Clwb Caligraffi Tsieineaidd
Mae Caligraffi Tsieineaidd yn fath hynafol a phrydferth o gelf yn ogystal â ffordd o gadw'n iach. I fod yn artist neu'n arbenigwr mewn caligraffi Tsieineaidd, mae angen i chi ymarfer fesul gair, fesul strôc nes i chi gael eich trochi yn ysbryd y gweithgaredd. Fel hyn, gall ysgrifennu caligraffi Tsieineaidd ddod yn ymarfer myfyriol.
Ymunwch â ni ar y cwrs caligraffi Tsieineaidd pedair wythnos hwn lle byddwn yn eich cyflwyno i hanes caligraffi Tsieineaidd yn ogystal â'i ddefnydd modern. Dros yr wythnosau byddwch yn meithrin dealltwriaeth o'r offer a ddefnyddir ar gyfer y caligraffi, a'r strociau brwsh sylfaenol sy'n ffurfio cymeriadau Tsieineaidd. Byddwch yn dysgu mwy am sut mae cymeriadau Tsieineaidd yn cael eu llunio a sut i wahaniaethu rhwng gwahanol arddulliau ysgrifennu. Bydd pob wythnos yn cynnwys sesiwn ymarferol lle gallwch wella eich techneg, a bydd y cwrs yn arwain at greu eich gwaith arlunio neu gymeriad Tsieineaidd traddodiadol eich hun.
Bydd y cwrs pedair wythnos yn cael ei gynnal ar ddydd Sadwrn rhwng 11am a 12.30pm, gan ddechrau ddydd Sadwrn 2 Hydref. Bydd pob dosbarth yn cael ei gynnal ar-lein drwy Zoom, ac mae angen yr offer canlynol i ymuno â'r cwrs o gartref.
* Brwsys caligraffi (ein hargymhelliad neu debyg)
* Inc caligraffi (ein hargymhelliad neu debyg)
* Papur (ein hargymhelliad neu debyg)
Mae lleoedd yn brin, felly cofrestrwch ymlaen llaw i gadw eich lle.
Organiser of Chinese Calligraphy Course - October 2021
We communicate Chinese language and culture to schools, universities and local communities across Wales. We were formed in 2008 through a partnership between Xiamen University and Cardiff University and our work is supported by the International Education Foundation in China.
There are almost 500 Confucius Institutes around the world, and each one serves its community in a different way. The focus of Cardiff Confucius Institute is on language teaching and is built upon the vast breadth of expertise at Cardiff University's School of Modern Languages, where we are based.