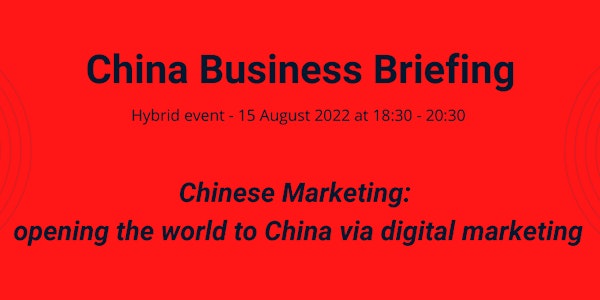 Chinese Marketing: Opening the world to China via digital marketing
Location
LSE campus. NAB – New Academic Building, Lincoln's Inn Fields – Room NAB.LG.03 (Thai Theatre)
54 Lincoln's Inn Fields
London
WC2A 3LJ
United Kingdom
Chinese Marketing: Opening the world to China via digital marketing
About this event
China Business Briefing is a series of panel discussion held at LSE. It is part of our Executive Education Programme modules and it is also open to the public. The topic of the next session will be: "Chinese Marketing: Opening the world to China via digital marketing".
Hybrid event: accessible both online and on-campus at LSE. The event on-campus will be followed by networking drinks.
Chinese market is one of the most active and attractive markets in the world but Chinese consumers and the methods of reaching out to them are vastly different to the West. This session will cover how China's digital landscape largely differs from the West and how professionals across different industries can leverage it to reach the right audience for them.
Speakers
Arnold Ma: CEO at Qumin
Arnold Ma is a speaker, a writer, a podcast host, and the founder of Qumin, Europe's first Chinese digital creative agency.
The official line is that 'Qumin delivers creative marketing campaigns based on Chinese audience behaviours'. But over a steamed bun in Camden Town, he'll tell you that his bigger purpose in life is to 'Open The World To China'. And his belief is that only Digital can make that happen quickly.
​Arnold also started the grassroots movement #EveryAsianVoice. You'll find him on LinkedIn, Twitter, WeChat, Instagram, Dao Insights, and 9gag. He still wears flip-flops to work.
Alex Wei: Ever Trip Ltd Managing Director
After graduating from Guangxi Uni of Finance and Economics in 2010, I worked as an accountant at Decathlon and Hemes in Shanghai for 4 years until I went to Brazil to watch the FIFA World Cup 2014 in order to realise my dream. During the trip, I met a journalist from Tencent Sports, which inspired me to enter the football industry.
In 2015 I moved to Newcastle University to study for my MBA and at the same time started freelance as a Premier League journalist.
After graduating from Newcastle I founded Ever Trip Ltd, offering football tours to Chinese and South-Asia tourists until the covid outbreak.
Ever Trip has now transformed into a sports marketing company that localises the UK for the China brand.
For security reasons in our high impact events, we require all our guests to provide their name, profession and institutional affiliation in our event registration forms. We reserve the right to refuse entry (both online and on-campus) to guests who fail to provide these details at a reasonable time prior to the event.