Join the V&A Museum of Childhood team at Chisenhale Play + Learn + Create Space and play freely on your doorstep
About this event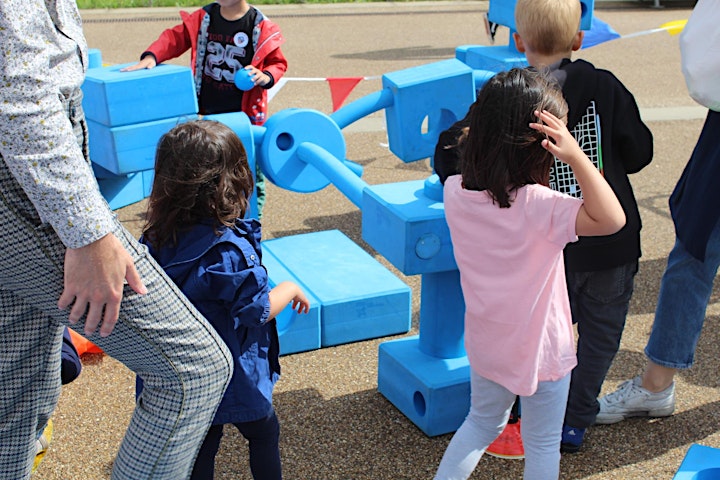 Join the V&A Museum of Childhood team at Chisenhale Play + Learn + Create Space. Use our large-scale play kits to construct a huge tower, a boat to sail away on, a den to hide in, or create anything you choose! An array of materials developed by design and play experts PLAY BUILD PLAY and sculptor Matt Shaw will also be available as you use your imagination to be creative and have fun together.
Suitable for families with children up to 11 years.
Weather dependent (in the case of heavy rain, we may have to pause sessions)
Sessions are free and limited to 20 capacity per session to keep everyone safe.
V&A Museum of Childhood staff and Chisenhale Dance Space staff will be on site to ensure a fun and safe experience.
The V&A Museum of Childhood is a world-leading museum of design and creativity for children and young people. A place where you can learn, create and debate together, and design for tomorrow. This activity is a taster of the future museum during a period when it is closed for renovation. Find out more information here
Chisenhale Dance Space is an arts organisation based in Bow, Tower Hamlets, specialising in delivering innovative performance work, leading artist development programmes and exciting community and outreach projects with our local community.
We offer a series of fun and imaginative Children's Creative Movement & Dance classes for children in local boroughs on Saturdays, starting at age 2 and running on a progressive programme up to the ages of 9, engaging nearly 200 children each term.
Class bookings for Autumn Term 2021 will be open from Wednesday 18th August 2021, sign up to our mailing list here to be the first to hear when bookings open.
To find out more information on classes & how to sign up, visit our website: www.chisenhaledancespace.co.uk
Please contact our Operations Manager & Producer: Participation Jessica at: jessica@chisenhaledancespace.co.uk or telephone 020 8981 6617 if you have any questions.
Organiser of Chisenhale Summer of Art: CDS & V&A Museum of Childhood Summer of Play
Come join a FREE programme of arts activities taking place on Chisenhale Road this summer. Set to inspire people of all ages and abilities to move, play and create, you'll find plenty on offer from Monday 26th July – Saturday 11th September 2021.
It's happening in the Chisenhale Learn + Play + Create outdoor playground, where you can explore your imagination and experience family art activities, dance classes, community exhibitions and live performances.
Chisenhale Studios, Chisenhale Gallery and Chisenhale Dance Space will be behind the scenes producing all these exciting workshops, alongside the V&A Museum of Childhood and Chisenhale Primary School's PTA.
Visit www.chisenhale.co.uk for more information, including how to sign up!
Chisenhale Learn Play Create, Chisenhale Road, London, E3 5QY
#ChisenhaleSummerofArt