FREE Performance of 'Creature Comforts' performed by Feet off the Ground.Join Flynn on an adventure bursting with dance, theatre and circus!
About this event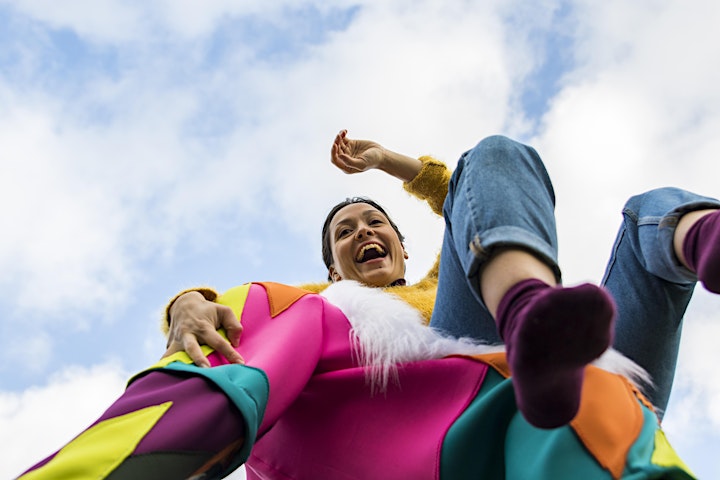 Creature Comforts
"Brings the audience into a magical world"
This FREE family friendly outdoor show follows Flynn, whose phone is consuming her mind, squashing her imagination and flair. Absorbed in her phone, she doesn't notice the appearance of a large, mysterious four-legged creature.
Can she stop scrolling and start strolling with this magnificent creature? Will she leave behind her creature comforts and enter a world full of fun and magic! Come and celebrate the power of play, friendship and imagination.
Performance Times: 2:30pm & 4:30pm (25 mins running time)
Performers: Robyn Holder & Patricia Zafra
Feet Off the Ground
Feet Off The Ground is an all-female contemporary dance collective who are passionate about the role of dance, creativity and expression in education and young people's lives.
The collective specialises in Contact Improvisation and partnering, making engaging, physical work with a focus on sharing untold stories. FOTG are passionate about education and have taught extensively in dance conservatoires and organisations, youth groups, schools, professionals and within the community.
Chisenhale Dance Space: Children's Creative Movement & Dance Classes
Chisenhale Dance Space offers a series of fun and imaginative Children's Creative Movement & Dance classes for children in local boroughs on Saturdays. Our creative classes invite children to explore different qualities of movement, learn contemporary dance skills and create their own exciting choreography. The classes start at age 2 and run on a progressive programme up to the ages of 9, engaging nearly 200 children each term.
Class bookings for Autumn Term 2021 are now open, taking place at Chisenhale Dance Space. Autumn Term will run for 12 weeks from 11th September - 4th December 2021. Click here for more information and sign up!
Please contact our Operations and Education Manager Jessica at: jessica@chisenhaledancespace.co.uk or telephone 020 8981 6617 if you have any questions.
Organiser of Chisenhale Summer of Art: 'Creature Comforts' Family Dance Performances
Come join a FREE programme of arts activities taking place on Chisenhale Road this summer. Set to inspire people of all ages and abilities to move, play and create, you'll find plenty on offer from Monday 26th July – Saturday 11th September 2021.
It's happening in the Chisenhale Learn + Play + Create outdoor playground, where you can explore your imagination and experience family art activities, dance classes, community exhibitions and live performances.
Chisenhale Studios, Chisenhale Gallery and Chisenhale Dance Space will be behind the scenes producing all these exciting workshops, alongside the V&A Museum of Childhood and Chisenhale Primary School's PTA.
Visit www.chisenhale.co.uk for more information, including how to sign up!
Chisenhale Learn Play Create, Chisenhale Road, London, E3 5QY
#ChisenhaleSummerofArt