About this Event
HOSTED BY: Beccy Owen's Pop Up Choirs
DATE/TIME: Tuesday 4th August 10.00am - 1.00pm (w/ comfort break in the middle.)
PRICE: £25
All resources and guidance provided.
________
This 3-hour workshop is called Choir Leading Online: Delivering Real-time Sessions via Zoom and will be facilitated by the acclaimed singer, songwriter, music leader and facilitator Beccy Owen.
In March 2020, in the first week of lockdown, Beccy switched her delivery of real-time pop-up choirs to the online 'arena' .
Since then she has led 20 weeks' worth of sessions, 3 times a week, engaged hundreds of people in uplifting music making from the comfort of their own homes and been on some pretty steep learning curves!
Beccy is now offering to share all her tips, tricks and secrets on how she has gone about creating effective, inclusive...dare we say JOYFUL online delivery.
Is this workshop for you?
Want to explore how to run more effective, real-time online sessions - and grab some catchy, copyright-free repertoire ideas along the way?
Would you value the chance to observe an experienced music leader and the space to explore best online practice, teaching styles and communication.
Would you like to feel supported and encouraged by a creative tribe of fellow music leaders are all attempting to navigate this brave new, strange new, online world?
Whether you're an established or emerging music leader, specifically work with choirs or other types of groups, there's loads for you here...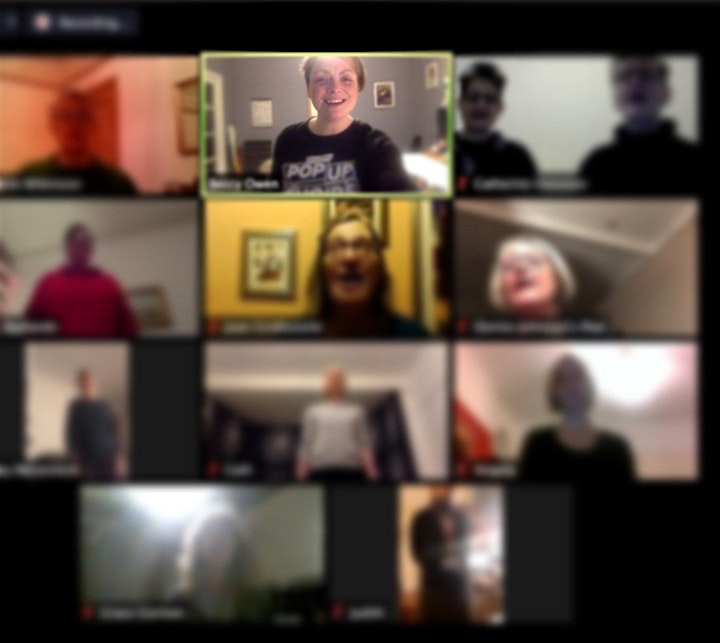 MORE INFO:
In this workshop, which is aimed at all levels - whether you are an established or emerging music leader, we will be exploring:
The creation of effective musical resources.
What kind of songs and arrangements tend to work best online.
How to record sessions and why this might be valuable to you and your attendees.
How to best exploit the available technology as well as understand it's limitations.
How to better understand and keep on top of the nature of the 'online choir admin cycle.'
...plus shed loads more!
NB: Whilst we will look at various technical aspects of Zoom, alongside the limitations of teaching on this platform, please be aware that this is not a 'how to use zoom for beginners' session, and assumes a basic, working knowledge of the conferencing platform Zoom.
________
An audio file for this event will be recorded, and the audio recording will be made available to all participants after editing, which will be 3-4 days following the live class
**Please note that space is limited.
**I understand that this session will be recorded and may be used for future projects and that the event organiser retains all rights and permissions to use, distribute and promote these recordings.
________
About Beccy:
Beccy Owen is a musician, songwriter, performer, voice coach and facilitator based in the North East of England.
She studied English Lit. and Education (BA Hons) and graduated from the University of Newcastle with a first class distinction.
Beccy has subsequently worked as a professional singer, songwriter, composer and theatre maker for the past twenty years. She is the founding degree programme leader of the BA in Community Music at University of Sunderland/Sage Gateshead, and pioneered 'Beccy Owen's Pop-Up Choirs', an on-going, international programme of inclusive, group-singing experiences for all.
________
Testimonials from previous training delivered by Beccy:
"I've felt much clearer and more confident since working with Beccy. The approaches we explored have given me inspiration, new ideas as well as the opportunity to meet and network with others. There has been a great sharing of knowledge & technique which has changed my work for the better." Ali Corcoran, Canada
"I have now got a wealth of resources that can be used or adapted for use in future work. I feel that the organisational skills, the knowledge base and the confidence that I have gained during this training is already starting to feed into current projects, and will continue to do so in the future." Simon Weaver, UK
Testimonials from online pop-up choir sessions:
"You may be singing in your home alone but before long you feel a real connection to the leader and other singers and I've become used to it as the only choir experience available...and I love it." Bernie Remington, US.
"Online sessions sound hard, but Beccy's teaching style helps everyone individually and as a group get the most out of the session" Lisa Wood, UK.
Date and Time
Location
Refund Policy