Choose To Lose 2018: Community Weight Management Programme.

Thursday, 11 January 2018 at 10:30

-

Thursday, 29 March 2018 at 11:45 (GMT)
Event Details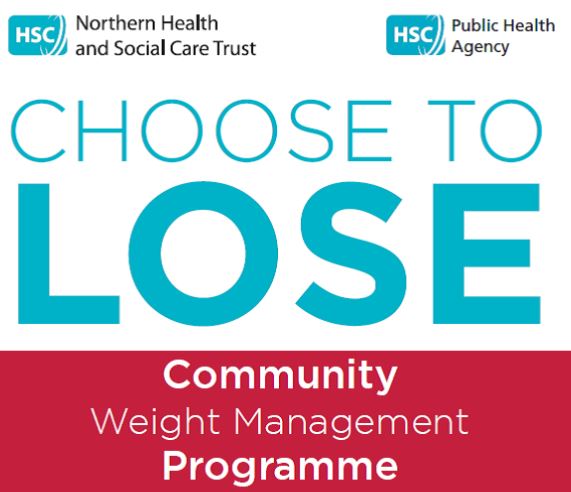 Cregagh community health and fitness hub presents this fantastic opportunity for both male and females to lead a more positive and healther lifestyle in 2018.
Starting on the 11th January 2018 with our 'Choose To Lose Community Weight Management Programme' in partnership with Bodymotion NI and Mount Merrion Parish Church.
Our mission is to create and inspire movement for optimal health and wellbeing with a programme that is ideal for beginners and a perfect introduction to exercise and healthy eating for long term results.
What is the Choose to Lose programme?                                                                                                    Choose to Lose is a community-based, peer support, weight loss programme for adults, which is designed to be delivered in a group setting. It is designed to empower participants how to achieve and maintain a healthy weight and is free of charge. Successful weight management will result in reduction of long term health consequences including diabetes and cardiovascular disease. 
What is the format of Choose to Lose?
Format: Choose to Lose consists of 12 weekly face-to-face sessions, delivered over 12 consecutive weeks where practical. Each session involves at least 75 minutes of combined nutrition education and physical activity. 
Who is Choose to Lose suitable for? 
Choose to Lose is suitable for adults in the community, who are above a healthy weight (as defined by having a body mass index (BMI) of 25 Kg/m2 or over) and who are motivated to change their diet, exercise and/or lifestyle in order to lose weight.
Who is Choose to Lose not suitable for? 
Choose to Lose is not suitable for people with a BMI under 25 Kg/m2, children, pregnant or breastfeeding women, frail elderly and those who have recently unintentionally lost weight.  
Choose to Lose does not address the nutritional needs of people requiring specific therapeutic diets, although they may benefit from attending. Such participants should ask their GP to refer them to a Registered Dietitian if they require further dietary advice.  
What is the role of the Choose to Lose dietitian? 
The Choose to Lose Registered Dietitian is responsible for: Supporting, training and providing guidance for facilitators and organisations delivering Choose to Lose. Updating Choose to Lose lesson plans and materials  Providing support to facilitators in answering nutritional queries as they arise. Directing participants and facilitators to appropriate further health advice or assistance. Visiting Choose to Lose sessions at least once over the 12 week programme. This visit will provide support for the facilitator and enable monitoring of the programme. The facilitator is required to notify the dietitian when the programme is being delivered to agree a date to visit. Please note this visit is compulsory for governance reasons. 
Who are the Choose to Lose facilitators?
Carl Green: Personal trainer, sports massage practitioner at www.bodymotionni.com
How to apply?
We have limited spaces available so please book early to avoid disappointment!
It's easy, just click on the ticket link to purchase your FREE ticket or for more information contact Carl Green on Tel:07856235363 or Email: carl@bodymotionni.com
-----------------------------------------------------------------------------------------------------------------------------------------------------
Choose to Lose phase 1 pilot was developed by the Northern Health and Social Care Trust Dietetic service in association with the Public Health Agency (PHA). It is delivered by people working within the community (facilitators) with on-going support from the Choose to Lose dietitian. 

The programme has been adapted from the NHS Choices 12 Week Weight Loss Plan and adheres to the PHA's core service specifications for such programmes.
------------------------------------------------------------------------------------------------------------------------------------------------------
Do you have questions about Choose To Lose 2018: Community Weight Management Programme. ?
Contact Bodymotion NI
When & Where

Mount Merrion Parish Church

BT6 0DX Belfast
United Kingdom


Thursday, 11 January 2018 at 10:30

-

Thursday, 29 March 2018 at 11:45 (GMT)
Add to my calendar