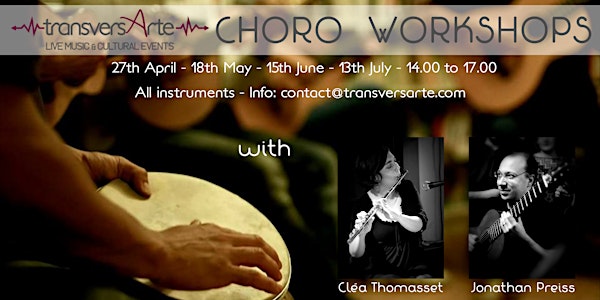 Choro workshops with Cléa Thomasset and Jonathan Preiss
Location
Private address in Old Street
Old street station
London
United Kingdom
Description
TransversArte is delighted to invite you to a new season of choro workshops, with Cléa Thomasset (flute, vocals) and Jonathan Preiss (7-string guitar).

Open to all instruments, this will be a great opportunity for intermediate amateur players to professional musicians, willing to improve their Choro playing, or simply discover the interpretation of this genuine Brazilian instrumental music genre. Our workshops run since 2016 and we are lucky enough to be supported by a very friendly, enthusiastic and inclusive group of students.
Click here for a little taste of our sessions:
https://www.facebook.com/transversarte/videos/2004103256484683
https://youtu.be/7JPo84MVjL8
https://youtu.be/4fn5iZjn47I
https://youtu.be/6CNUiV-gt5c

What we do:
- getting through the different styles constitutive of the Brazilian musical genre called choro (maxixe, polca, scottish, samba...) and its original language
- discovering choro's historical context and great composers
- learning to play together in a regional (traditional choro group) and a roda de choro (traditional choro sessions in circle)
- building a collective repertoire
THE TEACHERS:

Cléa Thomasset is a flute player, vocalist and composer-songwriter from West of France (Brittany-Pays de Loire), established in London.
Equally academically trained and self-taught, she studied classical and jazz flute, and then started to perform as a singer too: French music, Jazz and of course Brazilian music, her very long lasting love affair. After having been taught several years in France by the Brazilian master Eduardo Lopes, she went to Rio de Janeiro, to study choro at Escola Portátil, Brazilian popular singing with Felipe Abreu and rythm with Lucas Ciavatta.
Very active in the Choro network in Europe, she works with the finest chorões of the Old Continent, and also produces/performs with some touring musicians from Brazil ; she moved to London in 2015, and became the project manager at Club de Choro UK (founded by Gaio de Lima).
She can be seeing performing on European stages with her quartet Travessias (poetic Brazilian songs) and with the Brazilian 7-string guitar player Vitor Celestino (Choro & Brazilian jazz) ; she also works with many other musicians from various backgrounds (samba, contemporary and classical music, French songs, modern jazz, electroacoustic...), on stage or as a session musician.
Teaching music to all (from babies to seniors) since more than 10 years in France, and now UK, she developped a participative and inclusive pedagogy; she also translated into French the amazing Brazilian musical method O Passo by Lucas Ciavatta - a strong reference in her own practice and teaching - and the very interesting A estrutura do Choro by Carlos Almada (The structure of Choro).

Jonathan Preiss studied classical and jazz guitar at Leeds College of Music, and classical guitar and composition at Trinity College of Music, London. A tremendously versatile guitarist, he is equally at home performing music from the classical guitar repertoire, playing Brazilian music, jazz, avant-garde chamber music, musical theatre or baroque concertos.
His live credits include London Philharmonic Orchestra [Lord of the Rings Symphony, Royal Albert Hall 2010], Warehouse Ensemble [Boulez in Birmingham 2008] and West End shows "Zorro the Musical" and "In the Heights". Broadcast credits include BBC Radio 2's "Friday Night Is Music Night", BBC Radio 3's "In Tune" and – performing live from the 2012 Olympic Park - BBC Radio 5. Recording credits include Aled Jones' The Christmas Album, a duo album with BBC Young Tradition award winner Luke Daniels and two albums with Brazilian group Caratinga.
Playing the traditional Brazilian 7-stringed acoustic guitar, Jonathan's involvement with Brazilian music has led him to perform with major Brazilian artists both UK- and Brazil-based, including Monica Vasconcelos, Adriano Adewale, Henrique Cazes, Dirceu Leite, Rogerio Souza, Chico Chagas, Paraiso School of Samba and Gilberto Gomes. In 2000 he formed the group Caratinga, a unique Anglo-Brazilian project performing traditional and original choro and samba, and featuring musicians from across Brazil; Felipe Karam from Porto Alegre, Anselmo Netto from Salvador and Adriano Adewale and Leandra Varanda from São Paulo. Caratinga have recorded two albums and played throughout the UK and as far afield as Paris and the Amazon. An experienced teacher, Jonathan has given Brazilian guitar workshops for organisations including Dartington International Summer School, Berkshire Music Maestros and Clube do Choro UK.