Christchurch Bay and Harbour, Flood and Coastal Erosion Risk Management (FCERM) Strategy Engagement
About this event
Dorset Coast Forum, as host, is inviting you to a virtual engagement event to help with the development of a Flood & Coastal Erosion Risk Management Strategy (FCERM) for Christchurch Bay & Harbour.
This second phase of engagement is designed to raise awareness and is an opportunity for you to hear about our strategy progress.
In these early stages we are highlighting the scenario to explain: What happens if we don't defend our coast? We will present a hypothetical situation where we abandon our existing defences and don't prepare for climate change. We want you to tell us if we've missed anything. This process is not designed to alarm but it enables us to evidence and justify what options there are to 'do something' to address coastal flooding and erosion risk.
Our free public on-line event is on:
Tuesday 14th June at 19:00 to 20:15
Register now or at least 24 hours in advance of the event and you will receive notifications and reminders on how to join in.
Please share this invitation with family, friends and neighbours so that everyone has the opportunity to find out more about the new coastal strategy!
Other ways to have your say
We have developed a phased approach to deliver the Christchurch Bay & Harbour FCERM Strategy. It will identify where, when and broadly what type of works are needed to protect this coastline from coastal flooding and erosion.
We are in the early stages of this journey, but throughout the strategy development there will be more opportunities for residents, businesses and community groups that live, work and use the coastline in the Christchurch Bay and Harbour area to share their views.
Come and see us at our face-to-face events:
1. Monday 6 June, 10am-6pm, Christchurch Library, 29 High St, Christchurch BH23 1AW
2. Thursday 9 June, Milford Village Community Centre, 10am - 4pm, Milford on Sea Village Community Centre, Sea Rd, Milford on Sea, SO41 0PH
Our on-line survey is also available from Monday 23 May – midnight on Sunday 26 June at: https://haveyoursay.bcpcouncil.gov.uk/christchurchstrategyphase2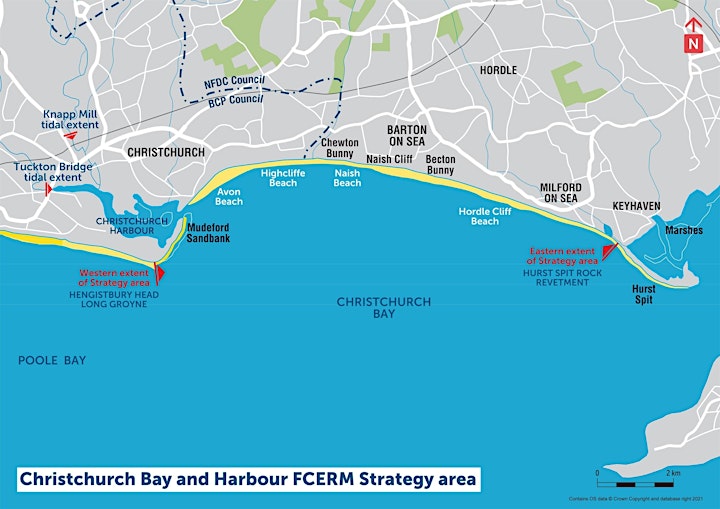 About the new coastal Strategy
Bournemouth, Christchurch and Poole Council (BCP) and New Forest District Council (NFDC) are working together with the Environment Agency to produce a new strategy to protect coastal communities from coastal flooding and erosion. It will guide how the frontage of Christchurch Bay from Hengistbury Head to Hurst Spit, encompassing Christchurch Harbour, will be sustainably managed for the next 100 years.
In Autumn 2020, BCP Council successfully secured £450,000 of government Flood Defence Grant in Aid (FDGiA) to produce the strategy on behalf of the partners. We have appointed specialist consultant AECOM to help support us in this work and we anticipate the final strategy will be adopted by end of 2023/early 2024.
You can find out more about the Strategy here:
https://twobays.net/project/christchurch-bay-harbour-fcerm-strategy/