Description
Christianity in the Middle East at a crossroads. Where next?

The region has faced upheaval. Change and conflict have swept across the area. Lives have been lost, families torn apart.
The Christian community in the Middle East and North Africa has long been discriminated against, ridiculed and dealt with unjustly.
Christians in the region are at a crossroads - what does the future hold? Will there be change in the way they are treated? Where next for the Church?

Come and join SAT-7 as we consider these questions.
Bis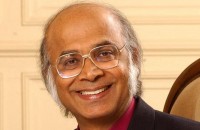 hop Michael Nazir-Ali will headline the evening and bring us his perspective on the difficulties faced by Christians in this often hostile part of the world.
In addition, a Middle Eastern believer, who is an expert on human rights issues and speaks regularly on national and international media, will speak more widely on our theme, and you will also discover how SAT-7 is impacting the lives of millions of people across the region by taking God's message of hope directly into people's homes.
Refreshments will be served afterwards.

Organiser of Christianity at a crossroads in the Middle East. Where next?
SAT-7 is a unique and strategic ministry that uses satellite TV to reach into millions of homes across the Middle East and North Africa, helping to share the love of Christ and to encourage Christians in their faith.  Through SAT-7, viewers are able to watch Christian television programmes in their own language in the privacy of their own homes.
With over 90% of the Arab world having access to television and large numbers of people who cannot read, the need for SAT-7's high quality Christian TV service is clear.  Conservative estimates put SAT-7's audience at approximately 15 million people.  Viewers can watch a wide range of entertaining and informative television programmes that are culturally sensitive and relevant.  Our network of five channels caters for Arabic, Farsi and Turkish speakers.  We also recognise the importance of encouraging children so we have the only Arabic Christian channel, SAT-7 KIDS, specifically for them.
Since its inception in 1996, SAT-7's vision has been to see a growing Church in the Middle East and North Africa, confident in Christian faith and witness, serving the community and contributing to the good of society and culture.

  We try to do this by providing the churches and Christians of the region with an opportunity to witness to Jesus Christ through inspirational, informative and educational television services.
Without SAT-7's programmes many people in the region would have little opportunity to hear of the love of Christ or to have meaningful Christian teaching to help their faith grow.  Through the thousands of messages we receive, viewers tell us how much being able to watch SAT-7 means to them.