Description
CHRISTIANS ON THE LEFT FIRST NATIONAL DAY CONFERENCE in 2019
---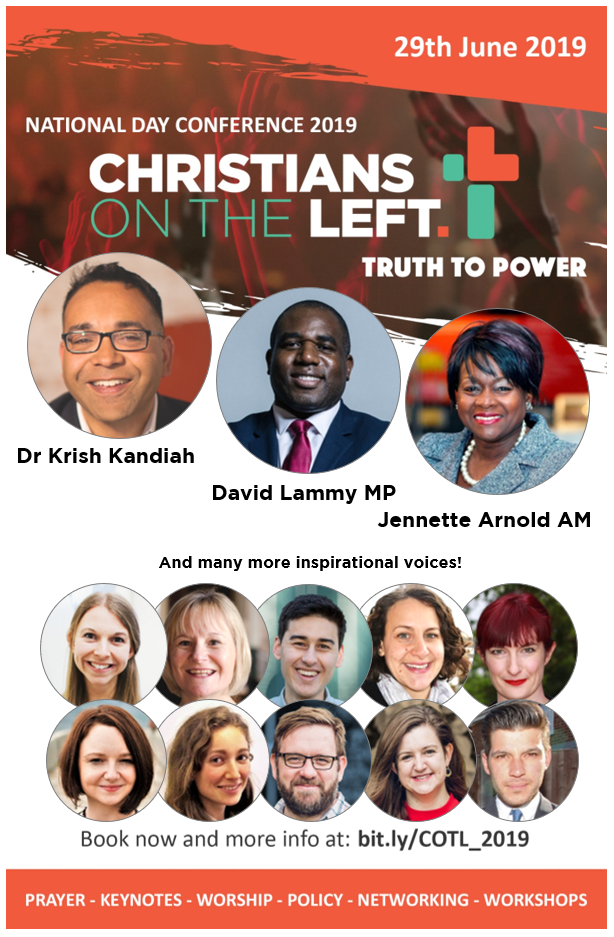 ---
Arrival from 9.15am for drinks and networking, the main session begins at 10am and the day closes at 4pm, with further opportunity for drinks and chatter until 4.45pm.
SPEAKERS AND WORKSHOPS TO BE ANNOUNCED OVER THE COMING WEEKS - FOLLOW @CHRLEFT on TWITTER, FACEBOOK & INSTAGRAM
---
Afternoon workshop themes led by some of our policy experts will include:
Prison Reform and Criminal Justice
The Economy and the 99%
Our Planet and the Environment
Housing and Homelessness
Trade Justice
Immigration and Refugees
---
Come and join the movement of Christians passionate to see the Left of politics infused with God's passion for the downtrodden and his radical power to change all things for good.

Come and hear Keynotes and TED-style talks from leading Christian political thinkers.
Come and get involved in workshops and discussions to draw out the real implications for practice and policy in key discussion areas, such as housing, environment and immigration.
Leave with a sense of new relationships forming.
Leave with a series of connections, ideas and plans.
Leave comissioned with prayer, equipped and encouraged.
And go.
To your workplace.
To your council.
To your constituency.
To your country.
Let's speak Truth to Power.
---
CONFIRMED SPEAKERS INCLUDE:
Dr Krish Kandiah - Award Winning Author of "Paradoxology" and "Faitheism". Founder of Home for Good
David Lammy MP - Social Justice Advocate, Outspoken Campaigner, Member of Parliament for Tottenham

Jennette Arnold OBE AM - Greater London Assembly Member for almost 20 years, Social Justice Campaigner
Esther Swaffield-Bray – Anti Slavery Campaigner at International Justice Mission, Missional Community Builder
Louise Davies – Director, Christians on the Left. Former Council Candidate
Cllr Sara Hyde – Leading left-wing Thinker on Women and the Criminal Justice System
Heather Staff - Immigration Researcher & Parliamentary Adviser, International Reconciliation Expert
Hannah Rich – Vice Chair, Christians on the Left. Researcher at Theos Thinktank
David Lawrence - Senior Political Adviser, Trade Justice Movement
Paul Bickley - Research Fellow at Theos, Author of "Building Jerusalem?" Church Leader and Theologian
Hannah Malcolm – Eco-Theologian, Winner of Theology Slam 2019, Project Co-Ordinator "God and the Big Bang"
Jacob Quagliozzi – Director of Housing Justice England, Former Labour Party Staff & Labour Councillor
Suzie Stride – Youth Mentor, Labour Activist and Harlow Parliamentary Candidate 2011-15
---
ACCESSIBILITY:
We do not want anything to stop CotL members who wish to participate from attending. If you have any sort of disability that you would like us to take into consideration, please get in touch. St John's Church is generally well equipped for disabled access, with ramps and an accessible toilet. If you are hearing or visually impaired, please let us know at least 30 days in advance so that we can ensure suitable provision is made.

We do not want cost to be an issue for anyone. Bursaries are available, please contact us directly on daniel@christiansontheleft.org.uk for more information.

---
LOCATION:
St John's Hoxton is a 5-minute walk from Old Street Tube (Northern Line) or Hoxton (Overground).
Old Street Tube is less than 10 minutes from Bank, London Bridge, Kings Cross St Pancras and Euston, less than 15 minutes from Waterloo and less than 20 minutes from Victoria. Old Street is also served by a large number of bus routes.
There are a large variety of newsagents, takeaways, shops and cafes in the area that are open from early until late.