Description
Join Christine Bailey at The Willow for a dinner to celebrate the launch of her new book "My Kids Can't Eat That!". Enjoy a 2-course meal and a talk about children's allergies from Christine.
A signed copy of the book is included in the ticket price.
Families and children welcome (children's meal option).
Main
OPTION 1:
VEGAN FALAFEL BURGER
SERVED IN A PORTOBELLO MUSHROOM BUN WITH A RAINBOW OF VEGETABLES AND 'SLAW.
Allergens: Tree nuts (almonds)
OPTION 2:
BATTERED FISH & CHIPS
SERVED WITH SWEET POTATO CHIPS AND A CHOICE OF HOMEMADE KETCHUP OR TARTARE SAUCE
Allergens: Sulphites, fish, mustard, egg in the tartare sauce
Dessert
BERRY CRUMBLE & ICE CREAM
From the press release:
"Having a child diagnosed with a food allergy, sensitivity or intolerance can be a daunting prospect. How did it happen? What can they eat? What will make the symptoms worse? And can anything make it better?
If your child suffers with any type of food reaction, you are not alone. The latest surveys estimatethat true food allergies affect up to 8% of children, while about 40% of children and adults suffer with food sensitivities or intolerances. This friendly, no-nonsense guide is everything parents need to take a pro-active, holistic approach to food allergies or intolerances in their child. Written by award winning Nutritionist and Chef Christine Bailey, this book is the result of over a decade of private practice with families suffering with allergies and intolerances – as well as personally managing allergies with her own three sons.
My Kids Can't Eat That contains 60 simple, delicious, family-friendly recipes, and 7-day meal plans, to ensure your child enjoys a nutritious allergy free diet. But this is more than just a delicious allergy free recipes book. This book also takes functional approach explaining why allergies develop and what you can do to address the route causes. By tackling the underlying imbalances in the body you can reduce your allergic potential and optimise your child's health and nutrition for good.
Tickets are £35 (plus Eventbrite booking fee) and include:
- A talk from Christine about the book and children's food allergies.
- A two-course meal selected by Christine (choice from a vegan or meat main course). The Willow is a 100% gluten free restaurant.
- Tickets also include automatic entry into the Prize Draw.
Main course choices - You will be contacted nearer the time with teh menu options.
About Christine Bailey
Christine Bailey is an award-winning, degree-qualified nutritional therapist, chef, author and broadcaster with over 18 years of experience. Known for her engaging style and enthusiasm, Christine's writing on nutrition has been featured in the national press and she appears regularly on TV. She's a nutrition expert on Sky News and has appeared on BBC's The Truth About Stress & The Truth About Sugar. She is also nutritional expert behind CBBC's Operation Ouch Mental Health Special Programme released in November. With additional training with the Institute of Functional Medicine, Christine has the unique ability to translate nutritional research into everyday practical recipes and diet programmes.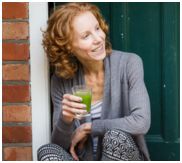 ---------------------------------------------------------------------------------------------------------------------------------
Disclaimer:
Any views, opinions and/or claims expressed or made by the author of this event are their own. Inclusion of this event in The Willow's marketing does not imply endorsement and/or agreement with these views, opinions and/or claims.