Description
Join Christine Bailey at The Willow for a supper club to celebrate the launch of her new book
"The Brain Boost Diet Plan - 4 Weeks to Optimise Your Mood, Memory and Brain Health" on the day of its release.
From the press release:
"Your health is hugely dependent on the kind of fuel you provide your body with, and there is no more important organ than your brain! Eating the right foods can dramatically improve your brain function, with immediate and long-lasting results.
The Brain Boost Diet Plan is a 4-week diet based on the principles of functional medicine and the latest research designed to cleanse, protect and renew your brain, unleashing its huge potential. This dietary approach will give you power to boost your mental health and capacity, tackle low mood, eliminate and prevent short term memory loss, forgetfulness and increase your brain-power.
This book contains 100 delicious, easy recipes that are low in sugar, gluten-free and packed with nutrients to optimise brain function. The emphasis is on nutrient-rich, everyday foods which makes sticking to the diet plan simple and fun to do. The result is an energised brain and a much healthier, happier you!"
Tickets are £30 (plus Eventbrite booking fee) and include:
- A short talk from Christine about the book
- A two course meal featuring sharing starters and a main course from the book as recommended by Christine - choice from a vegan or meat main course - see below for full details (The Willow is a 100% gluten free restaurant).
- A signed paperback copy of the book (RRP £12.99)
- Automatic entry into a free prize draw to win one of the following prizes:
£50 voucher for The Willow

Optibac probiotics hamper

TG green tea hamper including Japanese tea set

Indigo Herbs hamper

Nutri Link hamper

Iswari hamper

Pulsin hamper

Coyo hamper

A Selection of BrainZyme - All Natural Cognitive Enhancement supplements
Martin Roberts from TV's 'Homes under the Hammer' and 'Celebrity Jungle Get me Out' will also be attending the event.
Main course choices
EITHER Grilled Lamb with aubergine and minty chimichurri (GF, GrainFree, DF)

OR Mushroom buddha bowl (GF, DF, Vegan)
Sharing Starters (for information only)
Italian style Bruschetta with Thai basil (GF, DF, Vegan)

Lightly salted Galician Padron peppers (GF, GrainFree, DF, Vegan)

Rabbit pate with apple and cinnamon chutney and sourdough toasts (GF, DF)

Coconut and curry prawns (GF, DF)
About Christine Bailey
Christine Bailey is an award-winning, degree-qualified nutritional therapist, chef, author and broadcaster with over 18 years of experience. Known for her engaging style and enthusiasm, Christine's writing on nutrition has been featured in the national press and she appears regularly on TV. She's a nutrition expert on Sky News and has appeared on BBC's The Truth About Stress & The Truth About Sugar. She is also nutritional expert behind CBBC's Operation Ouch Mental Health Special Programme released in November. With additional training with the Institute of Functional Medicine, Christine has the unique ability to translate nutritional research into everyday practical recipes and diet programmes.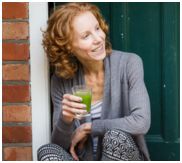 ---------------------------------------------------------------------------------------------------------------------------------
Disclaimer:
Any views, opinions and/or claims expressed or made by the author of this event are their own. Inclusion of this event in The Willow's marketing does not imply endorsement and/or agreement with these views, opinions and/or claims.