The essence of Christmas, experienced at our Kitchen
About this Event
Introduce a new Christmas Day tradition with a carefully composed five-course menu of dishes prepared using the finest ingredients.
Dover Sole, beef Wellington and Gingerbread fondant are just some of the ways we celebrate Christmas at May Fair Kitchen. Priced at £115 per person.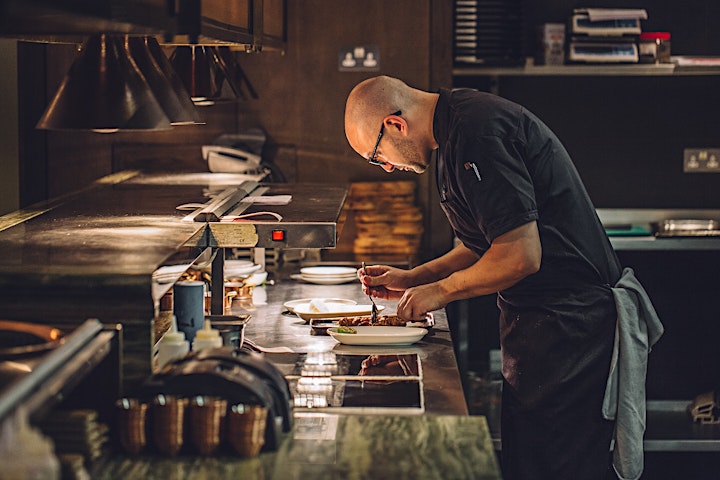 To Start
Oven-baked lobster and king prawn with Parmesan crème and chilli herb crust
Marinated crispy duck salad with grapefruit, pine nuts, shallots and plum dressing
Chargrilled asparagus glazed with blood orange hollandaise v
Palate Cleanser
Champagne and mint jelly with organic lemon sorbet v
Main Course
Dover sole fillet with asparagus and herb butter sauce
Roasted garlic and sage herb butter baby chicken with lemon and shallot gravy
Aged beef Wellington with charred greens and red wine reduction
Portobello mushroom, black cabbage and goat's cheese Wellington v
All served with orange and manuka honey-glazed heritage carrots, cauliflower cheese with Gruyère and Parmesan crust, garlic and herb roast potatoes
Dessert
Cinnamon crème brûlée with plum wine jelly and red plum sorbet
Valrhona chocolate fondant with spiced ginger ice cream v
Baked blackberry and vanilla cheesecake with clementine and mint sorbet v
Petit Fours
Roasted hazelnut and dulce de leche truffles v
Milk chocolate and spiced orange caramel truffles v
If you have a food allergy or intolerance, please speak to a member of our staff before you order or consume any food or beverage. A discretionary service charge of 12.5% will be added to your bill.
All prices are inclusive of VAT.
v Suitable for vegetarians.