Christmas Dinner at Brunel University (Christmas Day Sunday 25th December)
Description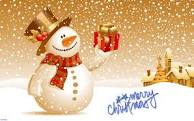 Brunel University will be holding a Christmas dinner for all students, friends and families or staff members who will be staying in the area on Christmas Day, hosted by student volunteers.
The Meeting House will be decorated with traditional Christmas decorations and there will be a selection of traditional Christmas food available. We will do our best to provide a wide range of food, however, students (including those with specific dietary requirements) are encouraged to bring a dish along for all to share as well. For example, we cannot guarantee that the meat served will be halal.
Come and join your fellow Brunel students for a delicious Christmas Dinner in the Meeting House, with some festive music and lots of fun. It's also completely free!
Whether you celebrate Christmas or not, everybody is welcome. Food and non-alcoholic drinks will be provided, but please feel free to bring more food to share. Friends and family members are also welcome to attend!
The day will be very relaxed, giving you the chance to meet and socialise with other students with food, music and games.
Join others who are also spending Christmas on campus and spread the Christmas spirit!
FAQs
How can I contact the organiser with any questions?
Please contact Julia Jago julia.jago@brunel.ac.uk or bi.studentservices@brunel.ac.uk
by 20th December 2016