Actions and Detail Panel
Christmas Foodie Fundraiser
Mon 19 December 2016, 19:00 – 22:30 GMT
Description
A food focused Christmas fundraising event raising money for St. John's School and College.
Hosted at Ginger & Dobbs this evening is about meeting new people, relaxed networking, enjoying delicious food & drink and supporting the work of an important local learning disability organisation.
Food by Professional Caterer, Louise Campbell who has a passion and skill for food from the Philippines and Mediteeanean. @mestizafilipina
All money raised will go towards purchasing vital learning disability equipment for the 100+ learning disabled and special needs young people the charity cares for, educates and supports.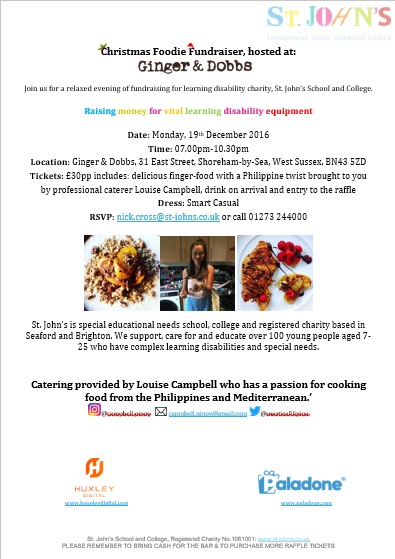 Sponsored by Huxley Digital:
At
Huxley
Digital
we like to do things differently. We talk to our clients like friends, we hold back on the jargon and our customers frequently tell us they consider us to be both a reliable and trustworthy partner.
From web development and design to
digital
strategy, planning and optimisation,
Huxley
Digital
works in partnership with your business, giving you everything you need to get your business moving online.
Sponsored by Paladone:
With 22 years in design and distribution,
Paladone
is the UK's leading company for gift supply. We have offices in both the UK (Brighton), Hong Kong and the USA (Miami) and distribute gifts wholesale to 77 countries around the globe. Alongside our own brands, we also design merchandise for Star Wars, Disney, Marvel, Harry Potter, Warner Bros, Nintendo, DC Comics, Superman, Batman, Super Mario, Discovery Channel, VW, Game Boy, Pac-Man and Rubik's Cube.