Christmas Lectures 2015

Monday, 30 November 2015 at 18:00

-

Thursday, 3 December 2015 at 20:00 (GMT)
Event Details
Christmas Lectures
By Huw James
&
 Chris Frohmaier 
&
Prof Marika Taylor
Mon 30th Nov, 6pm - 7pm, LTA
Space Adventures
by Huw James 
The solar system and the planets beyond are all worth visiting. But the distances between all the planets are so vast, how do we ever hope to go there? The fact is we're exploring the outer edges of our solar system with robotic explorers and plans to send humans to other planets are already in the works. So if we're going to explore other planets, moons and chunks of rock, which are the best to go to? In this hour long interactive show, join adventure astronomer Huw James as we find out where we'll be having Space Adventures in the not so distant future.
For ages 11 and up
This lecture is funded by The Ogden Trust and the IOP.
For more information on Huw click here
Wed 2nd Dec, 6pm - 7pm, LTA
Supernova Extravaganza
by Chris Frohmaier
 Supernovae are the massive explosions of stellar objects at the end of their life. These explosions are the biggest bangs in the Universe since The Big Bang itself. We use their light to measure how fast the Universe is expanding and without the new elements they create life could not exist. In this talk you will be taken through the evolution of a star from birth to death. We'll explore the special cases in which the exotic objects know as white dwarfs can explode with such uniformity that they unlock a mystery of the Universe that scientists don't currently understand. Through experiments and demonstrations we'll unravel the final moments of massive stars in their struggle to support themselves against gravitational collapse. There'll be bigs bangs, little pops and a nucleo-synthesized mess as we take you on a Supernova Extravaganza!!
For ages 8 and up
This lecture is funded by the IOP.
 For more information on Chris click here
Thur 3rd Dec, 6pm - 8pm, LTB
String theory, black holes and
quantum information
by Prof Marika Taylor 
Marika will give an overview of her research into string theory. She will focus particularly on the holographic principle, the idea that gravity can be described by a theory without gravity in one less dimension. The holographic paradigm implies deep relations between hitherto unconnected fields in physics; she will explain why using the example of black holes and quantum computing.
As this lecture is in a smaller room we have a restriction on the availabilty of these free tickets. You only need to buy tickets on this eventbrite website if you are 14-18 years old. No tickets are required for those 19+ 
If you are over 18 years old then please just turn up to the lecture on Thur 3rd. You only need a free ticket from this website if you are a student between 14 - 18 years old, as we are trying to track the number of students who attend this event. If you are in this age range then you can reserve tickets for up to 3 friends/family members to accompany you on the evening.
This lecture is organised as part of the Women in Physic's Network (WPN)
 For more information on Marika click here
Location:
The first 2 Lectures will take place in Lecture Theatre A - On the third floor, level up from the foyer, Room 3001 in Building 46.
Marika's Talk on the 3rd will take places in Lecture Theatre B - at Foyer level on Building 46.
Free Refreshments
There will be a limited number of festive refreshments available in the Physics and Astronomy Foyer from 5.30pm at the lectures on Monday and Wednesday & after the lecture by Marika on Thursday.
Huw James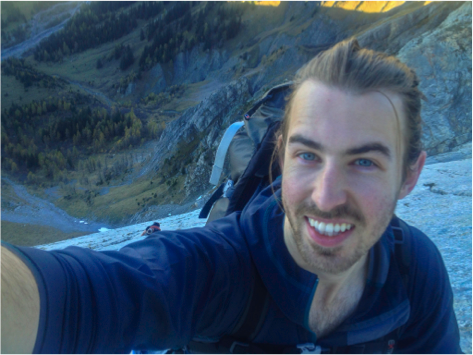 Adventurer, astronomer and outdoors enthusiast, Huw James is a presenter and active campaigner for public participation in science and the outdoors. He has brought his brand of energy and enthusiasm to hundreds of stage and screen appearances and can be seen performing at many of the science festivals and events across the UK. 

Originally trained in space science and a fellow of the Royal Astronomical Society, Huw is an active rock climber, surfer, sportsman and all-round adventurer. He combines these interests together to create his unique approach to enthusing all ages about the science of the universe and the natural world.  
Chris Frohmaier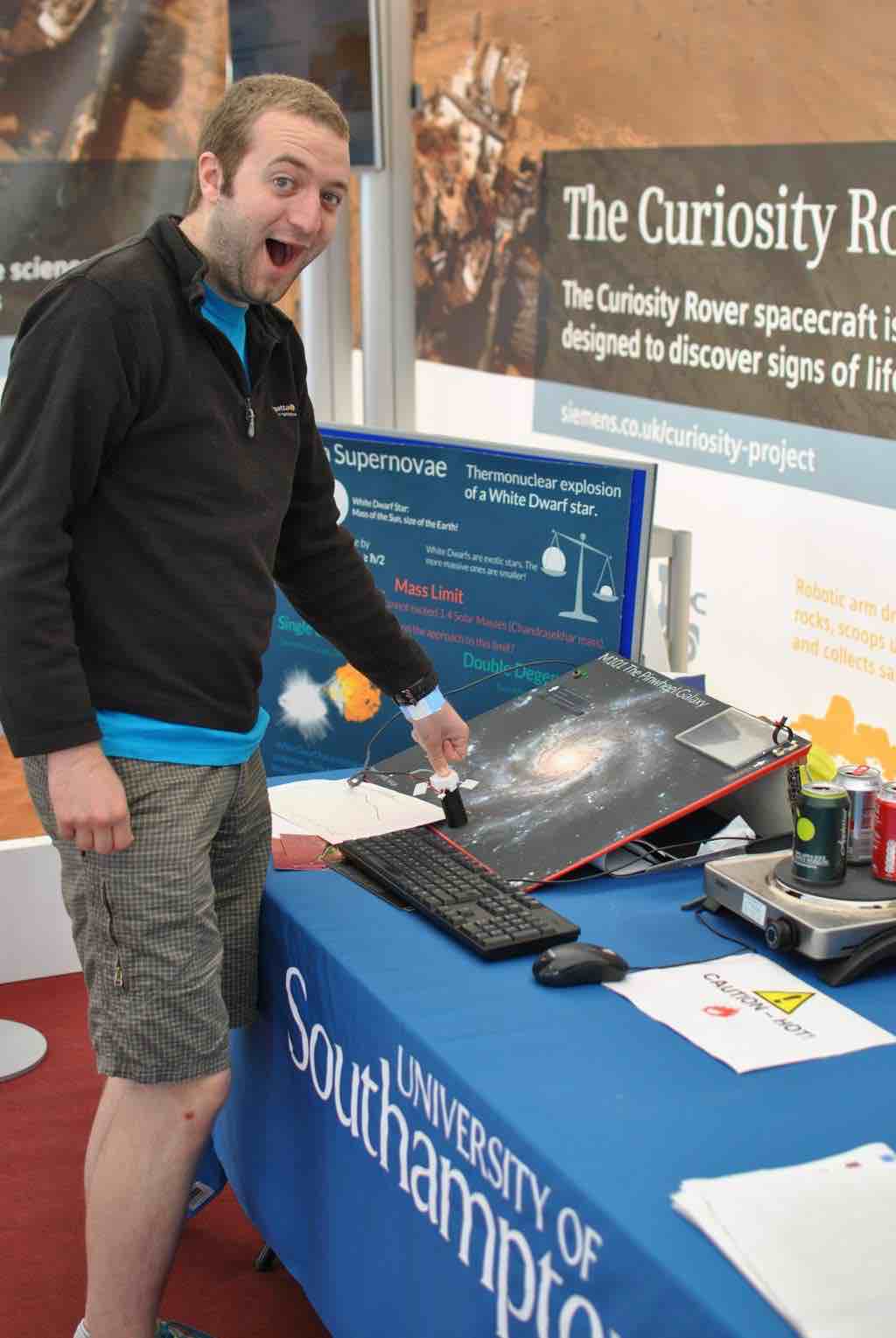 Chris is an Astrophysics Postgraduate Researcher at the University of Southampton, his PhD research is on Supernova, the subject of his Christmas Lecture. Chris obtained his Master's Degree in Physics with Astronomy at Southampton too.
 Whilst his PhD research takes up most of my life, he is also very dedicated to Outreach both with the Soton Astrodome and the Supernova Research Roadshow. 
Marika Taylor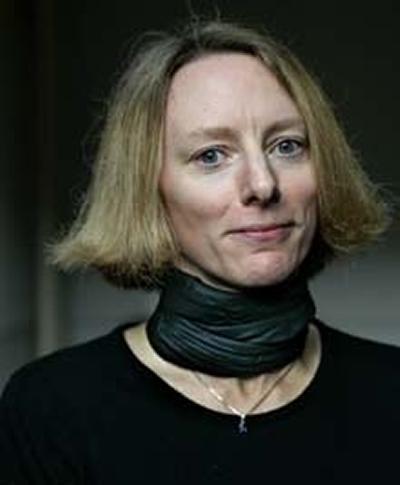 Marika is a Professor of Theoretical Physics at the UoS, as well as Chair of the Athena Swan Committee in the Maths Department.
Marika studied at the University of Cambridge and completed her PhD under the supervision of Stephen Hawking.
Photography and Filming 
Please NOTE: Photography and Filming will be taking place throughout the evening. Please inform Sadie, the photographers or one of the other helpers if you do not wish to be photographed and/or filmed.
Parking
There is free parking available in the car park at the back of the Physics and Astronomy department, which is Building 46 on the University Map from 5pm. 
For a PDF map click there <<<
There is also free spaces on the street from 5pm onwards on Chamberlain Road and nearby streets by The Crown Inn pub.
If you put the  Chamberlain Road postcode SO17 1PQ into your Sat Navs this should get you to the car park. 
The University postcode is SO17 1BJ but this postcode should not be used to get you to the Physics department specifically it will get you to University Road.
When & Where

Physics & Astronomy Department
Chamberlain Road next to Building 46
University of Southampton
SO17 1PQ Southampton
United Kingdom


Monday, 30 November 2015 at 18:00

-

Thursday, 3 December 2015 at 20:00 (GMT)
Add to my calendar
Organiser
I am the Outreach Leader in Astronomy if you have any questions about this event please do email me or tweet me and I will try to reply asap.