Sales Have Ended
Ticket sales have ended
Thank you for joining us at Dee-zyn Jewellery School. I am Dee, I will be your tutor on the day and look forward to meeting you! See you soon
Sales Have Ended
Ticket sales have ended
Thank you for joining us at Dee-zyn Jewellery School. I am Dee, I will be your tutor on the day and look forward to meeting you! See you soon
Lean the skills and techniques needed to make your very own Christmas tree earrings
About this event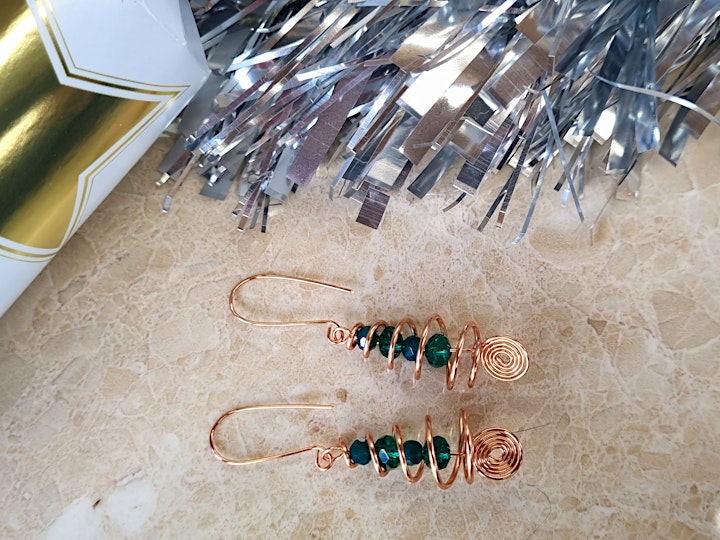 Christmas Jewellery Making Workshop
Now I now it is a little early, but there are not many spaces in the workshop due to social distancing rules so I wanted to get it out there and if it gets fully booked I will have time to run more!
This wonderful Christmas Workshop is a one hour class and will enable you to create beautiful unique Christmas earrings using wire and crystals. The skills learnt on this workshop are transferable and will enable you to make and fix earrings at home forever.
A fun and versatile class not to be missed!
Learn the age-old technique of wire working. No soldering or gluing is involved and you will learn to twist and interlock wire to create stunning statement pieces.
This workshop is suitable for all. Any children under 7 who are attending, will require support as it can be fiddly work.
Techniques covered in this class include:
How to use jewellery tools correctly and safely
How to bend and manipulate wire
How to create extended coils
How to make a coiled head pin
How to create your own perfect ear hooks
The correct way to open and close a jump ring
Now the Jewellery School is re-open, there are 4 tickets that can be purchased to join me face-to-face in the workshop and have me on hand to solve any issues when you get stuck.
If face-to-face isn't for you, you can purchase tickets to join it live on zoom!
The difference between doing a live class and purchasing a video course, is that I will be there!
This means you can ask questions, get help when you are stuck, meet other like minded people and enjoy this online group workshop setting. I will be there to support you every step of the way and you will be able to see the process at different angles so you will be able to create your beautiful Christmas Tree Earrings with ease.
There are Four options available
1. Live Course Only - this means you will get access to the live course without tools or materials.
2. Live Course with Materials - this includes the posting of materials but no tools so great if you already have your own! UK ONLY
3. The Full Package - Live Course, Materials and Professional tools - Everything you need to start creating your own amazing jewellery from home. UK ONLY
4. Workshop Ticket - This includes having me there face-to-face, the materials and use of tools. Extra materials and your own set of tools will be available for purchase on the day.
Please ensure if you want materials or tools and you are doing the online options, you book this option by 3rd December to allow for postage.
If you book the options where materials need posting after the 3rd December, there is no guarantee you receive your tools and materials in time.
There are very limited numbers for material and tools
Materials: • 0.8-1mm wire, 0.6mm wire, green crystals
Tools: Side cutters, bent nose pliers, round nose pliers and nylon coated pliers (optional)
Looking forward to seeing everyone back in the workshop!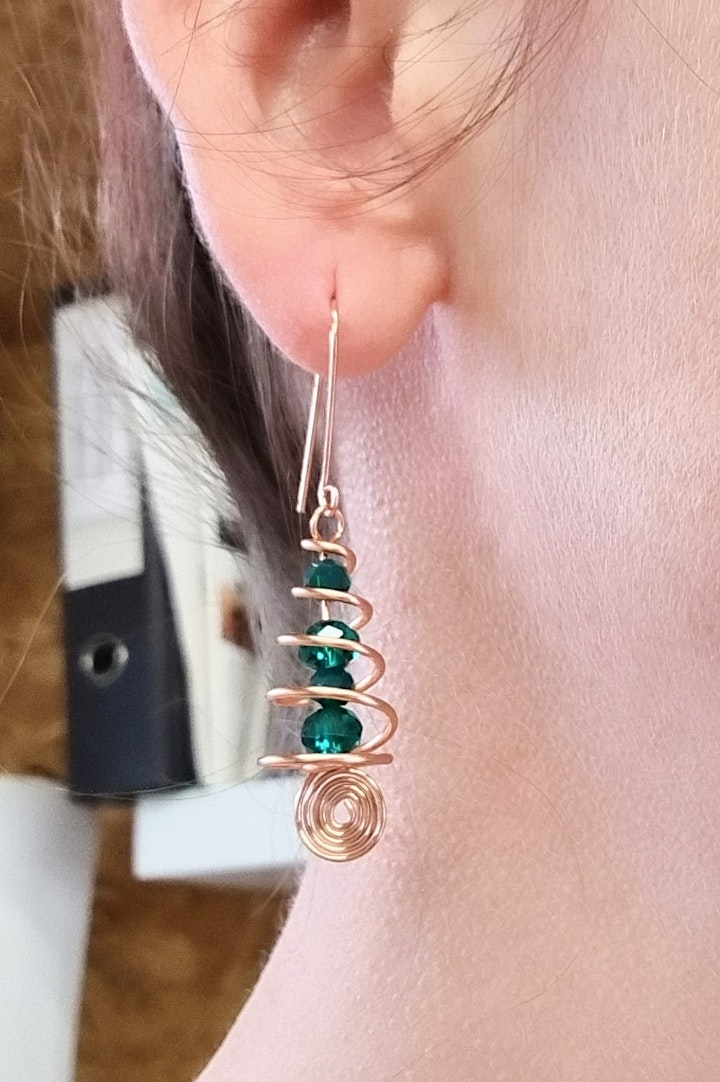 Organizer of Christmas Tree Earring Workshop
Dee-zyn Jewellery was created by myself Deanne Echarri back in 2008. I am the jewellery designer and creator and have been creating silver jewellery for over 12 years now. After completing a silver smith course back in 2010, I decided to explore PMC (precious metal clay) and completed a diploma in this... but I still felt as though I was not quite there with what I wanted to produce.
I then found Wire Sculpture Jewellery, creating twists and swirls to shape and forge the wire and to encase gems within wire, thus creating completely unique one-of-a-kind pieces using only Silver wire and small tools. NO soldering!!!
I fell completely in love with this and completed 6 Master Class Courses to learn the techniques needed to become an expert in the field. I now design and craft quality silver wire jewellery using precious and semi-precious stones from around the world. Each piece is unique and crafted by hand using master wire sculpting techniques. I am an international seller, selling online as well as at craft fayres, wedding fayres, trade fayres and galleries.
I now run a Wire Jewellery School, empowering other people to have a go and learn to create their own beautiful jewellery using the same techniques that I fell in love with. There are many different workshops and courses, providing the knowledge and physical skills needed to create different styles of jewellery, from beginners to Master Classes.