A slab-building pottery workshop, using a stoneware clay to build your own Christmas Tree(s). Come play with Clay!
About this event
This festive pottery session, designed for the young but also the young at heart, will see you create stylised Christmas Trees using the slab-building technique. Although simple in principle, it will involve some care in building the trees so they will eventually stack (the different sizes have been developed for this but they can be independent) and imagination in decorating your finished pieces! The basic method will be outlined at the start, and then its up to you to create the trees in the sizes and quantities you need! Once finished, they will stay at the studio to be fired, glazed and then re-fired. All in time to be collected (or posted out) for Christmas! Once we hit December bear in mind that the finishing of your piece, on-going Covid-related delays and Christmas Postage, might make it difficult to get your trees posted out in time for the Big Day!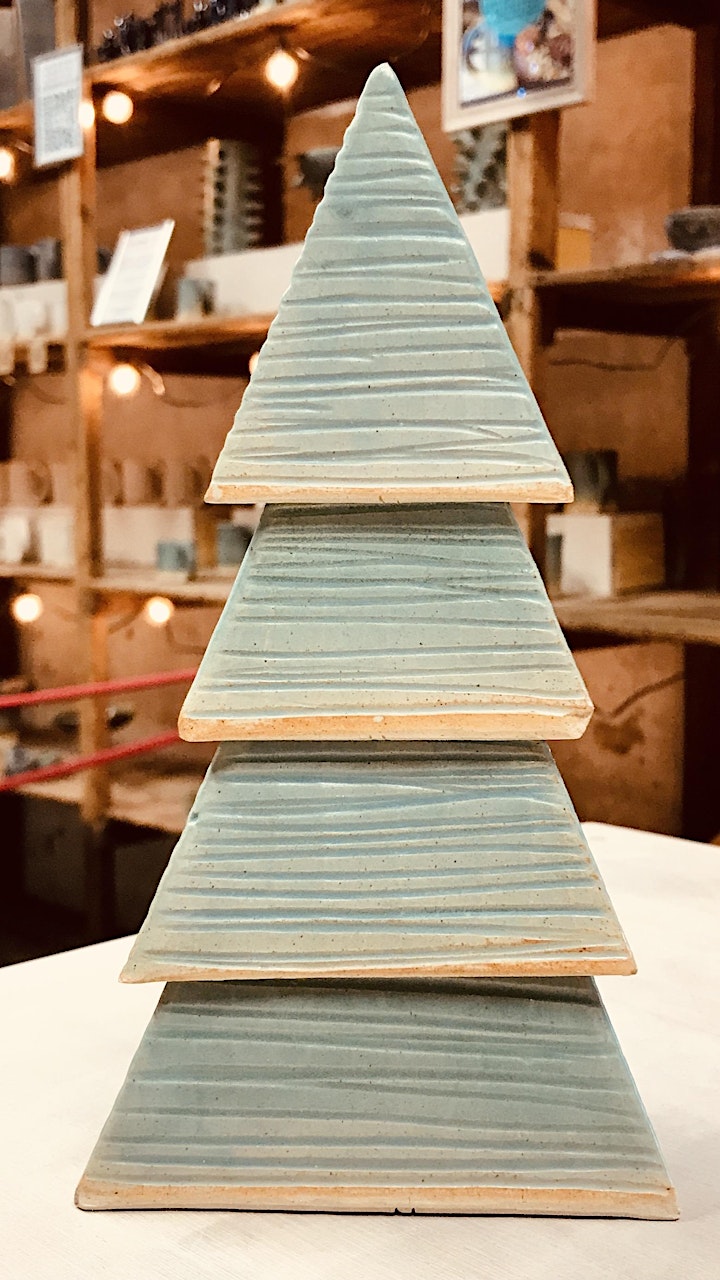 I remember as a child all the decorations coming out for Christmas - the sentimental, the expensive and the home made. It was an odd mix but an entirely appropriate one - of baubles, Angels, tinsel, and Santa Claus figures made out of cardboard tubes, red crepe paper and cotton wool, lovingly glued together at nursery by us kids and resurrected each Christmas despite the wear and tear of their yearly outings.
This workshop, to build and decorate Christmas trees, is in this tradition. Several trees can be built and decorated seperately, then stacked together - perhaps symbolising the coming together of family and friends which is perhaps one of the best parts of the season. Unlike the cotton wool Santa of old, these stoneware trees should stand the test of time and be a lasting memento of your time together in the pottery!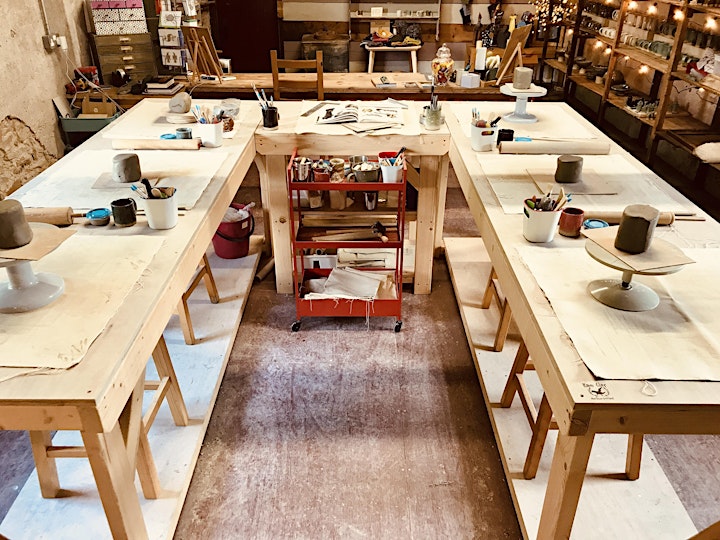 There are only six places per session - this allows enough access to support for everyone to be successful! As this is a creative class designed to be accessible to all including younger potters, a parent or guardian must attend with any participants aged 16 or under. The numbers are limited to avoid over-crowding in the workshop. Each ticket books a seat at the pottery table. After that you pay for just what you build in the session - this allows for the workshop to be adaptable to whoever attends. More on pricing and costs below.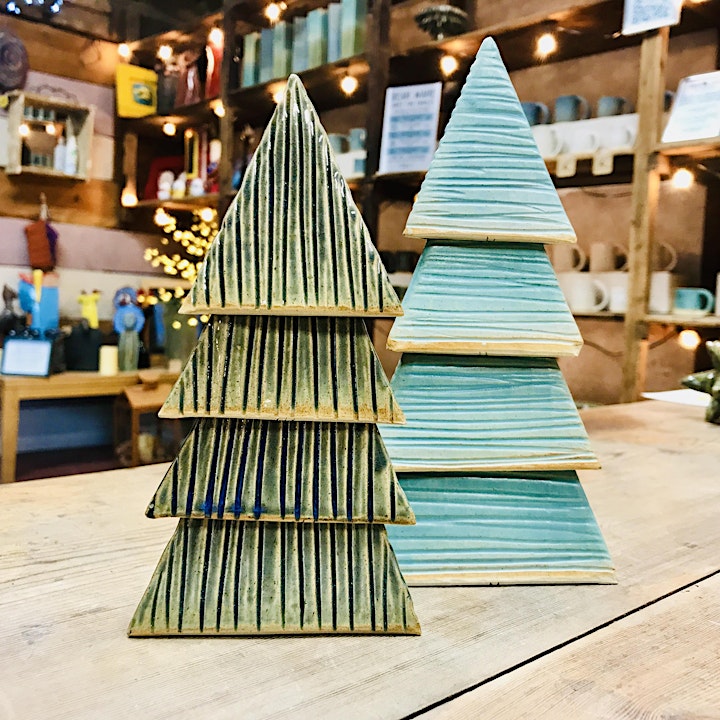 HOW MUCH WILL IT COST?
As explained, everyone attending a workshop will need to book a ticket priced at £5. After that, you have the option to make as many or as few trees as you like. You can build them so they stack, or not; you can build just one, or as many as you want. This way you only pay for what you make, rather than imposoing a standard price which would be too steep for someone who only wants a single tree, or a literal steal for a family of four who go into mass production!
The tree form is hollow triangular based pyramid with sizes going from approx 6cm to 16cm tall. So after completion of the workshop, you will pay only for what you have made.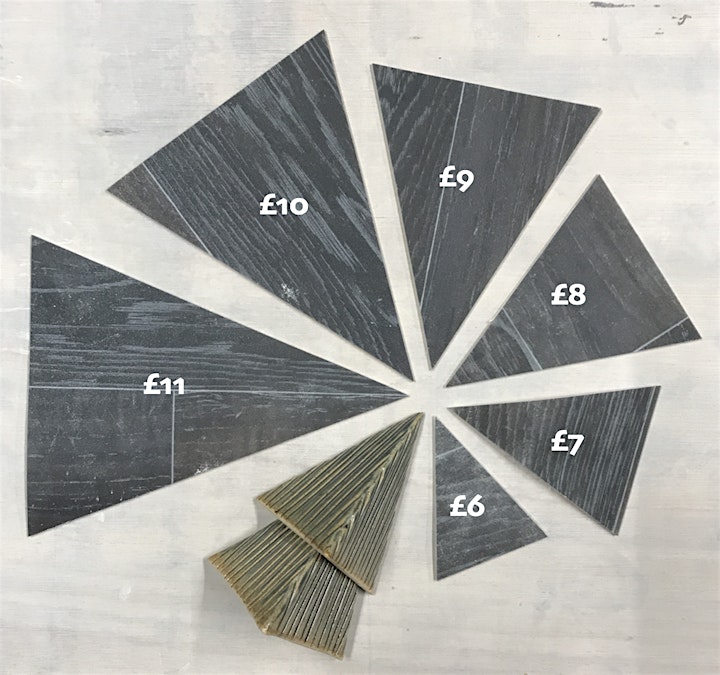 For example; if one person attended to build the smallest tree, the total cost would be £11; £5 booking fee + £6 (as shown above for the smallest template). If they instead built the two smallest ones to stack, it would be £18; £5 (booking fee) + £6 + £7.
If a family of four built the four smaller trees to stack it would cost £50 in total - £12.50 each. If they build the four larger trees to stack, it would cost £50 in total - £14.50 each.
In the image below, you can see how the four trees are priced according to size, reflecting the relative cost of materials and space in the kiln required for firing. The family of four who built this (theoretical) group would pay £20 to book in advance, and then £34 on the day for the trees; total £54.
It may seem overly-complicated, but its been done to ensure parity across all possible booking types.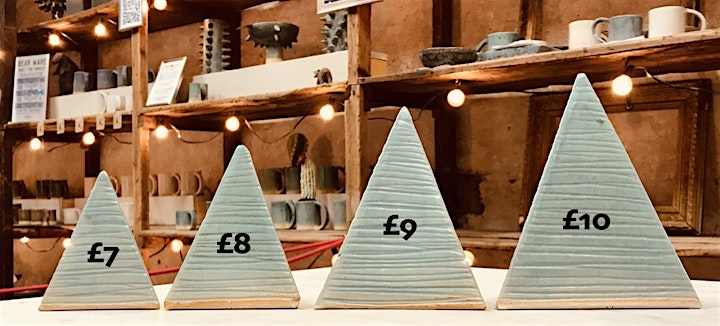 This isn't a purpose built studio - it is a lovingly re-purposed agricultural building. Please note that access to the stduio is only via a set of external stone steps, and the nearest toilets are located two minutes away across the river. During November and December we may only have access to the toilets underneath the workshop.
There is currently no heating in the studio so as we creep ever closer to the colder winter months, please wrap up warm, bring a flask if you need one, and remember to bring an old shirt, apron or similar if you are worried about getting covered in clay.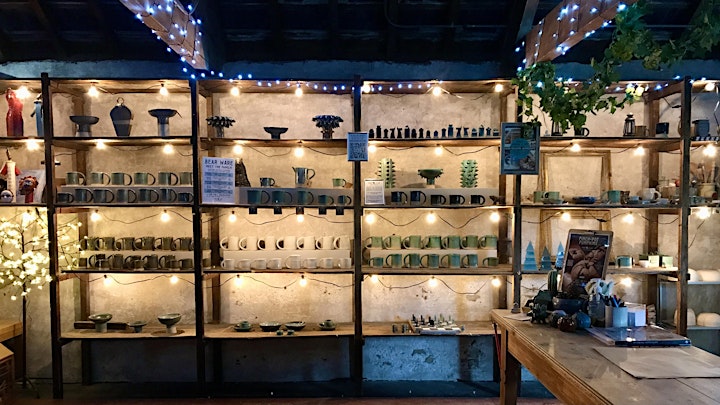 A word of warning - the kiln Gods can be fickle, and despite doing everything possible, some pieces will fail, crack or blow up (!) in the kiln. There are no guarantees in pottery, not even for seasoned potters.
A second word of warning - working with pottery can be hugely addictive. You have been warned!
The Studio is housed on the first floor of Ford Forge at Heatherslaw, an old timber loft that houses a making/teaching space, a drying & kiln room, a small shop/gallery and storage areas. Nearby are many attractions and things to see. Please check out individual attraction websites for their seasonal opening patterns.
Please note - the booking cost (£5) ONLY secures your spot on the session; you will need to pay on the day for what you build. Combined, these costs cover all materials, tuition, glaze and firings. If you need your work posting out to you or someone else, please ensure you book an additional postage and packing ticket!
Organiser of Christmas Tree Workshops