Christmas Wreath/Torch Nadolig
About this event
Before booking this session, please read the Aims of ReConnecting and the policy for booking and participating in a even, which can be found here:
https://reconnecting.org.uk/index.php/reconnecting-aims-booking-and-session-participation-policies/
By booking you agree to be bound by these aims and policies.
Please be aware that the picture is a generic wreath, we are NOT sending out live foliage. Attached to the event is a picture of a simple wreath that I made quickly out of the materials we will be sending to demonstrate what you will get.
• 6ft of wired pine needle garland
• A selection of berries of 6 colours
• Pine cones and/or acorns
• Some mini parcels
• Some baubles
• Some other Christmas decorations
• Star shaped cardboard form.
There is no right or wrong way just your way. Own it. I would suggest a glue is essential, and a pair of wire cutters or pliers will be needed to cut the garland to size.
Tickets will close on the 23/11/2021 or before if all the places are booked. Addresses need to be sent to ReConnecting@carmarthenshire50.org.uk by 17:00 on 24/11/2021 for posting goods out on 25/11/2021. Deadlines will be strictly adhered to and only 1 reminder will be sent.
There is one wreath per household please. As ever please do not book if you can't attend.
Cyn archebu'r sesiwn hon, darllenwch y Nodau Ail-gysylltu a'r polisi ar gyfer archebu a chymryd rhan mewn noson, sydd i'w gweld yma:
https://reconnecting.org.uk/index.php/reconnecting-aims-booking-and-session-participation-policies/
Trwy archebu rydych chi'n cytuno i gael eich rhwymo gan y nodau a'r polisïau hyn.
Byddwch yn ymwybodol bod y llun yn dorch generig, NID ydym yn anfon dail byw. Ynghlwm wrth y digwyddiad mae llun o dorch syml a wneuthum yn gyflym o'r deunyddiau y byddwn yn eu hanfon i ddangos yr hyn a gewch.
• 6 troedfedd o garland nodwydd pinwydd wedi'i wifro
• Detholiad o aeron o 6 lliw
• Conau pinwydd a / neu fes
• Rhai parseli bach
• Rhai baubles
• Rhai addurniadau Nadolig eraill
• Ffurflen gardbord siâp seren.
Nid oes unrhyw ffordd gywir nac anghywir dim ond eich ffordd chi. Yn berchen arno. Byddwn yn awgrymu bod glud yn hanfodol, a bydd angen pâr o dorwyr gwifren neu gefail i dorri'r garland i faint.
Bydd y tocynnau'n cau ar 23/11/2021 neu cyn hynny os yw'r holl leoedd wedi'u harchebu. Mae angen anfon cyfeiriadau at ReConnecting@carmarthenshire50.org.uk erbyn 17:00 ar 24/11/2021 i bostio nwyddau allan ar 25/11/2021. Dilynir y dyddiadau cau yn llym a dim ond 1 nodyn atgoffa a anfonir.
Mae un dorch i bob cartref os gwelwch yn dda. Fel erioed, peidiwch ag archebu os na allwch ddod.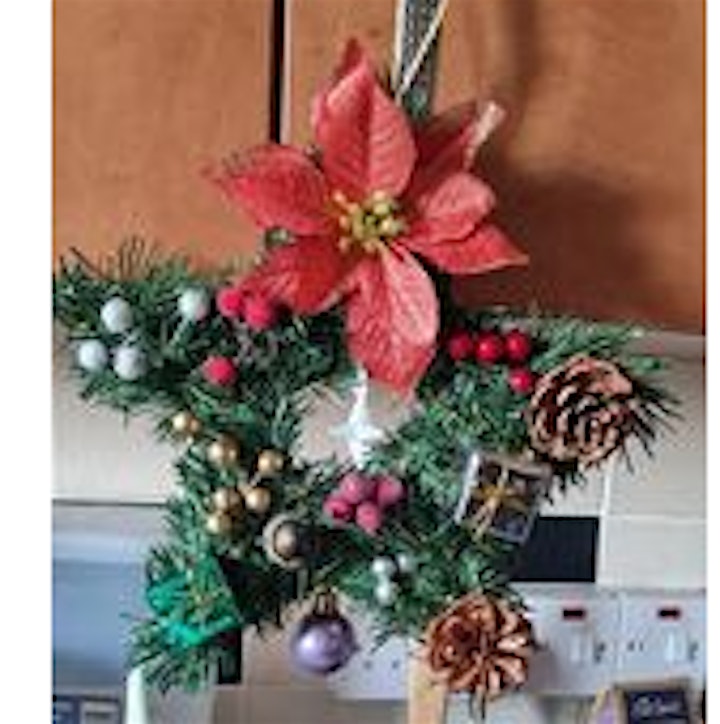 Organiser of Christmas Wreath/Torch Nadolig