Chronic Illness Uncovered: Lyme Disease,Viral Pathogens,Morgellons,Mould &...
Description
Chronic Illness Uncovered: Lyme Disease, Viral Pathogens, Morgellons, Mould & More...
For the first time in their conference history the Academy of Nutritional Medicine are exploring the controversial and much misconceived illness - Morgellons Disease.
This promises to be another ground-breaking conference and is, again, addressed to health professionals, patients, carers, and members of the public interested in deepening their understanding of chronic disease and its implications.
DR. JESS P. ARMINE
(via live video link)
CIRS & Brain Inflammation: The Effects of Mould, Mycotoxins, Mast Cells on the Microglia

Dr. Armine will explain the mechanisms involved in chronic inflammatory response syndrome (CIRS), the effects of mould and mycotoxins, and the interaction of mast cells and microglia to activate inflammation of the brain.
DR. LEONA GILBERT
Reinventing Diagnostic Antibody Tests for Tick-Borne Diseases
Dr. Gilbert will guide us through the most up-to-date testing technologies, including TickPlex - the antibody screening test to be introduced this May.
DR. JOSEPH G. JEMSEK (via live video link)
Major Reasons for Lyme Borreliosis Complex (LBC) Treatment Resistance or Relapse at Jemsek Specialty Clinic
Dr. Jemsek will outline the reasons behind resistance to treatment, as well as take extensive Q&As.
DR. DIETRICH KLINGHARDT
Infections and the microbiome of the brain and sinuses
Dr. Klinghardt will discuss the unique microbiome of the brain, sinuses and nasal passages, infections that can colonise them, and pathways to recovery.
DR. GINGER SAVELY
Morgellons Disease: Our Current Understanding
Dr. Savely, a world renowned expert in the illness, will discuss in detail the symptoms of Morgellons Disease, objective findings, theories on its etiology as well as treatment options available. Dr. Savely is considered to be one of the top experts in the United States on the diagnosis and treatment of tick-borne diseases and Morgellons disease.
DR. ARMIN SCHWARZBACH
Tick-Borne Diseases and Viruses in Cancer and Unexplained Syndromes

Dr. Schwarzbach will discuss the role of tick borne diseases and viruses in cancer and unexplained syndromes.


Speakers:
Dr. Jess P. Armine (via live video link)

Dr. Jess P. Armine holds licenses as a Doctor of Chiropractic and a Registered Nurse. He is trained in Chiropractic, Methylation, Genetic Research, Neuro-Endo-Immunology, Functional Medicine, Nutrigenomics, Applied Kinesiology, Cranial Manipulation, and Nutritional Counseling. He holds Diplomas in Forensic Examination and Forensic Medicine from the American College of Forensic Examiners and is a Fellow of the American College of Forensic Examiners International.
Dr. Armine is one of the few specialists in the United States specializing in correlating the Genetic SNPs (single nucleotide polymorphisms) with Neuro-Endo-Immunology, Acquired Mitochondrial Dysfunction and Cell Wall Integrity to identify hidden imbalances and he develops individualised treatment plans specific to the history and physiology of the individual patient . Dr. Armine constantly researches about the latest findings in genetics and functional medicine.

Dr. Armine's passion is to discover and eradicate the root cause and subsequent effects of chronic illnesses in adults and children as well as to educate and empower patients and practitioners alike.

Dr. Armine is the co-discoverer of Bio-Individualized Medicine ™.


Dr. Leona Gilbert
Dr. Leona Gilbert is an Associate Professor of Cell and Molecular Biology at the University of Jyväskylä, Finland. She supervises various PhD, MSc and BSc students and is extremely active in lecturing undergraduate and graduate courses. Her numerous peer reviewed articles span turning research results into translational value with developing novel delivery vectors that can be used for imaging and biotechnological tools as well as to developing diagnostic lab-on-chip platforms. In addition, Dr. Gilbert's publications also demonstrate the thorough investigation of how a common virus or bacterium can contribute to autoimmune diseases. More specifically, her research demonstrated the critical need of including pleomorphic forms of tick-borne diseases in diagnostic kits. Recently, her research surrounds multi-disciplinary, collaborative, and ambitious efforts to create real solutions to real problems. Dr. Gilbert believes that if the patient can be tested the patient can be treated and hence has started a spin off company from the university called Te?ted Oy. Te?ted Oy is innovating the way complex diseases are diagnosed and hopes the first products, Tickplex, will help patients get tested so they can be treated.
Dr. Joseph G. Jemsek (via live video link)
Dr. Jemsek, MD, FACP, is a boardcertified physician in infectious disease and internal medicine. In early 1983 Dr. Jemsek diagnosed the first case of HIV/AIDS in Mecklenburg County, and subsequently devoted his practice to HIV care until 2006. In his early career he was the first hospital epidemiologist in a private institution, and the designated infectious disease consultant for the Carolinas Medical Center heart transplant program. The Jemsek Specialty Clinic's facility in Washington DC is exclusively devoted to the care of patients with Lyme Borreliosis Complex.
Dr. Dietrich Klinghardt
Dr Dietrich Klinghardt MD PhD has been practicing Medicine since 1975. He has been working in the US since 1982, and is the lead physician at the Sophia Health Institute in Washington (Seattle) and founder of The Klinghardt Institute in the UK. Between 1996-2005 he was Associate Professor at the Department of Applied Neurobiology at Capital University. He is regularly invited to teach workshops at the prestigious Medicine Week in Baden-Baden, Germany and the International Lyme and Associated Diseases (ILADS) conferences. In 2007 he was nominated "Physician of the Year" by the Global Foundation of Integrative Medicine. He has written three textbooks and numerous articles and book chapters. He is internationally renowned for his work with patients with chronic illness, particularly neurological and neurodevelopmental conditions and Lyme Disease and coinfections.
Dr. Ginger Savely
Dr. Savely is a Family Nurse Practitioner with a Doctorate Degree in Nursing Practice from Case Western Reserve University where she was honored with the Dean's Legacy Award for her research on Morgellons disease. Dr. Savely is also a certified applied clinical nutritionist and uses an integrative approach to patient care. Part of her treatment approach involves uncovering and treating possible mold toxicity, as this can have a pronounced impact on ability to heal. Dr. Savely has treated thousands of Lyme disease patients and over 900 Morgellons disease patients since she began specializing in these diseases in 2003. Patients come to her Washington, DC office from literally all over the world.

Dr. Savely was one of the first people in the US to advocate for Morgellons disease and to assert that the disease was not psychiatric but infectious in nature. She was honored with the Texas Nurse Practitioner of the Year Award in 2004 when practicing in Texas and the American Association of Nurse Practitioners award for state excellence in Washington, DC in 2014.

Dr. Ginger Savely is considered to be one of the top experts in the United States on the diagnosis and treatment of tick-borne diseases and Morgellons Disease. She speaks and publishes frequently on both topics and is a referral source for practitioners around the U.S. Dr. Savely has been on the advisory boards of the California and Texas Lyme Disease Associations, The Morgellons Research Foundation and The Charles E. Holman Morgellons Disease Foundation. Her book, "Morgellons: The Legitimization of a Disease", was released in November 2016 and is available on Amazon.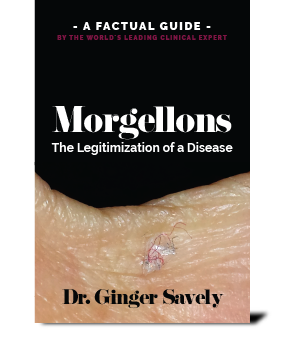 Official Book Signing:
There will be an opportunity to purchase the book "Morgellons: The Legitimization of a Disease" on the day.

Dr. Savely will be signing books between 5.15pm - 6pm at Holiday Inn Bloomsbury after the main event.
Dr. Armin Schwarzbach
Dr. Schwarzbach is a specialist for laboratory medicine and infectious diseases from Augsburg, Germany. He has been working in the field of diagnostic tests for Borrelia burgdorferi and coinfections for more than 20 years. Dr. Schwarzbach has tested more than 20,000 patients for different tick-borne diseases and multiple infections.


LOCATION
Holiday Inn London Bloomsbury - Coram Street - London - WC1N 1HT

DATE
Sunday 14 May 2017

TIME
10.00 - 17.30
REGISTRATION
09.30
Tea & coffee, still & sparkling mineral water, whole fruits & snacks, nuts, dried fruit and seeds available on arrival, at registration, and during breaks
Ticket includes lunch with vegan and gluten-free options.
(Details will be updated regularly)
CPD awarded by the Naturopathic Nutrition Association: 5 credits


PROGRAMME
09:30 – 10:05 Registration and Welcome
10:05 - 10:35 Dr. Dietrich Klinghardt
-
Infections and the Microbiome of the Brain and Sinuses
10:35 - 11.40 Dr. Leona Gilbert
-
Reinventing Diagnostic Antibody Tests for Tick-Borne Diseases
11:40 – 12:05 Tea & Coffee
12:05 - 13:00 Dr. Armin Schwarzbach
-
Tick-Borne Diseases and Viruses in Cancer and Unexplained Syndromes
13:00 – 14:00 Lunch
14:00 - 14:55 Dr. Jess P. Armine
(via live video link) -
CIRS & Brain Inflammation: The Effects of Mould, Mycotoxins, Mast Cells on the Microglia
14:55 - 15:30 Dr. Ginger Savely
- Morgellons Disease: Our Current Understanding
15:30 - 15:55 Tea & Coffee
15:55 - 16:25 Dr. Ginger Savely
-
Morgellons Disease: Our Current Understanding (cont)
16:30 - 17-30 Dr. Joseph G. Jemsek
(via live video link)
-
Major Reasons for Lyme Borreliosis Complex (LBC) Treatment Resistance or Relapse
17:30 - 18:00 Book signing with Dr. Ginger Savely
MAIN SPONSOR


Dr. Jess P. Armine







Dr. Armin Schwarz- bach







Dr. Leona Gilbert







Dr. Joseph Jemsek







Dr. Dietrich Klinghardt







Dr. Ginger Savely