CHSE - LeapForward Project: Learning for Practice; Feedforward to support t...
Description
Open to all staff at the University of Bristol who are interested in how to improve feedback conversations in the workplace.
This workshop will be based on the resources created as part of the LeapForward project "Learning for Practice; Feedforward to support transition to the workplace".
The LeapForward project drew on the experiences of staff and students in healthcare, social work and theatre studies settings at the University of Bristol. Three, one-hour sessions have been developed, along with a resource Toolkit, which can be used to help staff and students understand their role in feedback (feedforward) processes within workplace learning environments. This session will be an opportunity to experience the workshops that have been developed, provide feedback on them as training resources, and consider whether the workshops might be useful for your own teaching.
This workshop is suitable for any staff member working with undergraduate students in workplace settings, and for those with responsibility for training staff/students in workplace assessment processes.
The workshop will be led by Sheena Warman (CHSE assessment lead), Annie Noble (CHSE staff development lead), and Sarah Kelly (LeapForward project Research Associate).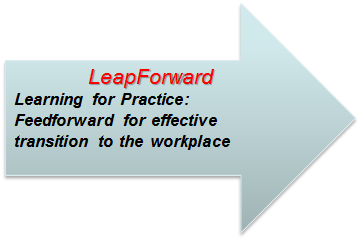 Tea and coffee will be provided for attendees plus lunch (sandwich selection). Therefore please email the chse-admin@bristol.ac.uk mailbox at the time of booking your place if you have any special dietary requirements so that we can ensure you are catered for.
Part of a series of sessions organised by the Centre for Health Sciences Education.