Description
Join Poppy Liu and Chuffed.org for a workshop on Crowdfunding for Social Causes! We are Chuffed.org, a free crowdfunding platform and the best vehicle for change for social causes around the world.
Donation-based crowdfunding is a new way of raising funds and allows you to source money for a project by asking a large number of contributors to donate a small amount, and asking a small number of contributors to donate a large amount. In return, backers may receive token rewards that increase in prestige as the size of the donation increases.
The Workshop
Chuffed.org is one of the leading (free !) global crowdfunding platforms for social causes. During this Workshop we will give you an introduction to Crowdfunding and will share the secrets of what it takes to run a successful campaign on Chuffed.org. This workshop is an opportunity for you to learn more about how to add crowdfunding to your fundraising mix and maximise its potential!
During the workshop you will learn how to:
Find your crowd (figure out who is going to support your project and why)
Tell a specific, inspiring story that your supporters care about
Set an achievable target and blow it out of the park
Create a marketing and promotion plan for your campaign
About the speaker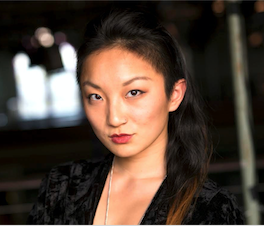 Poppy Liu exists in the space where art meets activism. She is the founder of the storytelling initiative and production company Collective Sex which has the mission of 'decolonizing storytelling'. Community building is at the core of everything Poppy does which is why crowdfunding has worked so well for her. Poppy ran a successful $20,000 crowdfunding campaign on Chuffed.org last summer for her art activism film Names of Women which is currently on tour across the US at film festivals, college campusses and activist events. She is currently working on some exciting new crowdfunding projects.
During this workshop, Poppy will be sharing both her own experiences crowdfunding as well as learnings from over 5000 social cause projects on Chuffed.org.
Fees

$30 Discount ticket for Chuffed.org Campaigners, Registered Charities and New Women Space Members
$60 Standard ticket price
As this is a hands-on workshop, places are limited to max. 15 participants.
All funds raised from this workshop will go to support Poppy Liu's next campaign on Chuffed.org.
What previous attendees say
"Thanks very much for an enjoyable and useful workshop, it definitely broadened my understanding of what is possible and confidence to run a campaign. Thanks too for the information and again for your support, it is greatly appreciated." - Trish Appleton-Fox, Centre Manager, The Rainbow Centre for Children
So whether you're new to crowdfunding, planning to run a crowdfunding campaign but don't know where to start or just looking for new ideas for your current or future campaigns, we look forward to see you there!
Can't make it?
Email us at info@chuffed.org or schedule a call with the team at Chuffed.org if you have any questions or would like to learn more about Crowdfunding for Social Causes.