Description
Join us for a workshop on Crowdfunding for Social Causes!
Donation-based crowdfunding is a new way of raising funds and allows you to source money for a project by asking a large number of contributors to donate a small amount, and asking a small number of contributors to donate a large amount. In return, backers may receive token rewards that increase in prestige as the size of the donation increases.
Let's make a difference and catalyse massive impact across Belgium!
The Workshop
This workshop is hosted by Chuffed.org, one of the leading (free!) global crowdfunding platforms for social causes. During this Workshop, Chuffed.org Community Leader Jurgen Mortier will take you through real-life examples of successful campaigns that have been run across Belgium and the world. You wil be given a unique insight into inspiring campaigns with social causes at their core. We will show you how to:
Find your crowd (figure out who is going to support your project and why)

Tell a specific, inspiring story that your supporters care about

Set an achievable target and blow it out of the park

Create a marketing and promotion plan for your campaign
As this is a hands-on workshop, places are limited to max. 15 participants.
Fees
€20 Discounted ticket for registered charities and existing Chuffed.org Campaigners

€40 Standard ticket price

Discounts available for Hive5 network
What previous attendees say
"Thanks very much for an enjoyable and useful workshop, it definitely broadened my understanding of what is possible and confidence to run a campaign. Thanks too for the information and again for your support, it is greatly appreciated." - Trish Appleton-Fox, Centre Manager, The Rainbow Centre for Children
So whether you're new to crowdfunding, planning to run a crowdfunding campaign but don't know where to start or just looking for new ideas for your current or future campaigns, this workshop is a 'must-attend' for those looking to raise their impact!
About the Workshop Facilitator
Jurgen Mortier - Chuffed.org Crowdfunding Community Leader Belgium

Jurgen is a "global citizen" and lives to the words of political philosopher Thomas Paine: "My country is the world and my religion is to do good." With this context, Jurgen likes having a different look at people, the society and the business world. Jurgen's favorite activities are bringing people together to stimulate cooperation, and work to have a positive meaningful impact. Jurgen combines the role of intrapreneur within FTI Consulting where he runs operations of the 70 person Brussels team and is also social entrepreneur of the "Embrace Foundation", which he founded 4 years ago to give street children in Africa a better future. Through the crowdfunding workshop, Jurgen will share his own experience of projects such as 'Walking 100km to give 16 Ethiopian boys a better future' as well as Chuffed.org's top tips to help other organizations in Belgium raise more money for their charities. Revenue from this workshop goes to Jurgen's next Chuffed.org project for the benefit of Embrace Foundation.
About Hive 5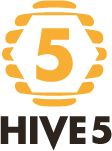 At Hive5, we believe coworking is a lot more than nice desks in an inspiring environment. We believe coworking is about building a vibrant community of freelancers, entrepreneurs, startups and SMEs. And we commit ourselves to making that community thrive and grow!
Can't make it?
Please contact events@chuffed.org or head to the Chuffed Academy for more on crowdfunding!