This ecumenical event runs across three online sessions, over 3 consecutive weeks.
About this event
The events will be a mix of useful presentations, lively discussions, funders and Q&A panels. Book for one or all three.
Recognising that post Covid-19 things are going to be different, we have pulled together a range of experts will provide practical advice around topics such as:
sustaining and developing our churches,
adapting to new technology,
how we secure our buildings whilst remaining open to the community and
the best ways to fundraise, now and for the future.
The sessions will demonstrate how churches can successfully rise to a post-covid world and offering ideas for you to do the same.
The event is being delivered in partnership between the Roman Catholic Archdiocese of Birmingham and the Anglican Dioceses of Hereford, Worcester, Birmingham, Coventry & Lichfield.
There are three dates available, please book your tickets by clicking on the 'register' button on the top right and select the date that you'd like to attend and fill in all of the details. Please use your correct email and contact details, as this will be how you receive your joining instructions:
Thursday 22nd April 2021. 9:45am - 12pm. The Post Covid Church
Thursday 29th April 2021. 9:45am - 12pm. The Post Covid Church Heritage & Tourism
Thursday 6th May 2021. 9:45am - 12pm. The Post Covid Church & Funding
We're in the midst of setting up a webpage on the Worcester diocese website where all the recordings will be held and the various accompanying papers from speakers. It should be ready on this link in a couple of days and be added to after each of the three sessions: https://www.cofe-worcester.org.uk/parish-support/church-buildings/training-development-sessions/church-buildings-and-the-post-covid-church-sessions.php
If you have any questions about the event, please contact: mcarter@cofe-worcester.org.uk
If you have any questions regarding booking your e-ticket, please email the training and events co-ordinator, Katie, at: training@cofe-worcester.org.uk.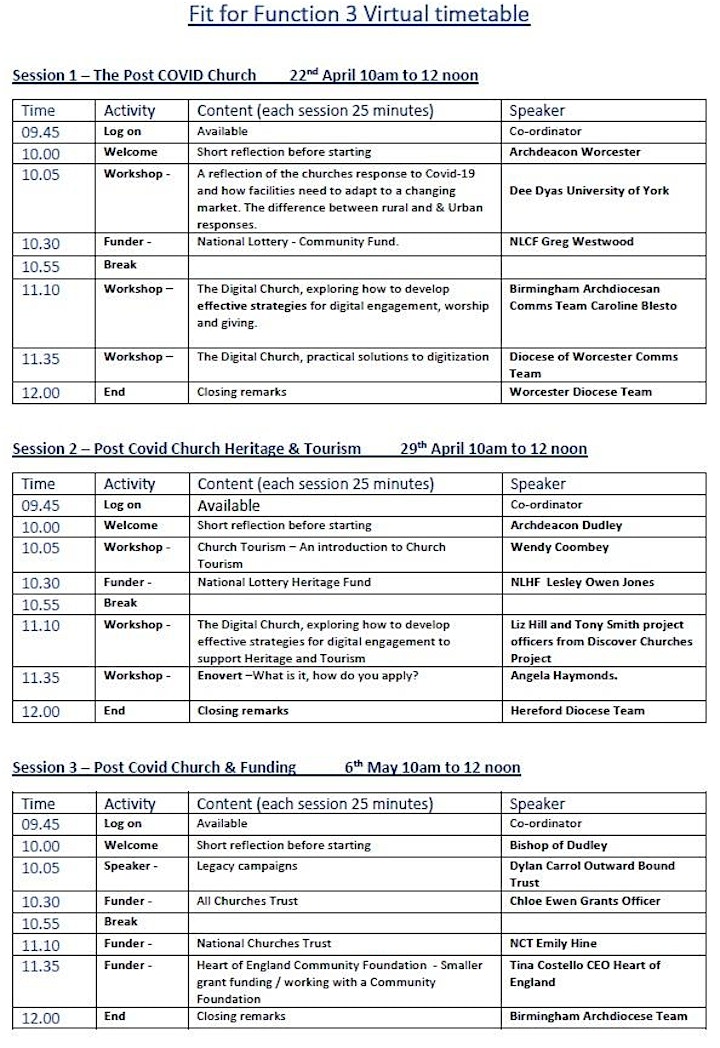 (If you cannot see the image clearly on your device, please right click, and press 'open image in new tab' or save the image to your device and view on your appropriate programme)