The Church Planters Course(CPC) is the training programme designed for those in the Redeemed Christian Church of God (RCCG) in the UK
About this event
The Church Planters' Course (CPC) is the training programme designed for those in the Redeemed Christian Church of God (RCCG) in the United Kingdom (UK) who are about to take on responsibilities as heads of local churches. Parish Pastors who assumed their positions within the past three years but are yet to attend the CPC are also encouraged to do so. There is no fee to attend the course.
The CPC aims to equip new parish pastors with the vital knowledge and skills they will find useful in their day-to-day ministry activities as leaders in charge of local RCCG churches. Course participants are introduced to scriptural insights relating to the Pastoral Ministry and practical suggestions on how to find fulfilment in their calling. They are also instructed in matters relating to RCCG Church Governance and Administration.
In addition, Pastors receive helpful ideas about how to grow their membership. Furthermore, they learn how to serve their local communities through Social Action and the development of strategic partnerships. Ministers attending the CPC benefit from the many years of experience of the course facilitators who are senior ministry leaders.
Following the conclusion of the CPC, delegates should have achieved the following outcomes:
• Greater insight into the Pastoral Ministry in the RCCG;
• Firm understanding of the key issues relating to Church Governance and practical knowledge about Church Administration in the RCCG mission worldwide and in the UK;
• Exposure to contemporary ideas relating to Church Growth; and
• Better comprehension of how to engage in Social Action and develop Strategic Partnerships aimed at planting churches that are at the heart of their communities.
The course will run on the following dates below. Attendance is on all four weekends of each Module.
• Saturday 6th, 13th, 20th and 27th February 2021 at 10:00 to 15:00
• Saturday 1st, 8th, 15th, 22nd May 2021 at 10:00 to 15:00
• Saturday 3rd, 10th, 17th, 24th July 2021 at 10:00 to 15:00
• Saturday 6th, 13th, 20th, 27th November 2021 at 10:00 to 15:00
Delegates must attend all 4 Modules i.e. (1st, 8th, 15th & 22nd of May 2021) to receive the Certificate of Attendance.
Thank you
RCCG Central Office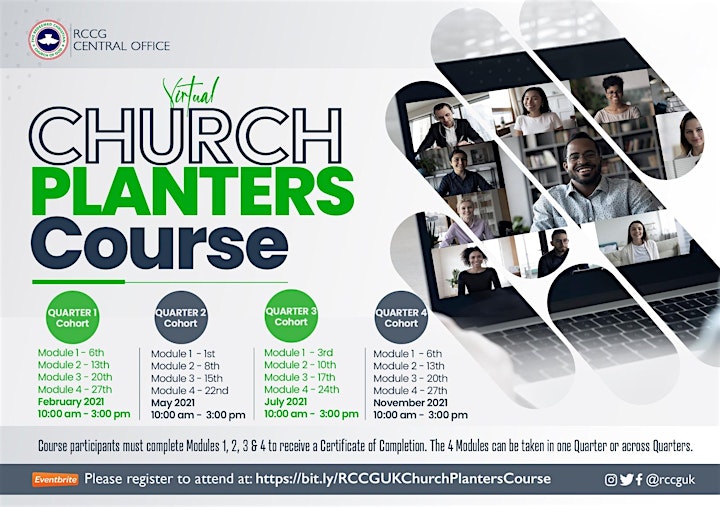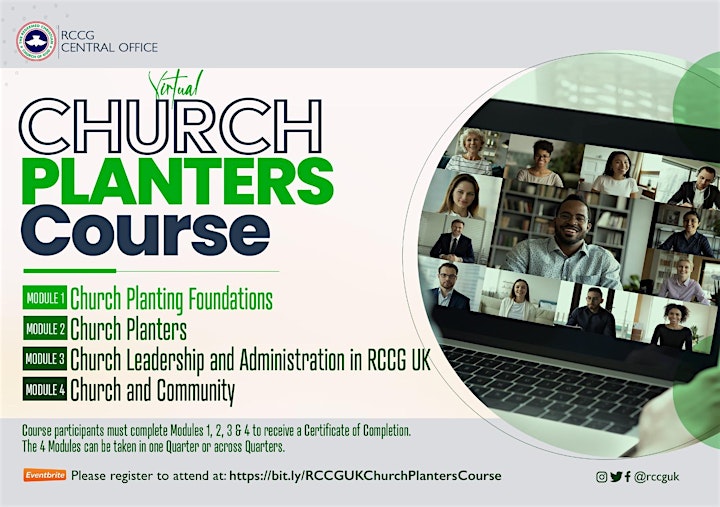 Organiser of Church Planters' Course(Modules1-4)
RCCG Central Office is the headquarters of The Redeemed Christian Church of God in the United Kingdom. The Central Office works with various RCCG UK parishes and ministries to deliver on the mission's global commitment to world evangelisation, discipleship and societal transformation. The RCCG is presently active in over 195 countries.