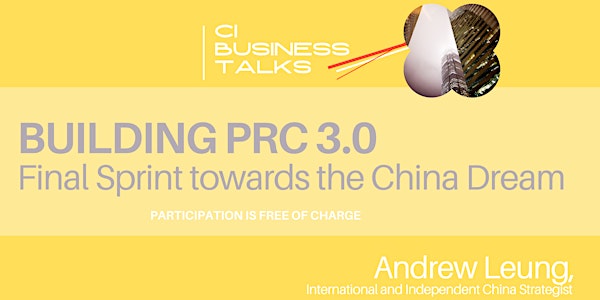 CI Business Talk: Building China 3.0 - Final Sprint towards the China Dream
How to build PRC 3.0? What are challenges China is facing?
About this event
Building China 3.0 - Final Sprint towards the China Dream: Overcoming the Middle Income Trap and Demographic Cliff, Building Innovative Self-reliance, Sustainable Development, Dual Circulation, Joining the Comprehensive and Progressive Trans-Pacific Partnership (CPTPP), Achieving Common Prosperity, Unification and Common Destiny.
CONTENT
• Sixth Party Plenum – President Xi's review of CCP history; stages of China's trajectory; Two Centenary Goals and the China Dream
• Ascendancy v "unbalanced, unstable and unsustainable" growth
• External backdrop:
• Decline of US unipolar hegemony
• Rise of Rest and the Asian Century
• Rise of China as world power: economy, central hub, 5G, Space, global influence
• US pushback -Thucydides Trap, Hundred Year Marathon, Strategy of Denial, demonization (China Threat), confrontation, competition, no accommodation, Clash of the Titans: trade, investment, technology, South China Sea, Xinjiang, Taiwan, Hong Kong, human rights, ideology; Clash of Civilizations
• Emergence of multipolar world order; global challenges – Climate Change, pandemics, nuclear proliferation, terrorism, failed states, UN Sustainable Development Goals
• China's trajectory hurdles: demographic cliff, middle income trap, high-end semi-conductor chips, inequality, "lying flat" phenomenon, water scarcity, ecology
• China's responses – Dual Circulation, technology self-reliance, Common Prosperity, Belt and Road, addressing West's concerns – intellectual property, level-playing field, subsidies, transparency, corporate governance, civil society
• Productivity drives: poverty relief, high-speed rail, city clusters, urbanization, expansion of middle class, digital economy, Internet of Things, robotics
• PRC 3.0 – Common Prosperity, Stability with Diversity, Community of Common Destiny in New Era, global governance
About the speaker
Andrew K. P. Leung, SBS, FRSA, International and Independent China Strategist
Prominent international and independent China Strategist. 38-year Hong Kong government service, including positons as Assistant Financial Secretary, Deputy Secretary for Transport, Deputy Director-General of Industry, Director-General of Social Welfare, and Director-General London.
After retirement, China Futures Fellow, Massachusetts Berkshire Publishing Group; Brain Trust Member, IMD Lausanne Evian Group; Gerson Lehrman Group Council Member; Thomas Reuters Expert; Senior Analyst with Wikistrat; Member, Royal Society for Asian Affairs; Former Governing Council Member, King's College London; Former Advisory Board Member, China Policy Institute, Nottingham University; Think-tank Research Fellow, Beijing Normal University, Zhuhai Campus; Advisory Board Member, The e-Centre, European Centre for e-Commerce and Internet Law; Visiting Professor, London Metropolitan University Business School.
1990 US-sponsored International Visitor on month-long visit to brief Fortune 50 CEOs, including Steve Forbes, on China post-1989. In 2003, invited by Prince Andrew for private briefing leading to HRH's first visit to China as UK's Ambassador for Trade and Investment. Advised on cross-cultural management in Lenovo's take-over of IBM Computers. Invited as Editor-at-large by MEC International for consultancy on China's energies.
Regular speaker on China at overseas conferences. Regular TV interviewee with many international TV channels.
Graduate qualifications from University of London, postgraduate qualifications, Cambridge University, PMD, Harvard Business School. Included in UK's Who's Who since 2002. Awarded Silver Bauhinia Star (SBS) in July 2005 Hong Kong Honours List.