Join us to find out more about different approaches to market research and hear from a panel of industry experts.
About this event
Are you developing a new creative product or service? How much research have you carried out on your potential customer base and target markets?
For CI Studio 10, we'll be joined by market research specialists who will share their experiences of conducting user research, with some tips and tricks that can be adapted for start-ups, sole traders and small businesses in the creative industries.
Collecting reliable data about your market or audience is vital to the development of any business concept, and can help you build a case to attract funding and investment. This informal session will focus on practical approaches to market research, with plenty of time for discussion and questions. We'll cover different methods for getting to know the intended users of your new creative product or service.
Our speakers include
Oli Mival is a highly experienced UX professional bridging the gap between academic theory and research to industry practice and implementation. Oli is Director of User Research at Skyscanner and is a Principal Research Fellow at Edinburgh Napier University.
Catherine Richards is Head of Customer Design at Tesco Bank. Catherine is an experienced design leader and has worked for some of the UK's leading banks where she's led on embedding and deepening a culture of customer-centricity through Design. She's currently at Tesco Bank and her work includes redefining the customer strategy and how propositions are developed so that they focus on the needs of Tesco Shoppers.
Bas Raijmakers is co-founder of design research agency STBY, with offices in London and Amsterdam, STBY carry out creative research projects to connect organisations with the lives and experiences of their customers.
Aleks Wruk is a UX researcher, facilitator and speaker. She has worked for some of Scotland's top tech companies, building bridges between product teams and their users. Aleks is focused on promoting user centeredness and the culture of learning to help organisations design outstanding products and services.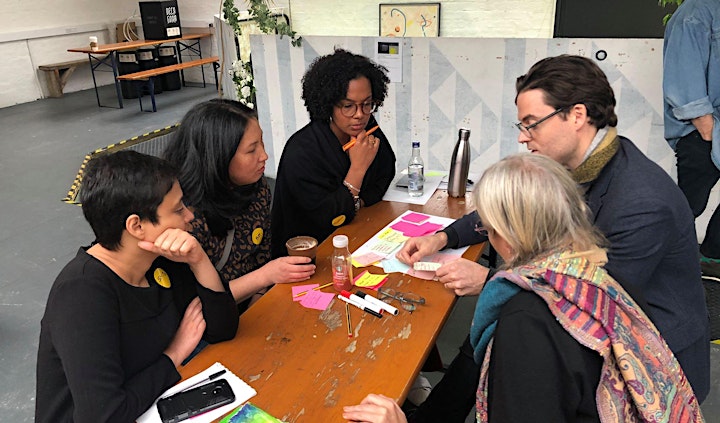 About CI Studios
CI Studios are regular, informal events open to anyone working in the creative industries interested in learning more about data-driven technologies. Studios usually take place at E11, our dedicated workshop space at Edinburgh Napier University, and in venues across Edinburgh/South East Scotland throughout the year, providing opportunities for creative practitioners to try working and experimenting with data in a friendly, practical environment. Due to current social distancing measures, we are running our CI Studios online until further notice.
About Creative Informatics
Creative Informatics is a collaboration across the University of Edinburgh, Edinburgh Napier University, Codebase and Creative Edinburgh.
Funded by the Creative Industries Clusters Programme managed by the Arts & Humanities Research Council as part of the Industrial Strategy, with additional support from the Scottish Funding Council. The programme is part of the City Region Deal Data Driven Innovation initiative.
Find out more at https://creativeinformatics.org/
Data Protection
In providing your completed registration response you are giving explicit consent for us to use this data in our programme monitoring and reporting processes. The data is managed confidentially. Your data will be held and used by the Creative Informatics delivery team based at the University of Edinburgh with some data shared with our funders the Arts and Humanities Research Council and the Policy and Evidence Centre based at Nesta. Your data will only be reported in anonymous aggregated forms and will always be processed in accordance with the Data Protection Act 2018 and therefore also in accordance with the General Data Protection Act 2018 and therefore also in accordance with the General Data Protection Regulation (GDPR).
Organiser of CI Studio 10: Knowing your users - understanding your customers and market