An opportunity for stakeholders to ask questions to a selection of LNP Board Members. Questions will be submitted prior to the online event
About this Event
This session provides an opportunity for stakeholders to ask questions to a selection of LNP Board Members. Questions can be submitted prior to the online event.
Please submit your questions relating to environmental growth and tell us about your nature recovery priorities to help us shape our nature recovery plan:
https://www.netigate.se/ra/s.aspx?s=922705X248345663X44378
A range of questions will be chosen in advance to allow for a range of topics to be discussed. Participants will have an opportunity to comment via the virtual platform. The event will be recorded so those who are unable to attend can watch again. This is part two of three LNP conference online sessions. Due to Covid restrictions the LNP conference will be three shorter online events as opposed to a full day this year.
Introduction to other panel members:
Panel:
- Lord Robin Teverson
- Carolyn Cadman
- Wesley Smyth
- Helen Dobby
- Oliver Baines
Agenda:
10:00 Welcome, introduction and purpose of the event. Lord Robin Teverson.
10.15 Keynote speech: Rob Yorke.
10.30 Presentation of the first set of questions with panel discussion.
11.10 Comfort break.
11.15 Presentation of the second set of questions with panel discussion.
11.55 Closing remarks. Lord Robin Teverson.
12.00 Close.
Rob Yorke is an environmental commentator, broadcaster and rural chartered surveyor. He has lived in the wilder parts of the UK (west Scotland, Northumberland, Shepherds Bush, west Wales and now the Black Mountains) worked for the National Trust on countryside stewardship and farm effluent schemes and now wears two hats. One as an independent commentator who has interviewed Michael Gove, George Monbiot, Minette Batters, Ben Goldsmith, published 123 letters in The Times, brokers rural dialogue via his "Countryside Critical" consultancy, and flies by the twitter name @blackgull. His other hat is as a specialist land agent advising, for over 25 years, on laying public water/sewer mains across south east England. "Anything and everything is about people" he says: more at robyorke.co.uk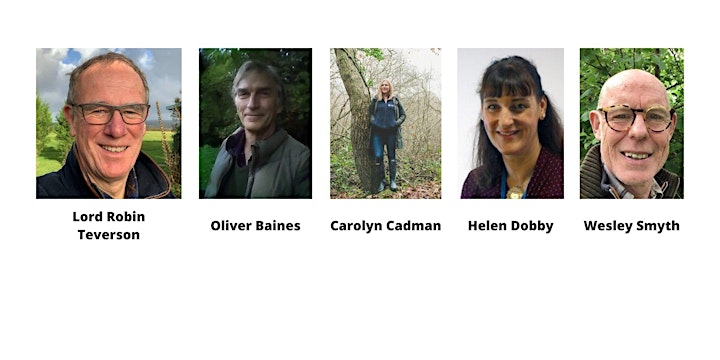 Lord Robin Teverson
Robin is Chair of the LNP. He is a former MEP representing Cornwall, the Scillies and Plymouth back in the 1990s, having a previous career in the freight industry. A member of the House of Lords since 2006 where he focuses on energy, climate change, and fisheries. He chairs the Lords EU Environment sub-committee. He was a board member of the Marine Management Organisation between 2013 and 2019. Robin lives near Tregony.
Oliver Baines
Oliver has been a social and environmental activist all his adult life. His partner and her brother own a 250-acre organic sheep and beef farm, where he works as a volunteer. He's a member of Extinction Rebellion. He sees the twin crises of climate breakdown and ecological collapse as the greatest challenge civilization has ever faced.
He is also a father, a grandfather, a beekeeper, a vegetable grower, a political activist, a bird lover, a cook. Much of his career has been in campaigning to retain services and facilities in rural Cornwall. It has also been in finding ways of supporting those most isolated, impoverished or least able to fend for themselves in our communities. He has served as chief executive of the Cornwall Rural Community Charity. More recently he has served as chief executive of the Cornwall Community Foundation. He was awarded an OBE in 2000 for services to rural communities.
Carolyn Cadman
Carolyn Cadman is deputy Chair of the LNP and the Chief Executive of Cornwall Wildlife Trust and their company, Cornwall Environmental Consultants.
Carolyn has previously worked in national roles for the Marine Management Organisation and Natural England, before joining Cornwall Council in 2015.
Carolyn's team manage over 55 nature reserves across Cornwall, work with 1400 volunteers each year, host the accredited Local Environmental Records Centre for Cornwall an the Isles of Scilly. The team also deliver a range of marine and land-based conservation projects in partnership, including advice to landowners, farmers, fishermen and other business to take wildlife friendly decisions, advocating low carbon and nature- based solutions to the challenges Cornwall faces. More info at www.cornwallwildlifetrust.org.uk
Helen Dobby
Helen is the Environment Agency's Area Director for Devon, Cornwall and the Isles of Scilly. Helen leads a team of around 350 staff in the area who work with national colleagues and partners to protect and improve the environment.
Helen has worked in the public sector for more than 25 years, developing and leading delivery in environmental services for local government in Warwickshire, Leicestershire, Oxfordshire and Devon, before joining the Environment Agency in 2019.
Through local delivery and working with others Helen and the team:
• Help communities and wildlife to adapt to climate change.
• Work to reduce the impacts of climate change, including flooding, drought, sea level rise and coastal erosion.
• Improve the quality of our water, land and air by tackling pollution.
• Work with businesses to help them comply with environmental regulations. Helen is keen to develop partnership working that builds a healthy and diverse environment, enhances our communities and contributes to economic growth. Helen is a strong advocate for rural issues and having grown up in North Cornwall now enjoys family life in the Tamar Valley. Her aim has always been to help create environmentally strong and thriving communities which we would all like to live in and contribute to.
Wesley Smyth
Wesley Smyth is the Area Manager for Natural England's Devon, Cornwall and Isles of Scilly Team and has been involved in all aspects of Natural England's work in Cornwall and the IoS.
Natural England is the government's advisor on the natural environment. We provide practical advice, grounded in science, on how best to safeguard England's natural wealth for the benefit of everyone. Our remit is to ensure sustainable stewardship of the land and sea so that people and nature can thrive. It is our responsibility to see that England's rich natural environment can adapt and survive intact for future generations to enjoy.
Natural England's ambition is not just to improve nature, but to see it thriving everywhere. This is because we recognise that a healthy natural environment is fundamental to everyone's wealth, health and happiness.
Wesley has had a lifelong interest in wildlife with a breadth of experience of working with land managers and communities on the stewardship of our natural heritage.
This event will be hosted online by Tevi, an ERDF-funded programme supporting Cornish SMEs to grow whist contributing to Cornwall's environmental growth priorities and circular economy transition. To aid the organisation of this event, attendee information may be shared with relevant staff across Tevi partners. We will store your information securely, so that we can communicate to you about the event (e.g. cancellation of event, changes to the itinerary, a satisfaction survey). For more information on Eventbrite's own privacy policy, please visit their pages. For online webinars, note we may record the entirety of the webinar as well as keep a record of attendees, for use across Tevi partners.