Join our CIPD London Fellows and Senior Practitioners' Network insights, sharing and networking online.
About this event
What was once the "future of work" has become a thing of the past. We are living in a new normal where the global pandemic has accelerated a shift in how and where we work. This has put organisations, their business models, and ways of working to the test. It's time we reimagine the future through HR transformation. HR needs to adapt itself to be able to deal with internal and external challenges.
As a senior people professional, what are the key things you need to understand about organisational and HR transformation, what works well and where are we failing?
How do we make sure we're future-proofing our organisation through HR transformation and what are some of the key things we're focusing our the right priorities?
Are we dealing with the digital revolution, borderless business, hyper-personalization or shifting from a focus on cost reduction to investing in growth?
How can HR be enabling digital transformation while going through its own digital transformation?
How can we balance being locally based while supporting a global organisation?
What would the main priority for HR transformation in your organisation be?
Re-envisioning employee-centricity in the digital age.
Rethinking the human resources operating model.
Restructuring the human resources organisation.
Re-engineering of the core employee processes.
Additions and enhancements to HR capabilities.
The re-platforming of the HR systems and driving the adoption of people analytics.
Or maybe, all of the above?
To face these challenges, the HR organisation and its way of delivering products and services need to evolve and mature. Join us for an open conversation exploring how we drive HR transformation in our organisations, how we learn from other HR leaders and the journeys other organisations have taken towards HR transformation.
About the network:
Our CIPD Fellows and Senior Practitioner Network connects experienced people professionals with each other and provides a place for debate and discussion on the key current issues facing HR, L&D and OD strategy, organisational governance and practice.
The purpose of the network:
To bring our senior professionals together to connect you with thought leadership and practical advice from regional HR leaders about how COVID-19 has impacted them and their teams and wider people practice
Share and capture regional stories as part of our #HRtogether campaign
To facilitate and develop peer to peer networking across our region for our Fellows and senior people professionals
To support you, as our valued member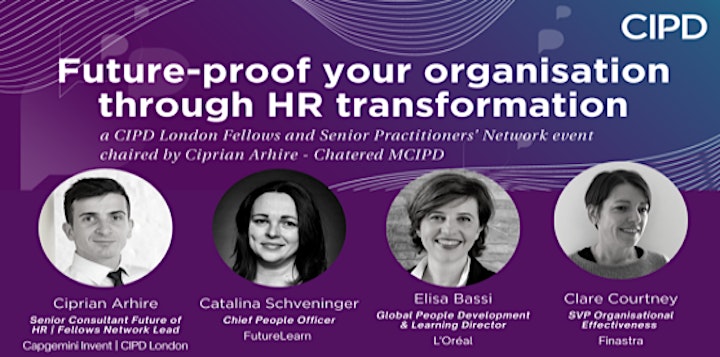 Speakers
Ciprian Arhire (He/Him) MSc, PRINCE2, Chartered MCIPD
Future of HR Senior Consultant | People and Organisations practice at Capgemini Invent OD + Fellows and Senior Practitioners Networks founder and lead at CIPD London https://www.linkedin.com/in/ciprianarhire/ & https://twitter.com/Ciprian_Arhire
Ciprian has been working in HR and business operations for over 12 years driving organisational change and transformation across both the private and third sector. Currently, he's working as a Senior Consultant on the Future of HR at Capgemini Invent supporting organisations undertaking transformation programmes to improve people practices and drive good practice across multiple sectors. In his spare time, he's founded and currently running a network for Senior Practitioners and Fellows and one for Senior OD professionals for CIPD London, tapping on his extensive experience and exposure to the fields of HR, L&D, OD and D&I.
Prior to Capgemini invent, Ciprian was working for the CIPD where he led the regional engagement strategy for CIPD London region as well as a complex portfolio of programmes, projects and interventions focused on organisational and digital transformation and change, inclusion, diversity, best practice in the profession and the CIPD peer mentoring programme.
Ciprian is one of the founders of CIPD's LGBT+ Network, the first-ever employee network group at the CIPD as well as chairing the network for its first 4 years while feeding directly into the organisational people and D&I strategy. He's led significant work on D&I including a complex review of the impact on systemic racism on ways of working, language and output across the CIPD ecosystem. He is an expert in EDI, organisational change and transformation bringing design thinking and employee experience to the present practice in organisations.
He has completed a Masters in Human Resource Development and Consultancy, is a Chartered Member of the CIPD, a PRINCE2 accredited project manager and often speaks on events, conferences and panels about the importance of human-centric organisational cultures, driving people strategies for the future and harnessing the full human potential by leveraging inclusion and belonging.
Catalina Schveninger, FCIPD - Chief People Officer at FutureLearn | ex Vodafone, T Mobile, GE
Catalina Schveninger FCIPD, joined FutureLearn from Vodafone where she most recently held the Global Head of Learning and Capabilities role, being responsible for the reskilling/upskilling and learning culture strategy for the FTSE 20 company's 100,000 employees across 25 countries.
Previously, Catalina was HR Director of T Mobile in The Netherlands. She began her international HR career in 2002 as a member of the Human Resources Leadership Program at GE and held different roles, including the HR Director of GE's Security EMEA division.
A mother of 2, Catalina is a passionate advocate for the attraction and development of women in organisations and describes herself as a people and HR tech geek. Catalina holds a BA in Journalism and Communications from the University of Bucharest, a Diploma in Management from The Open University, and has lived and worked in six countries.
About FutureLearn
Here at FutureLearn, our purpose is to transform access to education. We do that by partnering with over a quarter of the world's top universities to support over 12 million learners across the globe to develop skills and achieve their personal and professional goals.
We're a leading social learning platform founded in December 2012 by The Open University and are now jointly owned by The Open University and The SEEK Group. We use design, technology and partnerships to create enjoyable, credible and flexible short online courses and microcredentials, as well as undergraduate and postgraduate degrees. In addition to top universities, we also partner with leading organisations such as Accenture, the British Council, CIPD, Raspberry Pi and Health Education England (HEE), as well as being involved in government - backed initiatives to address skills gab such as The Institute of Coding and the National Centre for Computing Education.
Clare Courtney - SVP Organizational Effectiveness at Finastra
Clare is the SVP Organizational Effectiveness at Finastra, #3 global fintech. Mother to four boys and passionate about helping companies get more successful through organizational changes and improvements to deliver their business strategies. Originally trained as a civil engineer, Clare is a fellow of the Institution of Civil Engineers (FICE) as well as a fellow of the Chartered Institute of Personnel & Development (FCIPD).
Three years at BT helping them re-design their organization in 2017 following significant profits warning including a new operating model, integrating from8 business units into 6 and the re-design of top 12,000 leadership roles (including 30% reduction).
Five years with Vodafone setting up and leading their Organizational Effectiveness function. Best known for championing Organizational Health Checks and data led organization design as well as introduction of single global operating model for Vodafone worldwide. Earlier track record includes BAA and Laing O'Rourke leading Organizational Design & Development.
Elisa Bassi - Global People Development and Learning Director for the Active Cosmetics Division at L'Oréal
Elisa is a business-minded Learning and Organization Development leader with experience across a range of the World's leading organizations. She started her career as an Academic researcher and Professor, developing research in Organizational Psychology and Behavioral Economics for more than 7 years.
She then focused on the Banking Industry, working with Intesa Sanpaolo Banking Group, starting as Human Resources Director, then in 2007 moving over to deliver the post-merger Group-wide Management Integration programme she had designed. This role then developed into creating the business case for, and then leading, the Learning and Organizational Development for 14 Subsidiaries across 12 Different Countries, being responsible for the subsidiaries integration within the Banking Group, focusing on leadership, performance enhancement, and building strategic organizational capabilities across all Subsidiaries.
In 2010 Elisa moved to Prometeia, a Consulting Company providing cutting-edge tech solutions and research insights to financial institutions. She built the international training function and offer, and developed innovative behavioral econometric models.
In 2014 Elisa moved to Syngenta global HQ in Switzerland, working initially on Functional upskilling across all Functions, then focusing on designing the Organizational Excellence Capability building strategy at the Group level, and leading its implementation. Then, she took the role of People and Organization Development Lead for R&D, successfully led the organizational redesign of the function, and implemented the new operating model.
In 2017, Elisa joined L'Oréal Group, initially leading the Global Learning team for Finance & IT, and implementing a global remote learning strategy, before progressing in January 2020 to take over the role of Learning and Transformation Global Director for the Active Cosmetics Division, responsible for enhancing effectiveness and reach of learning, and defining the Medical Capabilities building strategy.
Elisa is also a certified Coach and collaborates with the King's College in London, running workshops on the role of HR in global transformations for Human Resource Management & Organizational Analysis MSc students. Specialties: Learning, Organization Development, Organization design, change, transformation, leadership, coaching, programme management, innovation, behavioral economics.
Timings:
18:00 - Start of the session
19:30 - Closing
Please note:
Webinar joining instructions will be sent to you 2 days before the event (with further reminders 2 hours prior to the session and 20mins prior to the session).
The webinar will start at 18:00 and run for about 90 minutes.
We will record the webinar and will share will people afterwards. We will be using the recording to upload it to CIPD channels.
The chat function will be used for participants to engage with the webinar, rather than audio and video, so just be mindful of the login name you use and ensure you are happy for other people to see this.
Professional photography and video production may be taking place at the event, and these images and videos may be used on future promotional materials for CIPD.
By attending the event, you are giving your consent for your image to be used on any CIPD promotional materials.
For security reasons, it is requested that participants join the live session 10 minutes prior to the scheduled start time and with the same name as registered on Eventbrite as not doing so may cause a delay or non-admittance to the event.
Organizer of CIPD London - Fellows and Senior Practitioners Network - insights session.
Officially launched at City Hall on September 2013, CIPD London has the specific aim of being the official voice for people management and development in the capital.
CIPD London caters for over 25,000 members, which represents 16% of the CIPD's overall UK membership. The London team will continue to engage and build relationships with wider people professionals' communities and networks, employers, HR Leaders, Government agencies and academic centres to ensure our work reflects the diversity and needs of the people profession in the capital. This makes CIPD London a truly significant geographical area, in terms both of membership density and the wider social and political responsibility we have to help support the CIPD's strategy to champion better work and working lives.
The regional strategy is supported by seven branches who have been working collaboratively to help develop a compelling and influential presence in London, whilst also delivering high-quality support and networking opportunities at a local level. Our location means that we are at the heart of a proud, growing community of practitioners, members, partners and thought leaders and through our combined and collaborative efforts we'll take big steps towards championing better work and working lives.
Connect with us on Linkedin, follow us on Twitter, like our Facebook page, Instagram or sign up to our weekly mailing at cipd.co.uk/london