Join our CIPD London Fellows and Senior Practitioners' Network insights, sharing and networking online
About this event
COVID-19 has shattered assumptions about how work gets done. Organisations have reacted quickly to adapt and survive but now, almost 20 months after Covid19 was declared a pandemic, is the time to intentionally reinvent the future of work, define what we're keeping from the lessons learned in the past 2 years but also how do we reshape our future ways of working.
HR leaders have a unique opportunity and responsibility to evolve from legacy location-centric work design to a more equitable human-centric, outputs and outcomes-based work design that empowers the workforce to thrive in the post-pandemic world.
Let us explore the future of work together and understand the role the HR profession and the HR function will play into that future.
About the network
Our CIPD Fellows and Senior Practitioner Network connects experienced people professionals with each other and provides a place for debate and discussion on the key current issues facing HR, L&D and OD strategy, organisational governance and practice.
The purpose of the network:
• To bring our senior professionals together to connect you with thought leadership and practical advice from regional HR leaders about how COVID-19 has impacted them and their teams and wider people practice
• Share and capture regional stories as part of our #HRtogether campaign
• To facilitate and develop peer to peer networking across our region for our Fellows and senior people professionals
• To support you, as a valued CIPD member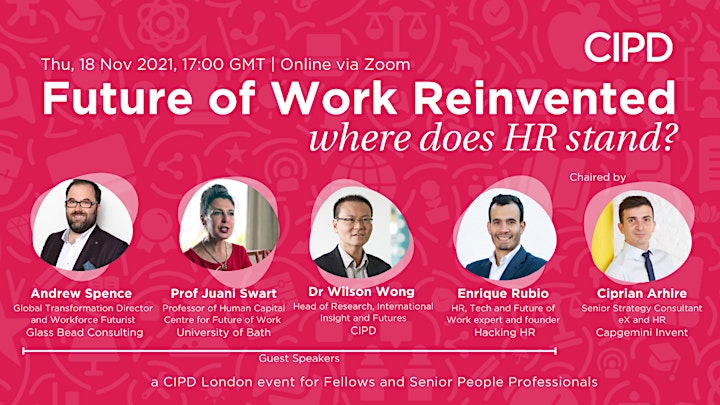 Speakers :
Ciprian Arhire (He/Him)– MSc, Chartered MCIPD – Senior Strategy Consultant Future of HR, eX and HR transformations at Capgemini Invent
Ciprian has been working in HR and business operations for over 15 years driving organisational change and transformation across both the private and third sector. Currently, he's wearing multiple hats. Firstly, in his day job he's a Senior Strategy Consultant on the Future of HR, Employee Experience and HR transformation at Capgemini Invent, a powerhouse of innovation, design and transformation. In his role he's leading on end-to-end HR, eX or workforce transformations programmes, including: HR Strategy, HR Operating Model design, AI enabled workforce management, Employee Experience strategy development and mapping, process re-engineering, organisational design, and HR and AI tech innovation and implementations. Secondly, he's the founder and chair for the CIPD Fellows and Senior People Professionals Network in London creating an inclusive learning and sharing community dedicated to exploring good practices and tackling key current issues facing HR, L&D and OD strategy, organisational governance and practice. Thirdly, in his spare time, Ciprian speaks at events, conferences and hosts an independent podcast focused on exploring the Future of Work and HR.
Ciprian has spent a good part of the last decade volunteering and working with the CIPD leading a complex portfolio of strategic initiatives to engage HR professionals in strategic conversations on the future of work and create a thriving community of volunteers and a network of branches across the UK. Ciprian is one of the founders of CIPD's LGBT+ Network, the first-ever employee network group at the CIPD as well as chairing the network for its first 4 years while feeding directly into the organisational people and D&I strategy. He's led significant work on D&I including a complex review of the impact on systemic racism on ways of working, language and output across the CIPD ecosystem. He is an expert in EDI, organisational change and transformation bringing design thinking and employee experience to the present practice in organisations.
Enrique Rubio - HR, Tech and Future of Work expert and founder of Hacking HR
Enrique is an HR, Tech and Future of Work expert and keynote speaker and founder of Hacking HR, a global learning community at the intersection of future of work, technology, business and organizations, with thousands of members of all over the world. Enrique is one of the top 100 HR global influencers.
Enrique was the founder and CEO at Management Consultants, a firmed specialized in Human Resources in Venezuela. Before Management Consultants, Enrique worked in the telecommunications sector as a Senior Project Engineer for Telefonica and several other companies in the early to mid-2000s. Enrique is a guest author in several blogs about innovation, management and human resources.
Most recently Enrique worked as an advisor to the Chief Human Resources Officer at the Inter-American Development Bank. Enrique is a Fulbright Scholar, has over twenty years of experience and is an Electronic Engineer with an Executive Master's in Public Administration from Maxwell School at Syracuse University.
Andrew Spence - Global Transformation Director and Workforce Futurist, Glass beat Consulting
Andrew is a Workforce Strategist who specialises in building people-centric organisations. He works at the intersection of organisation design, technology, and people development. Andrew has successfully delivered over 30 global change programmes including with the NHS, John Lewis Partnership, Novartis and UK public sector. He completed his MSc in Cognitive Science and Artificial Intelligence from Birmingham University.
Andrew is at the forefront of exploring Blockchain and AI applications in the workforce. He has received global industry recognition for his contributions, including 2020 Top 100 HR Tech Influencers by Human Resource Executive and HR Technology Conference. Andrew writes the popular Workforce Futurist Newsletter.
LinkedIn Profile - https://www.linkedin.com/in/andrewspencehrtransformation/
Twitter - https://twitter.com/AndySpence
Professor Juani Swart - Professor in Human Capital, School of Management University of Bath
Ph.D, Chartered Organizational Psychologist, M.Comm. (Organizational Psychology) B.Comm (hons) (Organisational Psychology).
Juani is a Professor in Human Capital Management and she seeks to understand the nature of contemporary work contexts. In particular, she is interested in cross-boundary working (which includes gig-working and artificial intelligence), its impact on commitment and knowledge sharing.
Her research is focused on human capital as a strategic resource, innovation, ambidexterity and employee attitudes and behaviours. She has published widely in journals such as Human Resource Management, Human Resource Management Journal, Organisation Studies and the Journal of Management Studies.
Dr. Wilson Wong - Head of Insight and Futures, CIPD
Wilson leads the Institute futures and foresight capability. He has been involved in futures research since 2000. His most recent publication with the Malaysian government was The Future of Talent in Malaysia 2035 and is co-editor of Human Capital Management Standards: A complete guide.
He represents the UK on human capital metrics at ISO/TC260 (HR Standards) and is independent Chair of the Human Capital Standards Committee (HCS/1) and Deputy Chair of the Knowledge Management Standards Committee (KMS/1) at the BSI. His career has spanned academia, corporate finance and national ICT development policy.
Wilson's PhD in Economic Psychology (Behavioural Economics) was on opportunity recognition. He's on the Board of IJHRDPPR, Editorial Board of HRDQ and Advisory Boards at Nottingham Business School and the Work and Equality Institute. A member of the International Association of Applied Psychology and an Academic Fellow of the CIPD, he was called to the Bar in 1990.
Timings:
17:00 - Start of the session
18:30 - Closing
Please note:
Webinar joining instructions will be sent to you 2 days before the event (with further reminders 2 hours prior to the session and 20mins prior to the session).
The webinar will start at 17:00 and run for about 90 minutes.
We will record the webinar and will share will people afterwards. We will be using the recording to upload it to CIPD channels.
The chat function will be used for participants to engage with the webinar, rather than audio and video, so just be mindful of the login name you use and ensure you are happy for other people to see this.
Professional photography and video production may be taking place at the event, and these images and videos may be used on future promotional materials for CIPD.
By attending the event, you are giving your consent for your image to be used on any CIPD promotional materials.
For security reasons, it is requested that participants join the live session 10 minutes prior to the scheduled start time and with the same name as registered on Eventbrite as not doing so may cause a delay or non-admittance to the event.
Organizer of CIPD London - Fellows and Senior Practitioners Network - insights session.
Officially launched at City Hall on September 2013, CIPD London has the specific aim of being the official voice for people management and development in the capital.
CIPD London caters for over 25,000 members, which represents 16% of the CIPD's overall UK membership. The London team will continue to engage and build relationships with wider people professionals' communities and networks, employers, HR Leaders, Government agencies and academic centres to ensure our work reflects the diversity and needs of the people profession in the capital. This makes CIPD London a truly significant geographical area, in terms both of membership density and the wider social and political responsibility we have to help support the CIPD's strategy to champion better work and working lives.
The regional strategy is supported by seven branches who have been working collaboratively to help develop a compelling and influential presence in London, whilst also delivering high-quality support and networking opportunities at a local level. Our location means that we are at the heart of a proud, growing community of practitioners, members, partners and thought leaders and through our combined and collaborative efforts we'll take big steps towards championing better work and working lives.
Connect with us on Linkedin, follow us on Twitter, like our Facebook page, Instagram or sign up to our weekly mailing at cipd.co.uk/london