Join us for this online event dedicated to people professionals recently completing their CIPD course!
About this event
You're invited to an insightful conversation around the benefits of continuing CIPD membership once you finish your studies. We'll talk about the benefits of being a member of the CIPD, the professional body for HR and people development, how to make the most of your membership with us and what opportunities you can access while being a member.
You'll be able to interact with fellow students and employees of the CIPD and learn more about more than 100 events per year that CIPD branches are organising in London and hear from our experts what does it mean to create a learning and professional network even from your study time.
Join us for this online event dedicated to people professionals finishing their study exploring 3 different interactive sessions:
Getting ready for the workplace – getting advice from recruiters on how we can leverage our currently completed courses towards career progression
CIPD career partner - making sense of all membership benefits and resources and how you can make the most of them post graduation
Career planning and CPD – exploring what our future careers would look like and how we can take purposeful steps to progress in the right direction.
Timings:
10:00 – Welcome, housekeeping, agenda
10:10 – Getting ready for the workplace (Katrina Collier, The Searchologist)
10:45 – CIPD career partner (Sarah Wood, CIPD)
11:20 – Career planning and CPD (Yetunde Oladipo, DWP)
11:55 – Closing remarks
12:00 – Finish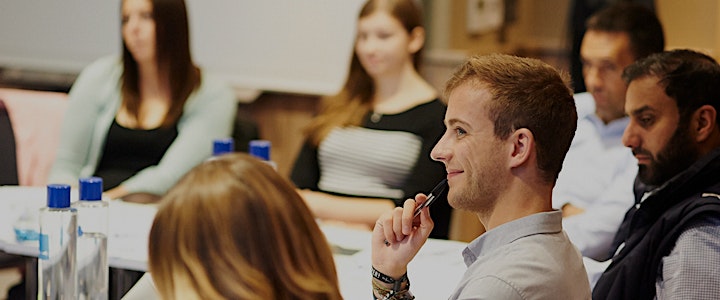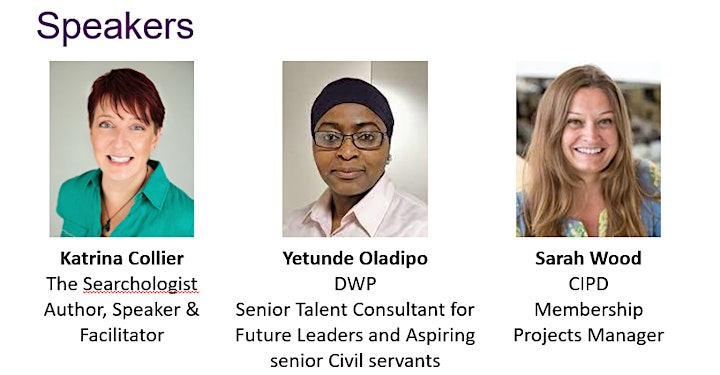 Katrina Collier, Author, Speaker & Facilitator, The Searchologist
Katrina Collier is on a mission to energise the human connection between HR, recruiters & hiring managers to better recruitment and the candidate experience. Through facilitation she swiflty gives company deeper insights and actionable outcomes into any barriers preventing a positive recruitment process, and her unique shared-learning Mastermind programme, develops the skills HR & recruiters need to partner effectively with the business and candidates. She is the author of The Robot-Proof Recruiter, a well-loved global keynote speaker, and host of The Hiring Partner Perspective (Unedited) podcast.
She is also the founder of DisruptHR London, and an Ambassador for Hope for Justice, which aims to end modern-day slavery. You'll find her on LinkedIn, Facebook, Twitter and Instagram @KatrinaMCollier.
Yetunde Oladipo, Senior Talent Consultant for Future Leaders and Aspiring Senior Civil Servants, DWP
Yetunde is a Recruitment Business Partner and Salary Benchmarking subject matter expert for digital and technology specialists in the Department for Work and Pensions. Yetunde has experience in HR Business Partnering, Diversity & Equality, senior management for employee policy and relations. Prior to working for DWP, she worked in the Department for Education and Employment as an international information manager for education, employment and social affairs.
Yetunde is the Co-Chair of CIPD North London Branch and she has been volunteering with the CIPD since 2011. As part of her role at the CIPD, she drives local engagement strategy, designing and delivering learning, networking and CPD interventions for people professionals. Yetunde often speaks at events and conferences on topics such as professionalisation, ethics in the profession, D&I and career development. She holds an MA in Employment Studies & HR Management and she is a Chartered Member of CIPD.
Sarah Wood, Memberhsip Projects Manager, CIPD
Sarah is the Membership Projects Manger at the CIPD, where she has worked for 9 years - starting in the Marketing team and then moving across into the Membership team. The membership team is responsible for the benefits you receive as part of your membership. Our aim to ensure every member sees real value from their membership no matter what stage of their career they are at.
Please note:
webinar joining instructions will be sent to you 2 days before the event.
The webinar will start at 10:00 and run for about 120 minutes inclusing breaks and interactions.
We will record the webinar and will share will people afterwards. We will be using the recording to upload it to CIPD channels.
The chat function will be used for participants to engage with the webinar, rather than audio and video, so just be mindful of the login name you use and ensure you are happy for other people to see this.
Professional photography and video production may be taking place at the event, and these images and videos may be used on future promotional materials for CIPD.
By attending the event, you are giving your consent for your image to be used on any CIPD promotional materials.
Organiser of CIPD London Student 'Enduction'
Officially launched at City Hall on September 2013, CIPD London has the specific aim of being the official voice for people management and development in the capital.
CIPD London caters for over 25,000 members, which represents 16% of the CIPD's overall UK membership. The London team will continue to engage and build relationships with wider people professionals' communities and networks, employers, HR Leaders, Government agencies and academic centres to ensure our work reflects the diversity and needs of the people profession in the capital. This makes CIPD London a truly significant geographical area, in terms both of membership density and the wider social and political responsibility we have to help support the CIPD's strategy to champion better work and working lives.
The regional strategy is supported by seven branches who have been working collaboratively to help develop a compelling and influential presence in London, whilst also delivering high-quality support and networking opportunities at a local level. Our location means that we are at the heart of a proud, growing community of practitioners, members, partners and thought leaders and through our combined and collaborative efforts we'll take big steps towards championing better work and working lives.
Connect with us on Linkedin, follow us on Twitter, like our Facebook page, Instagram or sign up to our weekly mailing at cipd.co.uk/london