Sales Have Ended
Ticket sales have ended
Registrations are now closed
Sales Have Ended
Ticket sales have ended
Registrations are now closed
Description
The UK's future skills-based immigration system
The government's white paper on a future post-Brexit immigration policy looks set to have a dramatic impact on employers and especially low-skilled workers if implemented.
What would the impact of a 30k minimum salary threshold be on your organisation?

How are you going to respond if you are unable to recruit non-UK nationals in the same numbers as before?

How have you been responding to the fall in EU net migration since the Leave vote so far?
We would like to gather your feedback on the above questions and more, to help inform the CIPD's response to the consultation.
Access the UK's future skills-based immigration system white paper.
Our roundtable is particularly aimed at senior HR professionals and Immigration specialists. Places are limited
Gerwyn Davies, (Public Policy Advisor CIPD) will lead this roundtable discussion and will be joined by:
Heather Rolfe (National Institute of Economic and Social Research)
Heather's immigration research focuses on employers' use of migrant labour and skills and workable immigration policies.

Louise Haycock (Partner, Fragomen LLP)
Louise attends a variety of working groups with government officials to represent the needs of employers and is working with clients to prepare for a new immigration regime in the UK to ensure that they remain employers of choice for a migrant workforce.

This is your opportunity to share your views, pose questions and raise your concerns. Our roundtable will take place under the Chatham House Rule which means you can speak freely as neither your identity nor affiliation may be shared.
Employers may face significant recruitment challenges in the coming months as the amount of people applying for low-skilled roles has dropped by a fifth over the past year, partly attributable to a drop in net-EU migration.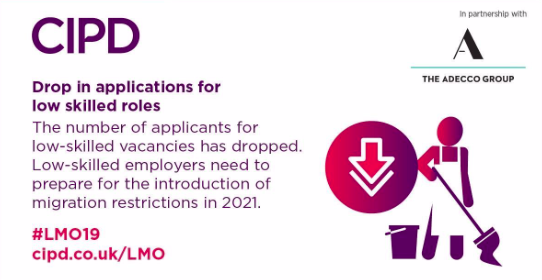 Refreshments

We have chosen Ziferblat Edge Street which offers 43 different kinds of tea, special Ziferblend coffee, hot chocolate and soft drinks. There's always plenty of cakes, biscuits, brownies, fruits, breads and cereals. You can also make use of the kitchen area to make yourself toast or a cheese toastie.
We look forward to welcoming you,
Emma Brookes
Public Policy Adviser
CIPD Manchester Branch
Join the CIPD Manchester Branch conversation
More about Gerwyn Davies, Public Policy Adviser at CIPD
Gerwyn is the CIPD's Public Policy Adviser for a wide range of labour market issues. With lead responsibility for welfare reform, migration and zero-hour contracts at the CIPD, Gerwyn has led and shaped the policy debate and achieved substantial national media coverage through various publications.
In addition, Gerwyn authors the CIPD's high profile and influential quarterly Labour Market Outlook. Gerwyn is an experienced labour market commentator, making regular appearances in the national media and on other public platforms, including several appearances before the House of Commons Work and Pensions select committee.
Gerwyn on Twitter @Davies_Gerwyn
---
Additional information
Invoices
All bookings must be made online. VAT is included in the price of your ticket.
Cancellation Policy
If you find you are unable to attend the event, please give at least 7 working days notice so we can release your ticket to someone on our waiting list. You can cancel your ticket via the Eventbrite desktop site or send us an email and we will cancel your ticket.
Make sure you are up to date before the event
We encourage all attendees preferring paper tickets to visit our booking page on the morning of each event to ensure they are aware of any changes which may have been made since printing their ticket.
Photography
Professional photography and video production may be taking place at the event, and these images may be used on future promotional materials for CIPD. By attending the event, you are giving your consent for your image to be used on any CIPD promotional materials.
Event tags
CIPD, CIPD Manchester, CIPD Public Policy, Immigration, Immigration Whitepaper, Consultation, Government, HR, HRM, Manchester, roundtable