Description
Imagine this:
In a few months, or years, in the future and you have achieved every one of your goals and dreams…
Everything you've ever wanted, the life that you've been dreaming of, is now a reality.
Now think about what it takes to get there. You're probably thinking of "struggle" and "sacrifice," and maybe "fear" and "loneliness"…
But it doesn't have to be that way.
The truth is, no matter how big your dreams, no matter how grand your goals…
You CAN get to where you want to go quickly, easily, and with more JOY and EASE than you ever thought possible.
Join our circle of champions – where you can be seen, heard, and propelled to take the leap by other women.
As an organisation, we have come to realise that the shadow side of personal development and the self-help movement is that it can allow us to become dependent on others to tell us what's true.
Why is Circle of Champions different?
It is not like the traditional model we still see, based around a "leader" who holds all the answers.

You aren't looking to anyone to teach you or give you the answers.

You are not being sold to

You are not lectured, or fixed, but a space to really be yourself.
Our goal is that you leave each meeting with clarity and breakthrough thinking as you step out into the unknown.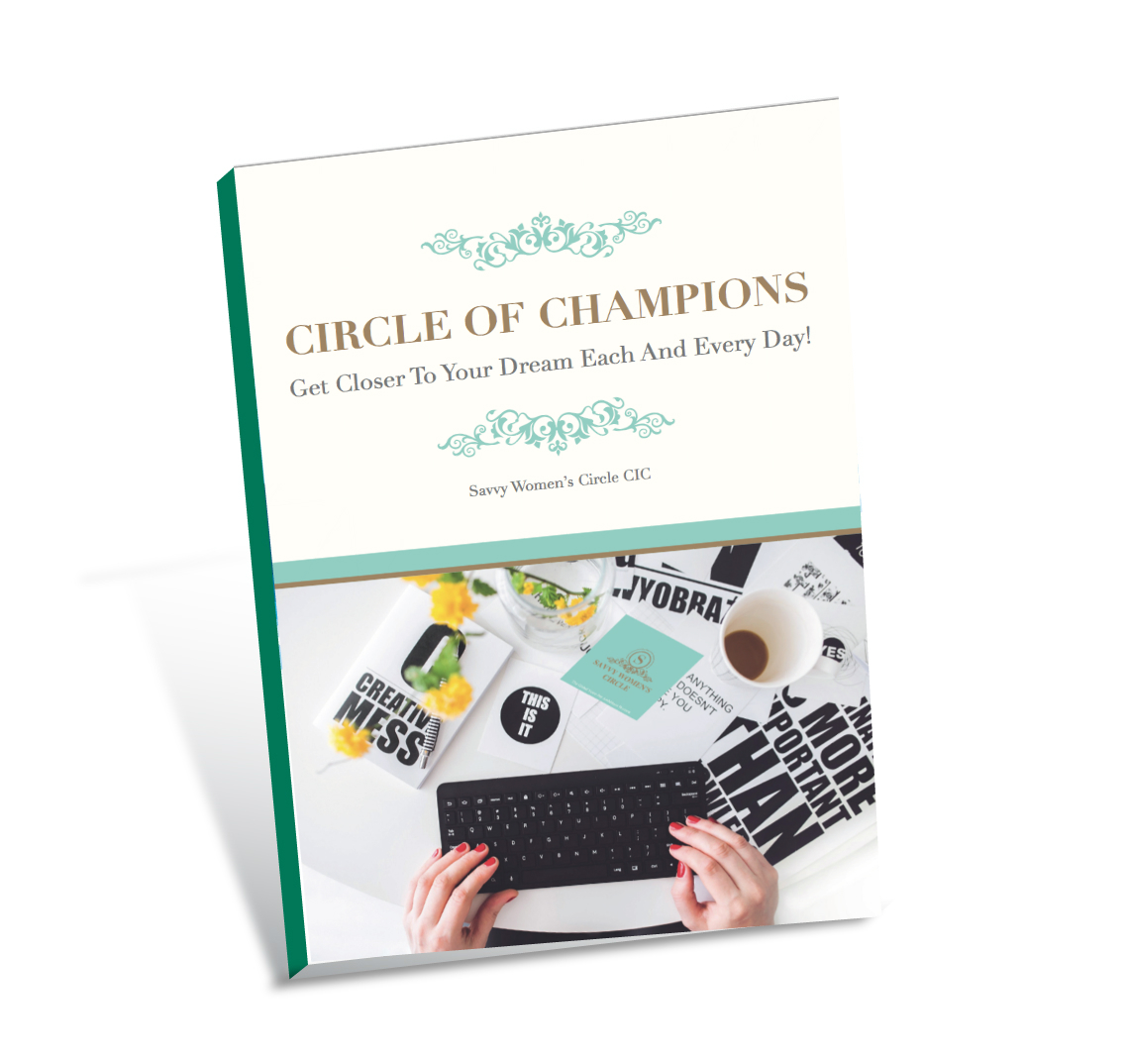 What is the concept behind Circle of Champions (CoC)?
CoC developed its concept from The DeepDive™, a methodology which began with IDEO—an highly regarded Silicon Valley industrial design firm that developed a six-step process for its product innovation business as such they created approximately 90 products each year, including the first commercial mouse for Apple.
This idea, later developed into a combination of brainstorming, prototyping and feedback loops that top executives now use with teams to help develop solutions for specific business challenges.
Put simply, the DeepDive™ is an innovative problem-solving methodology.
YOU ARE GETTING CLOSER TO YOUR DREAM EACH AND EVERY DAY!
When designing Circle of Champions, we asked a powerful question: "What would a perfect women's accountability meeting be like?"
We brainstormed answers like,
"It would need to be in a beautiful location..."
"It would need to be over an extended period of time not just one day..."
And most important of all, we understand "...food has the ability to bring people together, connecting the central power of the human soul.."We thought, there has to be a three course meal"
Don't you find yourself imagining what it would be like to hang out with these Champions?
Would you like to know how you can leverage the SWC Community to become a more successful professional or business owner?
Think about this…
You might be an expert, but the IDEAS – ENERGY – AND CONNECTIONS generated by a TRUE Alliance will make you a wealthy expert!
Because if you look back in history, you'll see that no lasting wealth was EVER BEEN MADE, without some form of Alliance.
Intrigued?
Claim your spot now: http://accountabilitymeetings.eventbrite.co.uk
Our Central London Circle is sponsored by The Grosvenor Hotel.


*Please note: Ticket is excluding your meal which is payable at the venue.