Circular Economy and Collaboration Workshop
About this Event
In an age of political, financial, and economic uncertainty, businesses operating in high-knowledge and high-risk industries are facing tougher ways to navigate in rapidly-changing businesses environments. Matters such as new regulations and compliance, financial volatility, and rapid technological advancement have made it difficult for businesses to predict the future. Furthermore, consumers are becoming more concerned about the way businesses are run, from their impact on the environment to their control over private data.
In recent years, policymakers and academics have begun engaging with the idea of moving to a new economic system known as a circular economy, a system that encourages industries to move away from the traditional linear economy (make, use, dispose) to extracting maximum value from resources and recovering and regenerating them at the end of their service life.
Join academics from the UK and Europe in this workshop to discuss how a circular economy could change the way we understand business practices and processes and its wider impact on industries. You will also learn how inter-firm collaboration an be used to innovate in a way that benefits the circular economy. We will also discuss real-life success case studies of the circular economy from all around Europe.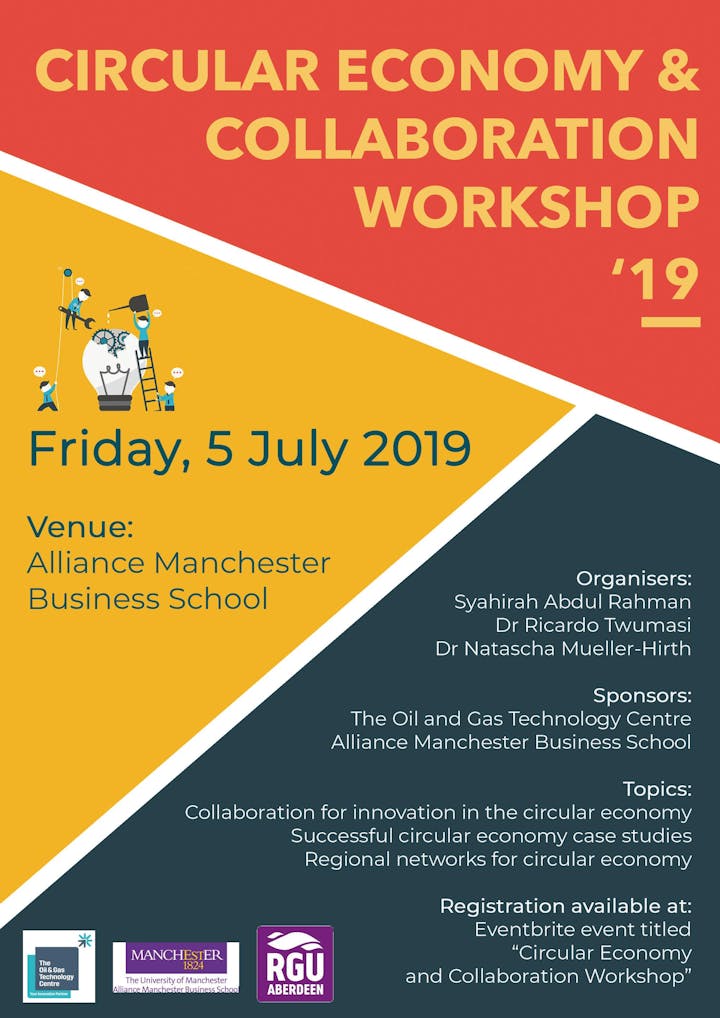 The workshop is free to attend for all. Register now as places are limited.
For further questions and/or interests in presenting at the workshop, email: syahirah.abdulrahman@manchester.ac.uk
--
Preliminary Programme:
10:30-11.00 Arrival and coffee
11.00-11.30 Welcome speech
11.30-12.30 SESSION 1: Conceptualising Circular Economy
Presentations by Dr Abhishek Agarwal (Robert Gordon University) and Dr Lee Matthews (University of Lincoln)
12.30-13.00 Short Lunch (Lunch will be provided)
13.00-13.50 SESSION 2: Collaboration for Innovation
Presentations by Nina Hjertvikrem (University of Stavanger), Dr Rita Lavikka (Aalto University)
14.00-14.20 Coffee/Tea Break
14.20-15.10 SESSION 3: Learning from Case Studies
Presentations by Dr Eunice Maytorena-Sanchez and Dr Paul Dewick (AMBS), Dr Ricardo Twumasi (AMBS)
15.10-16.00 Concluding Discussions
16.00-17.00 Networking Drinks