Description
In association and kindly supported by the Social Stock Exchange, London Waste & Recycling Board, Allen & York and Morgan Lewis & Bockius.

The Event
'A million bottles a minute: world's plastic binge 'as dangerous as climate change'

Plastic and packaging is ubiquitous, it touches all our lives, from water bottles to waterways. We know the problems this can cause - to our oceans and our environment - it is a clear and present danger.
At the launch of the New Plastics Economy Prize, Dame Ellen MacArthur explained "We must fundamentally rethink the way we make and use plastics. We need better materials, clever product designs and circular business models".
There are a great many pioneers developing products and procedures to overcome the problems. In this event, we will explore the theme whilst presenting potential solutions, with the goal of finding one that we can all work on together.
Who will be there
This is a fantastic opportunity to network with an audience of investors, leaders, entrepreneurs, intrapreneurs, and advisors. Who will be joined by the following cast of innovators and changemakers.
Speakers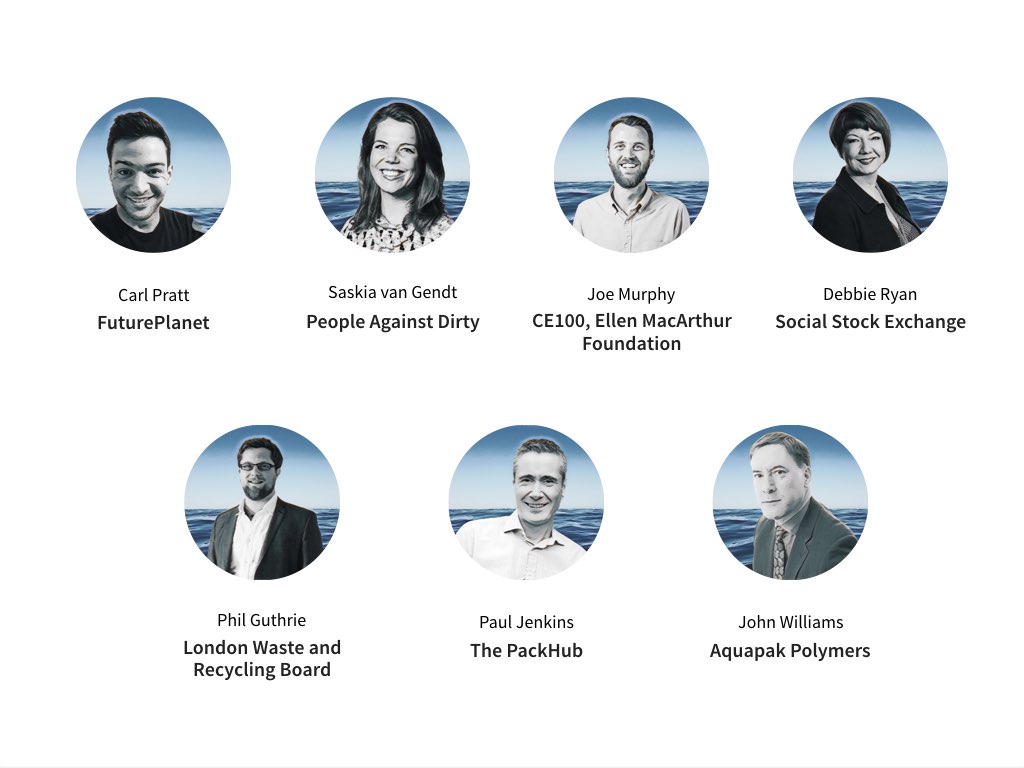 Program
18:00 - 18:30 - Arrivals, networking and drinks
18:30 - 18:40 - Welcome
18:40 - 19:10 - Quickfire Inspire! 3 slides 3 minutes from each of the speakers.
19:10 - 19:40 - Discuss - a deeper dive into the problems and solutions
19:40 - 20:15 - Explore - come with your questions and comments
20:15 - 20:25 - Impact Pitch! A minute each from 6 innovators.
20:25 - 21:00 - An opportunity to network and meet with other guests
---
Information on the associated and represented organisations
Saskia is Captain Planet for People Against Dirty. People Against Dirty is a company made up of two brands – method and Ecover – filled with fearless thinkers, mad scientists and adventurous designers who believe in defying the status quo with innovation and optimism.
At People Against Dirty, Saskia leads Greenskeeping for Europe, setting the strategy for improving our environmental and social practices across the company. Working with technical experts in packaging, formulation, supply chain and manufacturing—she guides the business to be a force for good.
The Social Stock Exchange supports innovative organisations which deliver social and environmental impact alongside financial performance. The Social Stock Exchange not only provides access to the only public market in Europe dedicated to enterprises making the world a better place, but also enables members to increase their visibility and profile, and connects them with investors aligned with their values. All issuer member companies must meet a rigorous set of criteria before joining, including the annual publication of an Impact Report.
The Circular Economy 100 (CE100) is a programme of the Ellen MacArthur Foundation: a pre-competitive innovation platform that brings together corporates, governments and cities, academic institutions, emerging innovators and affiliates in a unique multi-stakeholder environment. Inspiring and supporting collaborative action is key to the CE100 and network members are committed to taking good ideas to scale.
London Waste and Recycling Board
LWARB works with London's waste authorities and businesses to promote and encourage the production of less waste; increase the proportion that is reused or recycled; and drive methods of collection, treatment and disposal of waste that are more beneficial to the environment.
That is done through an investment fund, a program of support and circular London a three-year program aimed at accelerating London's transition to a more circular economy through collaboration with the public and private sector and international partners.
With almost 25 years of experience, Allen & York is a leading recruitment consultancy specialising in the appointment of experienced professionals across the built and natural environment. Specialising in the core disciplines of: Buildings - Energy - Environment & Sustainability - Health & Safety - Planning & Surveying - Rail & Highways - Social & International Development - Waste and Water.
A global law firm providing comprehensive litigation, corporate, finance, restructuring, employment and benefits, and intellectual property services in all major industries, helping clients address and anticipate challenges across vast and rapidly changing landscapes.

The packaging industry's best resource for tracking all the latest innovative packaging solutions. With knowledge on the packaging innovation world – the industry drivers, the packaging trends and consumer insights that help inform the packaging innovation process.
Being good for the planet can be technically hard, it requires the raw materials, practices, and processes. Aquapak is one of the leading lights pioneering innovation in this area. Focusing on bringing high performance and multi-functional plastics into a circular economy. Optimising food waste collections, healthcare and improving waste systems.
Staring
One minute pitches from the following innovators
Cambridge Polymer Technology manufactures high margin Thermoplastic Elastomers as well as devulcanized rubber, using a unique low energy / environmental patented technology, from waste plastics and ground tires, for use in multiple industrial and consumer segments.
A Plastic Planet is a grassroots organisation with a single aim – a Plastic-Free Aisle in supermarkets.
#PlanetRefill Be Unpackaged is pioneering a vision of a refill culture in partnership with Planet Organic.
Rethinking the future of plastics, with oxo-biodegradable (controlled-life) plastics.
Biomimicry UK, an innovation lab that believes nature is the technology of the future.
Want to apply to pitch in our one minute section? connect @carlinnovates