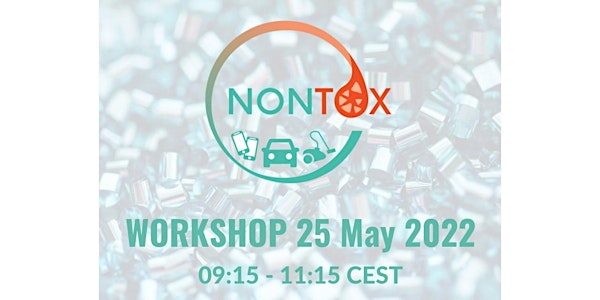 Circular solutions: applications of upgraded plastics recyclates in NONTOX
NONTOX online workshop Circular solutions: applications of upgraded plastic recyclates in NONTOX project
About this event
It is a pleasure for the NONTOX team to invite you to join the NONTOX project workshop "Circular solutions for plastics: upgrading results from NONTOX project" to be held on 25 May 2022 from 09:15 to 11:15 CEST.
The workshop will give the opportunity to learn from experts in the field and discover the secrets of upgrading recycled plastics for the circular economy. Upgrading techniques have been studied and implemented to improve the properties of plastic recyclates from Waste from Electric and Electronic Equipment (WEEE) and End-of-life Vehicles (ELV). The application of updgrated recycled polymers in conventional and novel products with higher added value has been explored: the workshop will include presentations of the demonstrators developed during the NONTOX project showing the effectiveness of adopting upgrading solutions for target polymer streams and selected applications.
The challenge: valorisation of recyclates
Recyclates suffer of material property deterioration from the blending with other polymer types, and the aging from the application and processing hindering their direct uptake in similar applications. This situation can be improved if the recyclates are upgraded to match the properties required in conventional and novel applications. NONTOX project dealt with the challenge of characterising the purified recyclates, identifying the need and develop solutions for material property upgrading for selected applications. Further, providing the proof of concept and demonstrate of the successful use of recycled streams into higher value-added products comprising monomaterial solutions and self-reinforced polymers both as dense or foamed forms. In addition, simultaneous purification and nano-foaming with CO2 has been explored as a value adding step. The autoclave nano-cellular foaming has previously been tried in various polymer matrices with some limitations in nano-cellular structure and their upscaling. NONTOX explored foaming, using polymeric materials as well as recycled resins and active nucleating agents.
From our NONTOX team you will meet:
What exactly are we going to do?
In an interactive workshop format, we will share our learnings regarding recycled polymers upgrading and valorization. ​The presentations will focus on highlights and downlights ​of the upgrading solutions that have been investigated. Open issues to be solved will be discussed with the participants.
Preliminary agenda:
09:15-9:40 Introduction to NONTOX project and to the polymer upgrading tasks ​
09:40-10:25 NONTOX demonstrators for Styrenics​ + Q&A
10:25-11:10 NONTOX demonstrators for Polyolefins + Q&A
11:10-11:15 Conclusions​
Who are we?
​NONTOX is a EU-H2020 funded project (2019-2022) dealing with the recycling and valorization of waste plastic streams contaminated with hazardous additives. The project focuses on removing hazardous components, upgrading of recycles back to high value-added applications and also studying the conversion into fuel of hard to recycle streams and the proper disposal of hazardous residues. The project deals with three main waste streams: WEEE (Waste Electrical and Electronic Equipment), ELV (End of Life Vehicles) and C&DW (Construction and Demolition Waste).
NONTOX project is a combination of multiple recycling technologies to recycle hazardous plastic waste. The unique combination of mechanical and chemical recycling technologies imparts several techno-economic benefits over single conventional methods.
NONTOX consortium is a unique combination of industry, research institutes and academia. This multidisciplinarity is integral in making the NONTOX concept work. The actors are spread across the NONTOX value chain influencing the direction of the project with their strong background in their relevant fields.
To know more about the project, please visit NONTOX website and follow us on Facebook (@nontoxproject), LinkedIn (@NONTOX EU Project) and Twitter (@NontoxProject).
Who should participate?
The workshop is targeted towards polymer engineers, industry professionals, product developers, WEEE plastics recyclers, ELV recyclers, environmental managers. Anyone, who is working in the field of plastic recycling and is curious about the potential of circular product development with post-consumer recycled plastics from WEEE and ELV.
What's next?​
Sign up to the workshop and you will be sent a link to the online event a couple of days before.​
We can't wait to meet you in our virtual laboratory!​
Contacts
muhammad.qureshi@vtt.fi
NONTOX project has received funding from the European Union's Horizon 2020 research and innovation programme under grant agreement No.820895.