Sales Have Ended
Registrations are closed
Booking for this event is now closed. For a full list of other events taking place during the Heritage Open Days festival, please visit www.heritageopendays.org.uk
Sales Have Ended
Registrations are closed
Booking for this event is now closed. For a full list of other events taking place during the Heritage Open Days festival, please visit www.heritageopendays.org.uk
Description
A chance to explore one of the finest municipal buildings of the inter-war period. Designed by C. H. James and S. Rowland Pierce it was opened by King George VI in 1938.
The interior is a fine example of Art Deco craftsmanship. The three pairs of bronze doors leading into the entrance hall have 18 plaques illustrating the city's history and connected trades.
Please note that the clock tower is not included on the tour and that appropriate footwear should be worn.
Not suitable for children under the age of 10.
Thursday 8th September 10:00 & 11:30
Friday 9th September 10:00 & 11:30
Tour meeting point information will be given on your ticket.
To book your ticket, please click on the green or blue button at the top right of this page.
If the event you want to book is sold out, don't worry! You can join a waiting list for returned tickets. Just chose the date you'd like tickets for and follow the instructions.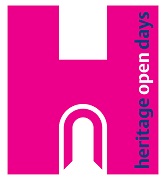 This is a FREE Heritage Open Days event.
Heritage Open Days is England's biggest heritage festival and takes places between the 8th and 11th of September 2016 in venues all over the country.
Join us in celebrating our fantastic history, architecture and culture and take the chance to see hidden places and try out new experiences - all of which are FREE to explore.


Click the links below to get tickets for other pre-bookable events happening in and around Norwich:


Tickets for events in Broadland

And check the brochure for other events which can be booked directly via the venue.
Don't forget that there are many more events taking place over the HODs weekend that don't require tickets. Just drop in!
For information on what else is happening in Norfolk and further afield please visit www.heritageopendays.org.uk
Norfolk Heritage Open Days - Useful information
Q: How can I contact the event organiser?
A: You can contact us by email using hods@theforumnorwich.co.uk
Q: Do I need to print out my ticket for the event?
A: Yes, or you can download the Eventbrite mobile app and use that instead.
Q: Do you send out paper tickets?
A: No, all our tickets are sent out electronically via the email confirmation you received when you registered.
Q: I haven't received a confirmation email, what should I do?
A: Please check your spam or junk folder as it may be there. Alternatively, you can contact us on hods@theforumnorwich.co.uk and we will re-send it to you.
Q: There are no more tickets for the event I wanted to go to. What can I do?
A: All events have a waiting list. Please sign up to join the list and you will be notified if there's a cancellation
Q: I don't want to use Eventbrite to get my tickets. How else can I do this?
A: You can use the order form in the HODs brochure which is widely available across the County or can be downloaded here. Please note that tickets will be allocated on a first-come-first-served basis from the 1st August.Unfortunately, we are not able to take bookings over the phone.
Q: Booking has now closed for the event I wanted to go to. Can I just turn up?
A: If booking has closed, please email hods@theforumnorwich.co.uk for more information. We do not advise visitors to arrive without tickets as there may not be space available for you.
Q: I'm booked to attend an event but will need to leave before the end. Is this ok?
A: This will need to be checked with the organiser of the event. In some cases, for health and safety reasons, you will not be permitted to leave until the tour has finished. Please email hods@theforumnorwich.co.uk and we will check this for you.
Q: I missed out on the event I wanted to go to last year as all the tickets had gone. Can I reserve some in advance this year?
A: In order to make ticketing as fair as possible, they are allocated on a first-come first-served basis. We are therefore unable to reserve tickets in advance. Please ensure that you reserve your tickets via post or Eventbrite as soon as you can to avoid disappointment.
Q: I can no longer attend. How do I return my ticket?
A: Please log in to your Eventbrite account, go to Tickets and then select the ticket you'd like to cancel, then click 'Cancel this order'. Your ticket can then be allocated to someone else.