City of London Toastmasters welcomes you to our annual open house. Find out more about Toastmasters, and what it can offer you.
About this event
Welcome to the City of London Toastmasters!
We are a public speaking club, based in the City of London. Our club is a great place to improve your public speaking, boost your confidence, and become part of a supportive and friendly community.
Our annual open house event in on the 19th January. It is a fun and free event, specifically designed for guests, where you will learn more about our Toastmasters club and what it can offer you.
Some of our most experienced speakers will talk about their experience of Toastmasters, share public speaking advice, and much more. There will opportunities for guests to get involved in improvised speeches, called "table topics", and an interactive Q&A session.
This meeting will take place on Zoom, from 6:30pm until 9:00pm (UK time). You can access the meeting by registering for this event, or by using the Zoom details below:
Zoom Meeting Details
Meeting ID: 840 4675 6099
Passcode: 227176
You can also find out more about our club on our website: https://cityoflondontoastmasters.org/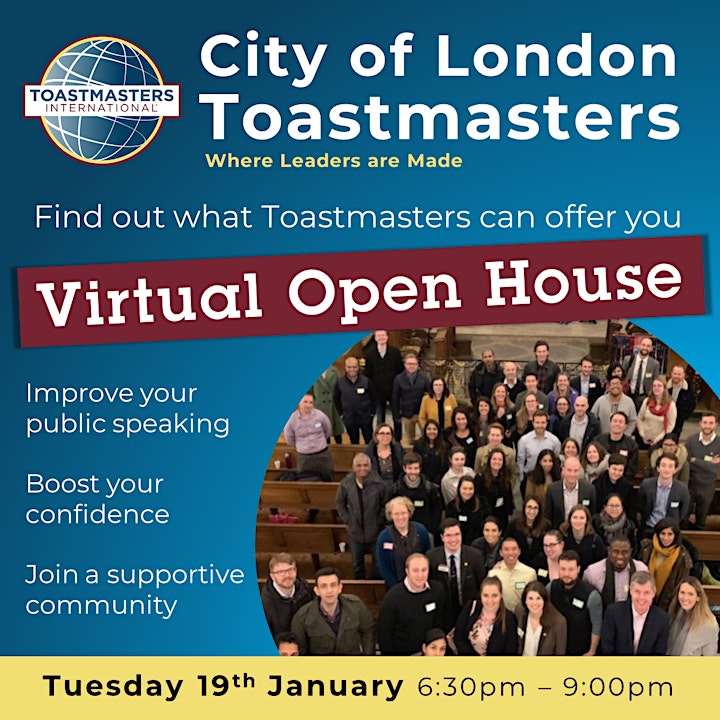 Organiser of City of London Toastmasters: Open House
City of London Toastmasters (or City Speakers for short), is part of Toastmasters International; an organisation dedicated to improving people's public speaking skills and dispelling those nerves everyone experiences as a public speaker.
We do this through a well-established process of practice and feedback. The Toastmasters organisation has been running since 1924 and the methods we use have been tweaked and perfected since it's inception to create a program of public speaking that works!
At City Speakers we pride ourselves on our friendliness and welcoming atmosphere. We want to see everyone become great public speakers so we'll do everything we can to help you achieve that goal.