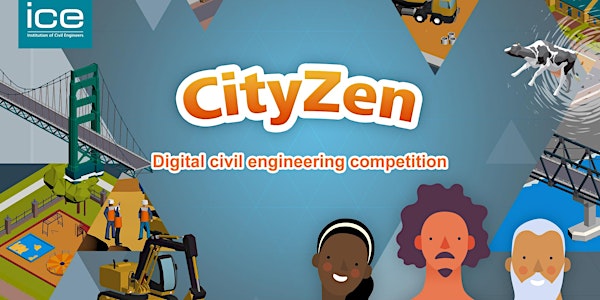 CityZen - Digital Design Competition - Teacher Information Session
Find out how your students aged 16 - 18 can get involved with a new digital design competition from The Institution of Civil Engineers
About this event
Looking for a STEM club activity for your sixth form?
The Institution of Civil Engineers (ICE) has got an exciting opportunity for your school. Our brand-new digital competition for students aged 16-18 years offers valuable insight into the world of civil engineering, formal recognition from a globally respected institution and the chance to win great prizes.
The competition is an easy to run, structured activity which is supported throughout by an ICE engineer STEM Ambassador. It takes place over the first half of the Autumn 2021 term and makes an ideal STEM club or extra-curricular activity.
The CityZen experience gives students:
Insight into a respected, exciting and globally growing career
Skills for work such as teamwork, critical thinking, innovation and creative problem-solving
Supports national curriculums for Geography, Maths and Design Technology
Recognition for their participation, plus great prizes including £2,000 for the top team and a wave tank for your school to use for one year
This event is an opportunity for teachers and STEM club leaders to find out more about the competition, you can register your school's interest in the competition here.
How does it work?
The CityZen competition is a STEM club activity for groups of students. They play a challenging online city-creating game over the course of 4-6 weeks in the first half of the autumn term and produce a short digital project to compete and win the inaugural ICE David Butler Award.
Join our event before the summer holiday and you can sign up as many teams as you want from your school or college at the start of the autumn term. We'll also send you a competition pack and put you in touch with a DBS checked ICE STEM Ambassador (a professional or student civil engineer) to support your teams.