Welcoming Rushanara Ali, Danny Kruger & Helen Goulden, the Jubilee Centre continues its 'Civic Virtue and The Common Good' Webinar series.
About this event
The second in a series of webinars considering 'Civic Virtue and the Common Good', the Jubilee Centre for Character and Virtues is delighted to once again welcome three prominent figures from UK public life. This time the speakers will evaluate the status of 'Service and the Voluntary Spirit' in Britain today.
Chaired by Senior Centre Research Fellow, Lord James O'Shaughnessy, this session will welcome Labour Member of Parliament for Bethnal Green and Bow, Rushanara Ali, Danny Kruger, the Conservative Member of Parliament for Devizes, and Helen Goulden, Chief Executive Officer of The Young Foundation.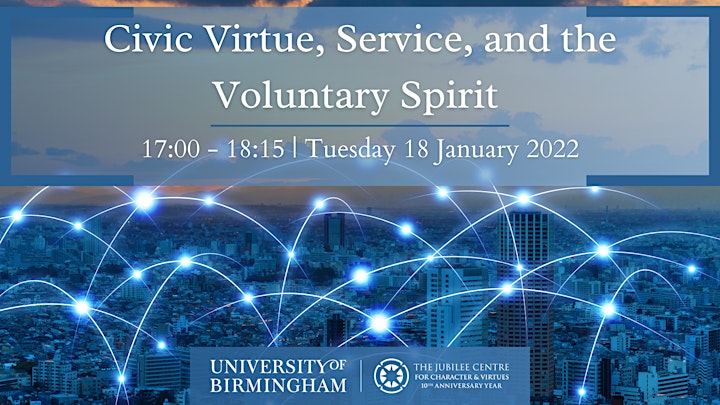 This series of discussions seeks to capitalise on a renewed, cross-party focus on how to repair and sustain flourishing communities and how this renewed focus might form the basis of a new political consensus. At the heart of any vision of the common good lies a set of civic virtues such as community mindedness, active citizenship and service to others. As this session will seek to outline, how to create a flourishing civic environment requires the development of a voluntary spirit amongst citizens, within civil society, and throughout communities.
In last twenty-five years however, multiple policies to encourage and harness this voluntary spirit in service of the common good have been implemented – in education, in communities and local government, in the Home Office, in housing and in other areas of society. These policies have all sought to recognise and develop the civic virtues of voluntary service, community-mindedness and active citizenship. Yet, questions remain about how successful attempts to recognise and reward this voluntary spirit have been, and indeed about ways that the hopeful and positive forms of voluntary spirit that form a core part of life in contemporary Britain can be harnessed and widened.
Through short presentations and then together in conversation, the panel will consider a number of important questions which remain outstanding:
What is the role of the state in facilitating and enabling a voluntary spirit?
How can we capitalise on the upsurge in social action and community-mindedness witnessed during the Covid-19 pandemic?
How can specific contextual features of local communities be recognised and supported in any endeavours to build the voluntary spirit?
What are the obstacles or barriers to civic engagement, including that of young people? How might these challenges be overcome?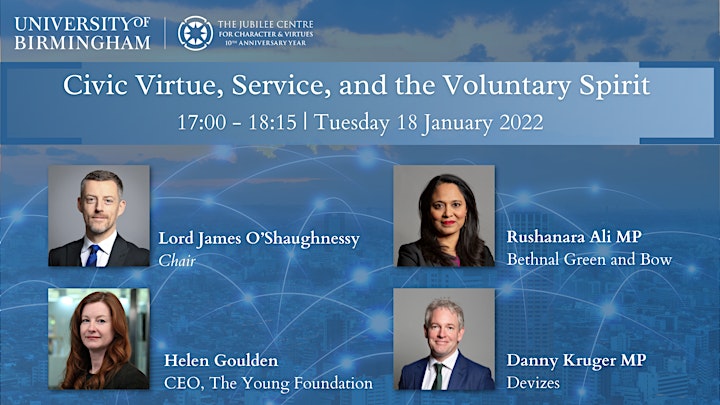 Speakers
Helen Goulden
Helen is Chief Executive Officer of The Young Foundation, leading a multi-disciplinary team of researchers, innovators and investors to support stronger communities across the UK. In 2019, Helen launched the new Institute for Community Studies; creating a platform for institutions to better understand – and more equitably involve - local communities.
Prior to joining The Young Foundation, Helen spent nine years at Nesta as Executive Director, supporting, funding and scaling innovation in the arts, civil society, government and education sectors.
Danny Kruger MP
Danny Kruger has been the Conservative Member of Parliament for Devizes in Wiltshire since 2019. A graduate of the Universities of Edinburgh and Oxford he has worked at the Centre for Policy Studies think tank as a policy adviser and was David Cameron's chief speechwriter between 2006 and 2008.
Leaving the political sphere, he founded two charities concerned with young people - Only Connect and West London Zone - and received an MBE for his charitable work in 2017. Returning to politics as an MP, with fellow parliamentarian Miriam Cates MP he established the New Social Covenant Unit in 2021.
Rushanara Ali MP
Member of Parliament for Bethnal Green and Bow in Greater London since 2010, Rushanara Ali MP is former Shadow Minister for International Development and Higher Education as well as the current chair of the Philanthropy and Social Investment APPG.
A graduate of St. John's College, Oxford, Ali has spoken extensively on the need for a new approach to volunteering in the UK and has served as trustee, commissioner and board member for a range of charities across her constituency and nationally, as well as co-founding several organisations focused on developing the leadership skills of young people such as One Million Mentors in 2016.
Lord James O'Shaughnessy (Chair)
Lord James O'Shaughnessy joined the Jubilee Centre in April 2021 as Senior Research Fellow. Prior to joining the Centre, Lord O'Shaughnessy was Director of Policy to the Prime Minister between 2010 and 2011, a Government Whip (Lord in Waiting) between 2016 and 2017, and Parliamentary Under Secretary of State at the Department of Health between 2016 and 2018. Lord O'Shaughnessy also founded Floreat Education, a multi-academy trust focussed upon character. He was made a life peer in 2015.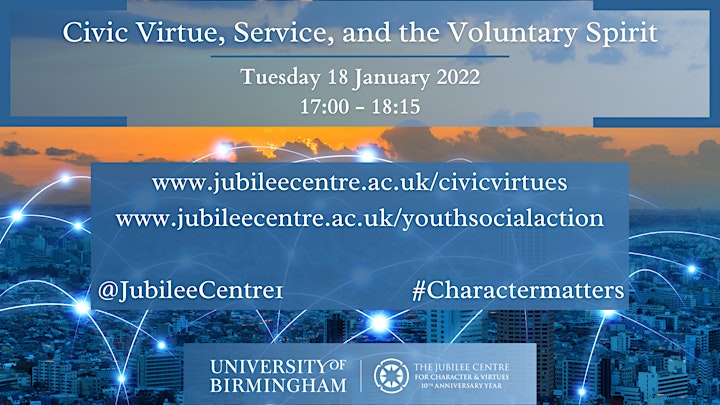 Free and open to all, this session draws upon previous and ongoing applied research of the Jubilee Centre and its staff looking at the topics of service, social action, civic virtue, and the common good, particularly in reference to young people and those that support them.
Further details, insights and publication can be found be visiting the web pages linked below and via the Centre's social media.
www.jubileecentre.ac.uk/civicvirtues / www.jubileecentre.ac.uk/youthsocialaction
Organiser of Civic Virtue, Service and the Voluntary Spirit Webinar