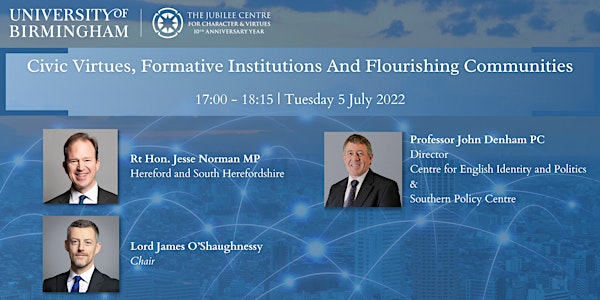 Civic Virtues, Formative Institutions And Flourishing Communities - Webinar
Welcoming Professor John Denham and Jesse Norman MP, the Jubilee Centre continues its 'Civic Virtue and The Common Good' Webinar series.
About this event
Titled 'Civic Virtues, Formative Institutions, and Flourishing Communities, the webinar will explore the role of formative institutions in encouraging democratic engagement, bringing citizens together, and helping communities to flourish – including through the cultivation and expression of virtue.
Chaired by Senior Research Fellow, Lord James O'Shaughnessy, the webinar will welcome MP for Hereford and South Herefordshire, Jesse Norman and former MP and the Director of both the Centre for English Identity and Politics and the Southern Policy Centre, Professor John Denham
Further speakers will be confirmed very shortly.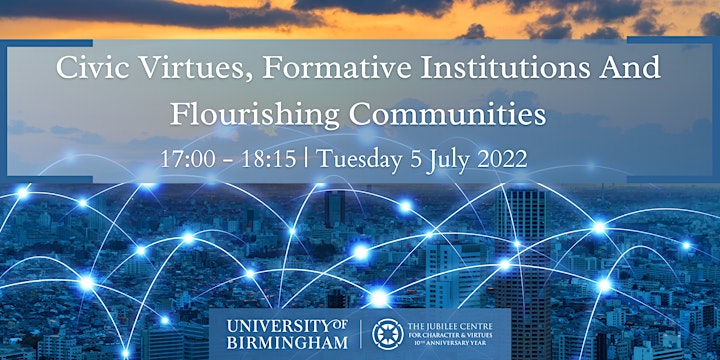 This series of discussions seeks to capitalise on a renewed, cross-party focus on how to repair and sustain flourishing communities and how this renewed focus might form the basis of a new political consensus. At the heart of any vision of the common good lies a set of civic virtues such as community mindedness, active citizenship and service to others. As this session will seek to outline, to create a flourishing civic environment requires the development and cultivation of formative institutions to support citizens, within civil society, and throughout communities.
In last twenty-five years however, such institutions have been eroded despite multiple policies to encourage and harness citizenship and a voluntary spirit in service of the common good – in education, in communities and local government. The role of the state in developing, enabling and sustaining this patchwork remains a topic for discussion. There also remains scepticism as to whether the state is always the best actor to provide the formative institutions and organisations from which civic virtues can grow and flourish.
Questions therefore remain about how to cultivate a civic spirit, and the ways that the hopeful and positive forms of civic virtue can form a core part of life in contemporary Britain. These include:
In order to foster civic virtues and underpin the common good, in what way do existing institutions have to change? Do we require new institutions? How might these institutions be successfully embedded into local and national life?
What is the role of the state in developing the civic virtues of its citizens? What role do state institutions play in sustaining flourishing communities and how do, and should, these institutions relate to non-state organisations?
What existing practices and examples are available that provide clear examples of flourishing organisations and communities that illustrate a productive role of/for the state?
What are the obstacles or barriers to building formative institutions that bring citizens together, enable them to exercise civic virtue, and help communities to flourish? How might these challenges be overcome?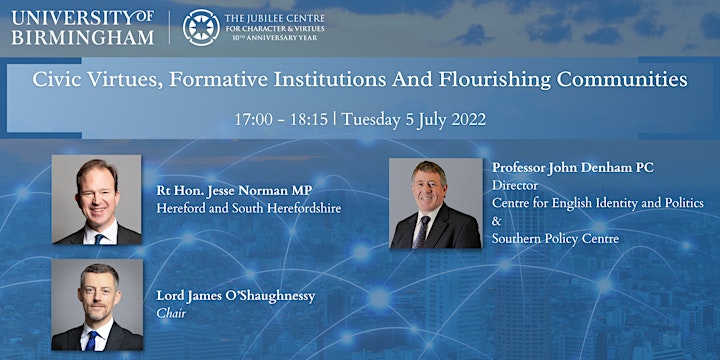 Speakers
Rt Hon. Jesse Norman MP
First elected as Conservative MP for Hereford and South Herefordshire in May 2010, Jesse has been Paymaster General, Minister of State at the Department for Transport, and Financial Secretary to the Treasury. He has also served as Chairman of the Culture, Media and Sport Committee
Before entering politics Jesse was a Director at Barclays, researched and taught philosophy at University College London, and ran a charitable project in Communist Eastern Europe. A graduate of Oxford University (BA) and University College London (MPhil, PhD)., his books and pamphlets include 'The achievement of Michael Oakeshott', 'After Euclid', 'Compassionate conservatism' and 'The big society'. His book 'Edmund Burke: politician, philosopher, prophet' was listed for the Samuel Johnson Prize, the Political Book Awards and the George Orwell Prize. His book 'Adam Smith: What he thought, and why it matters' was published in 2018.
Professor John Denham PC
John Denham was the MP for Southampton Itchen from 1992 until he stood down at the 2015 election. He held a variety of ministerial and Cabinet posts in the last Labour Government and also chaired the Home Affairs Select Committee.
John is a founder and director of the Southern Policy Centre, which works on developing regional strategy, devolution, widening participation, addressing poverty in southern England and youth issues. In addition to his SPC role, he is a Professorial Fellow at Southampton University where he is Director of the Centre for English Identity and Politics.
Prior to entering parliament, John worked in the voluntary sector and was a Hampshire and Southampton councillor. He is currently writing a book on the identities, governance and politics of England to be published in 2022.
Lord James O'Shaughnessy (Chair)
Lord James O'Shaughnessy joined the Jubilee Centre in April 2021 as Senior Research Fellow. Prior to joining the Centre, Lord O'Shaughnessy was Director of Policy to the Prime Minister between 2010 and 2011, a Government Whip (Lord in Waiting) between 2016 and 2017, and Parliamentary Under Secretary of State at the Department of Health between 2016 and 2018. Lord O'Shaughnessy also founded Floreat Education, a multi-academy trust focussed upon character. He was made a life peer in 2015.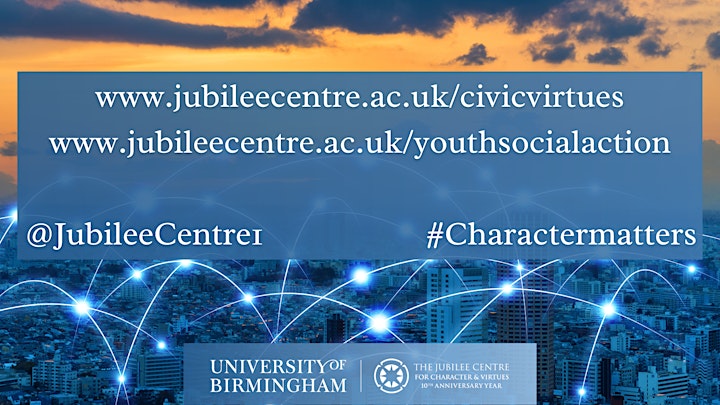 Free and open to all, this session draws upon previous and ongoing applied research of the Jubilee Centre and its staff looking at the topics of service, social action, civic virtue, and the common good, particularly in reference to young people and those that support them.
Further details, insights and publication can be found be visiting the web pages linked below and via the Centre's social media.
www.jubileecentre.ac.uk/civicvirtues / www.jubileecentre.ac.uk/youthsocialaction