Heriot-Watt and the Institution of Civil Engineers discuss Graduate Apprenticeships and professional development in civil engineering.
About this event
What the webinar will cover
In this live webinar you'll hear from Dr Laurent Galbrun, programme director for our Civil Engineering GA programme, and Elena Rinaldi, Academics Partnerships Manager at the Institution of Civil Engineers
Laurent will provide an introduction to graduate apprenticeships with an overview of our Civil Engineering GA programme structure and contents.
Elena will then give some insight into how the ICE can support the ongoing professional development of apprentices.
The webinar will last 30 - 40 minutes and you'll have the opportunity to ask questions in our interactive Q&A.
How to register
Just click on the Register button on this page and we'll and send you a link to the webinar closer to the date.
Some more about Graduate Apprenticeships
• Applicants must live and work in Scotland and can qualify for entry based on both academic qualifications and relevant work experience
• All programme fees are fully funded for the duration of the programme with no course fees to pay for apprentices or employers
• Students spend approximately 80% of their time learning at work and 20% learning at university
• Work based learning counts towards modules and final qualification
• Open to new recruits and existing employees, designed by industry for industry
• Study to gain an honours level degree with flexible entry points
• Programmes are for anyone aged over 16 - No upper age limit!
You can find out full details of our Graduate Apprenticeships programme www.hw.ac.uk/ga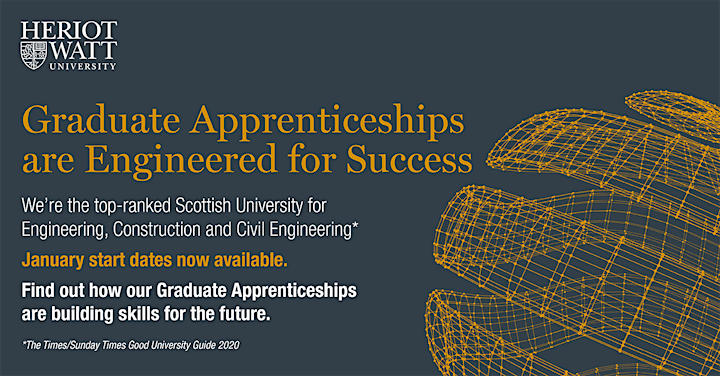 Organiser of Civil Engineering: Graduate Apprenticeships and Professional Development
Heriot-Watt Graduate Apprenticeships (GA) scheme is fully funded by Skills Development Scotland, and a ground-breaking initiative creating degree-qualified employees with the skills businesses need in a rapidly changing landscape. For employers, Graduate Apprenticeships are an opportunity to enhance business, by supporting current and new employees to develop skills and talents.