Description
Women into Business December evening event

The next Clackmannanshire Women into Business event will take place on December 11th at the Alloa Business Centre. At this event we are delighted to have Lorna Edwards who will share her business journey. A journey which has included 2 appearances on Dragons Den!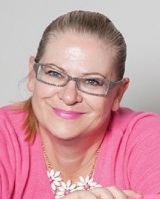 Identifying a gap in the Legal BPO market in 2003 Lorna launched Lawscript, an office based digital transcription/document production service for law firms across the UK. Building the business rapidly she sold a majority shareholding to Intelligent Office UK in 2006, exiting in 2009, leaving behind a solid sustainable business providing local employment for over 100 staff. A period in Interim Management followed working with law firms in Jordan, Dubai and Abu Dhabi. Returning to the UK in 2012 she took an interim role in financial management for third sector ACE Recycling Group in Alloa. In April 2013 she started a property development venture and formed Kennet Homes Ltd.
In 2014 Lorna was approached by friend, Elena Torres, who had a new product and was looking for support and investment to take the concept into production and market. Initially joining as an investor in BloonCo, Elena left the business and the initial concept has been development into an international business manufacturing in China and exporting to over 25 countries globally with unit sales in excess of 150,000. In addition to the core cotton balloon cover, BUBABLOON, BloonCo has development several new baby toy products including soft toys and gym bags. Most recently identifying an opportunity to enter the pet market with PetBloon which was launched in May 2018 and has sold over 20,000 units in the first six months.
Lorna has pitched on Dragons' Den - in 2015 for Lawscript and latterly in 2016 for Bubabloon.
We have asked Lorna if she would bring along a selection of products to the event. So in addition to hearing about her fascinating history we have the opportunity to purchase some amazing Christmas gifts!

This is also a great chance to network with other women in business.
Registration is from 5:45pm and refreshments will be available from 6:00. The guest speaker will commence at 6:45 pm. There is a £5 contribution towards refreshments payable on the evening.
If you register and are unable to attend do please let us know. Unfortunately we had some no-shows at our last two events. We do of course totally understand that last minute cancellations will occur but if you let us know we can contact people on the waiting list. Thank you.
Any questions please contact Dorothy at dhenke@ceteris.co.uk.
We hope to see you there!